A Local Response To COVID-19
The COVID-19 pandemic has impacted the normal functioning of local municipalities in a drastic way, reports Dale Hes.
As disaster management regulations were put in place to respond to the spread of COVID-19, local municipalities were forced to quickly adapt their operations to ensure compliance. Many lessons have been learnt and creativity and innovation have become a greater part of local governance than ever before.
The rise of digital platforms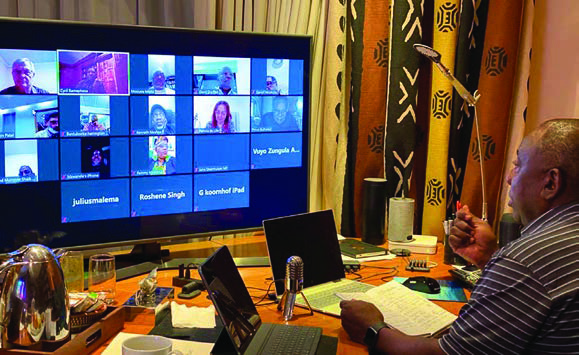 During this time, municipal officials have become familiar with the use of new digital communication platforms such as Zoom. These virtual platforms have been extremely important in ensuring that critical functions such as council meetings and important discussions between officials take place.
Some municipalities have used virtual platforms to ensure proper public participation. This has been particularly crucial as before lockdown, local municipalities were in the process of drafting Integrated Development Plans and budgets, part of which require public participation.
Hanlie Linde, municipal manager of the Bergrivier Local Municipality in the Western Cape, explains that as soon as lockdown took effect, the municipality immediately revised its strategies related to public participation.
"When we heard about lockdown being imposed, we went to council and amended our public participation policy to include virtual public participation. As a good example, we made PowerPoint presentations – originally designed for use in physical public participation consultations – available on all of our digital platforms for the public to view and comment on," says Linde.
In addition, the municipality extended its public participation period from the required 21 days to 30 days.
"We wanted to ensure that the public had a longer period to comment and access to the draft documents on the new platforms," Linde says.
Challenges in revenue collection
Due to the economic hardships brought about by COVID-19, municipalities have faced significant challenges in collecting revenue from financially-stressed residents. The situation has been exacerbated by the loss of income from places such as game reserves and other public spaces that have been forced to close.
"With the revenue erosion, municipalities are likely to default on bulk supply accounts as municipalities will not be able to use disconnections to put pressure on nonpaying consumers. This period may even cause municipalities with clean sheets on bulk supply account to actually fall into the Eskom debt trap," Khomotso Letsatsi, chief officer for municipal finance at SALGA, said in a presentation to parliament in May.
Disaster management regulations have also forced additional responsibilities on municipalities, placing them under increased financial pressure.
Such obligations include the setting up of quarantine and isolation sites, regular sanitation and cleaning of public facilities and the provision of personal protective equipment (PPE).
Responding rapidly to service delivery requirements
Part of the disaster management regulations require that municipalities help prevent the spread of the virus by providing water and sanitation services to their communities.
Professor Jaap de Visser, director of the Dullah Omar Institute and an expert in local government in South Africa, says that municipalities rapidly expanded water service delivery during this time.
"The directive specifically mentions the delivery of potable water and proper sanitation to high population density suburbs, rural communities, and informal settlements. The disaster has prompted many municipalities to rapidly expand water delivery. However, the legal obligation to ensure basic water provision was always there," De Visser points out.
The lockdown has, therefore, proven that by working diligently with provincial and national departments, service delivery outcomes can be dramatically improved.