FNB Joburg Art Fair Renamed FNB Art Joburg
SPONSORED: FNB Joburg Art Fair renamed FNB Art Joburg with new owners at the helm.
The FNB Joburg Art Fair has been renamed FNB Art Joburg after it was officially acquired by its former director Mandla Sibeko, taking over from previous owners Artlogic. With Sibeko taking full ownership, the art exhibition is now 100% black-owned and FNB's 12-year tenure as a sponsor continues.
Sibeko says he's excited to chart a new chapter in the transformation of the arts in partnerships with FNB, artists, local and international galleries.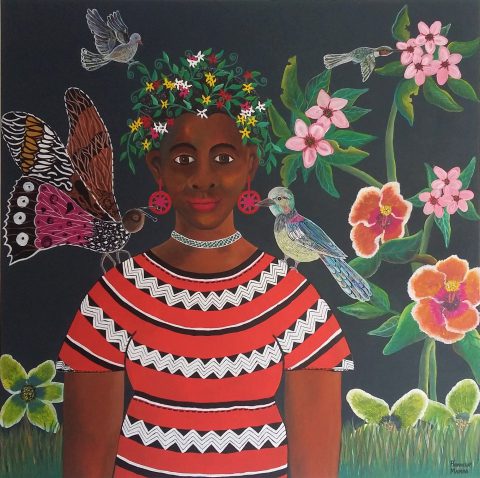 "The opportunity to host a truly world-class fair comes with a great responsibility to uphold a standard that reflects the quality of our artists. This goal is embodied in a new model focused on strong content and greater collaboration between galleries and all stakeholders in Johannesburg and around the world. This will be reflected in fewer participating exhibitors and an innovative section devoted to new, emerging artists and spaces as well as international galleries and those who are looking to engage with a contemporary African audience."
"This is also an opportunity to return to the drawing board and embrace an entirely new chapter which incorporates a hybrid curatorial and commercial approach. This will include the celebration of Johannesburg and its diversity, recognising its importance as the cultural and economic hub of Southern Africa," says Sibeko.
Bonga Sebesho, FNB Head of Sponsorships says, "We are excited to continue our journey of empowering South African artists and those from across our continent. FNB's 12-year involvement as a sponsor of the exhibition demonstrates our commitment to partner in efforts that will take our artists and the arts to even greater heights. Our continent is home to world-class talent, and there's no better platform to showcase our artists, collectors and art lovers."
FNB Art Joburg will take place from the 13thto 15thSeptember 2019 at the Sandton Convention Centre. Galleries and artists have expressed their anticipation ahead of the new fair.
"This new fair reflects the needs of the marketplace and is coming at the right time. It's an opportune moment to start something that is more focused, in terms of quality that is brought into the marketplace." – Monna Mokoena, Gallery MOMO.
"As an active member of the South African art community it gives me immense pride to work with the next generation to shape a new format of art fair" – Mark Read, Everard Read Gallery
"African contemporary art is in the spotlight globally, and it's critical that content in a fair in Johannesburg is excellent in order to further the work we're doing to platform our artists and ensure their relevance in art history" – Liza Essers, Goodman Gallery
Artlogic, created the Joburg Art Fair and with the generous sponsorship of FNB has run the FNB Joburg Art Fair for 11 years, making it one of the longest-running annual art events on the continent. It was the first art fair in Africa and the first to focus on work from the continent. I'd like to thank our sponsors, shareholders, buyers, artists and most importantly, galleries for their loyalty and support over the years. Artlogic shareholders are delighted with Mandla stepping up to the role of owner and director and wish him the best of success in the future." – Ross Douglas.