Breaking Up The "Boys Only" Club
The United Nations' 2030 Agenda for Development asks leaders from all sectors of society for change and to celebrate acts of courage and determination by ordinary women who have played an extraordinary role in the history of their countries and communities.
Mamokete Ramathe
In the investment sector, Mamokete Ramathe, CEO of Mamor Capital, is committed to the UN's clarion call for transformative shifts. She does this by partnering with organisations that facilitate women empowerment initiatives and supporting the mentoring of young women. "At Mamor Capital, we support women-owned businesses when procuring from service providers, for instance. It's our way of cultivating the culture of empowering each other as women," explains Ramathe.
Ramathe often shares that she always knew that she would want to find herself at the service of others no matter what career she found herself in. "It is on the back of this desire that I find myself utilising whatever opportunity I get to contribute towards the upliftment of others when it is in my power to act."
Ramathe believes that having a purpose that is bigger than oneself is critical for staying in power. "Your 'why' must be so meaningful to you that it goes beyond just fulfilling personal or financial interest, it must pull you to a place where you see yourself as part of the creation of the greatness that goes beyond your personal existence."
The philosophy that underscores Ramathe and Mamor's vision is that "shared value is a fundamental driver for the investment thesis in African countries given the inherited past economic imbalances characterised by the high levels of unemployment and inequality", Ramathe explains. "Our objective in participating in the socioeconomic development of the communities we do business in is to be proactive change agents. We must empower through the transfer of skills, insights and knowledge. It is this philosophy that underscores our collective envisaged impact."
Thokozane Dyosini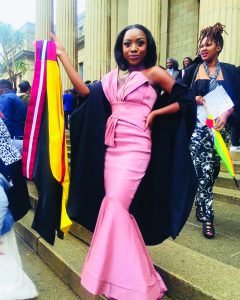 Sharing knowledge and experiences to promote gender inclusivity is at the forefront of Thokozane Dyosini's life strategy.  Dyosini is a lecturer at Wits University and the founder of the #SeeYouAtGraduation campaign. The campaign was started to help women reach their full academic goals by encouraging them and giving them a glimpse into her own academic journey.  Dyosini explains that the lack of opportunity, mentorship and professional support is one of the main reasons some women don't succeed in academia.
"Starting the campaign not only allowed me to share my journey, but also made me realise that I was not the only one struggling to meet deadlines or understand the requirements of assignments," she says.
Through the campaign, Dyosini mentors aspiring female academics by providing free consultations on their research topics and general advice on available academic options. She also uses the campaign to raise funds for students' graduation regalia, transport money and clothes for the most needy students. This year she has "adopted" a female student and will provide her with textbooks and a stipend to cover her transport needs. "Our institutions aren't giving us the platforms we need to build successful careers, so we're coming together as women in academia and paving our own way by sharing advice and information," explains Dyosini.
YOUNG WOMEN around the world CHANGING THE LANDSCAPE FOR EQUALITY
Purity Soinato Oiyie, 22, from Kenya, was barely 11 when she was rescued from female genital mutilation and child marriage. In 2018, she addressed the opening session of the 62nd UN Commission on the Status of Women (2018), urging global leaders to invest in free education for girls. She shared at the time that: "I want to set up a foundation called "Silan"— that means girl, in Maasai — and build a free school for all the girls in the village — even the ones who have been married young and now have children themselves."
At 13 years old, Marley Dias is the youngest person on the Forbes 2018 "30 under 30" list. She is the founder of #1000blackgirlbooks, a campaign that she started in 2015 with the goal to collect and donate 1 000 books, featuring black girls as the main characters, to her peers. "I'm working to create a space where it feels easy to include and imagine black girls and make black girls like me the main characters of our lives," Dias said at the Forbes' Women Summit in New York City last year.
Hajer Sharief is the co-founder of the Together We Build it, which aims to promote a peaceful democratic transition in Libya, inclusive of women and youth. The biggest challenge for women and girls in Libya, Sharief says is "the absence of personal security, which means they cannot access education, work, and a normal life in general". Her organisation works towards raising awareness on concepts such as non-violent communication and human security, UN Security Council resolutions 1325 and 2250 [on women, peace and security].