Beyond The Blue Lagoon
Mauritius may be sold as just another string of paradisiacal coves with warm waters to swim in and white beaches to loll on. But dig a little deeper and you discover a spectacularly rich and diverse island with plenty to do between sessions in the sun and surf, as Keith Bain discovers.
Beaches? Mauritius has them and they're just as pretty as the brochures suggest. But, despite the hype about the island's significant beauty and its hackneyed image as a purveyor of vitamin D, its allure runs deeper. There are wild and raw coastal stretches, too – much of the south consists of craggy basalt-black rock face continuously beaten by fierce waves. A volcanic remnant, Mauritius is studded with the silhouettes of craggy peaks, some seemingly vertiginous, some punctuated with waterfalls and covered in lush vegetation.
While its warm waters shelter shark-free playgrounds with coral reefs and gnarly waves, its towns and villages are home to cosmopolitan communities where the mix of Creole and Indian and French heritage makes for a unique diversity – whether you're bumping into evidence of the island's rich spirituality, or tasting its spicy fusion cuisine, there are always curious discoveries.
Dive In
Book a snorkelling trip from Tamarin Bay or Black River. Each morning pods of spinner and bottlenose dolphin play in the bay – they're there long enough for you to jump in the water and bond with them. By 8:30am, most dolphin swims are over, so grab breakfast-to-go, and set off for the verdant rainforests of Black River Gorges National Park. The park shelters oversized ferns, intricate lichens, wild boar, macaques, and around 50km of hiking trails crisscrossing the forested hills. You can hike for hours without spotting another soul, but you'll score more with a guide to help identify avian curiosities such as echo parakeets and white-tailed tropicbirds.
Capital Gains
Port Louis traffic is a bastard, so walking tours are a godsend – meet your guide from my Moris for a food-focused, on-foot adventure that dips into the city's history and back alleys, ancient spice warehouses and hole-in-the-wall sweet shops. Skip breakfast because you'll be tucking into Mauritian street food, starting with deep-fried chilli cakes and Indian-style "crêpes" stuffed with spicy vegetables. Walks culminate behind the wrought iron gates of the Victorian-era market, where you'll find unusual-looking varieties of familiar fruits – plus vegetables you'll need to ask the names of.
For more conventional shopping, Le Caudan Waterfront has over 150 stores selling everything from pareos (sarongs), local artworks, and essential oils to Indian textiles, handmade jewellery and duty-free designer clothing. Seek out the island's biggest little treasures – a duo of tiny stamps – at the Blue Penny Museum. Among the world's rarest, the red one-penny and blue two-pence stamps were issued in 1847 and are said to be the island's two most valuable objects. Aapravasi Ghat is now a UNESCO World Heritage Site, commemorating the place where the island's indentured labourers arrived from India. And, in the city, a few minutes away, the Natural History Museum has all kinds of animal displays – including two dodo skeletons.
If it's a Saturday, change into something sophisticated and head to Port Louis Champs de Mars Racecourse for an entertaining afternoon. The second-oldest racecourse on earth, its atmosphere is thrillingly unique. Visitors can reserve space in one of the VIP "lodges" (such as the Crown Lodge) where you're plied with snacks and drinks and special privileges. Racing season runs March to December, with 10 000-odd eager spectators on weekend race days – even if you don't bet, you'll have a rollicking great time.
L'Escale, at Labourdonnais Waterfront Hotel, is a smart restaurant serving flavoursome Creole dishes. For a more down-to-earth atmosphere, head to Lambic, a popular gastropub in an old colonial house serving roasted wild boar, game from the Black River region, fresh fish, and Flying Dodo beers from its microbrewery.
Sweet Gardens
Ten minutes north of the capital, Pamplemousses houses the oldest botanical garden in the southern hemisphere, the
62 000-acre Sir Seewoosagur Ramgoolam Botanical Gardens. Hire a guide to show you the most curious of its 650 varieties of plants, including the gargantuan Victoria amazonica water lilies, whose leaves achieve three-metre diameters. There are tortoises and stags, and wondrously tall talipots, palm trees that flower only once – when they're 60 or even 80 years old – and then die.
Nearby, L'Aventure du Sucre is dedicated to the history of the island's economic mainstay, sugar. The fascinating self-guided tour details slavery and its abolition, as well as the arrival of Indian indentured labourers, and there are sugar and rum tastings in the shop at the end.
Minutes away, at Domaine de Labourdonnais, start with a tour of the lovingly restored 19th-century colonial mansion modelled on Versailles and then have a lavish lunch at Le Table de Château where exotic fruits grown in the nearby orchard are used to prepare delicacies such as palm heart salad and a variety of ice-creams and sorbets. Pause at the adjacent rum bar for tastings of the estate's sip-worthy potions, infused with ingredients grown on its 50 hectares of cultivated land.
Alternatively, settle in for the three-course Creole lunch at good value Chez TanteAthalie, set on an old sugar plantation
10 minutes away from Pamplemousses. When you've had your fill of spiced seafood and scented curries, explore its motley collection of vintage cars posing between the fruit trees.
Head For The Hills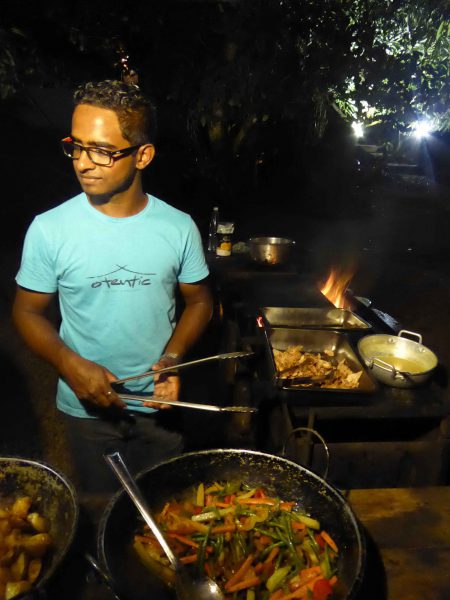 Treks up the brooding edifice of nearby Le Morne Brabant start easily enough, but ultimately demand a bit of scrambling and a decent pair of hiking shoes to make it to the highest permissible point – for conservation reasons you can't go all the way to the summit at 555 metres. You'll also require a guide (a good option is Yanature, who'll arrange permits and unravel precisely why the craggy mountain's ecosystem earned World Heritage status. Plus you'll hear about runaway slaves who sought refuge on its summit and jumped to their deaths in the face of discovery. The stiff climb culminates with scintillating views across Le Morne's tranquil bay where you'll spot plucky kite-surfers and wave-riders making the most of a gnarly surf spot called "One Eye".
Pack bathing suits for a post-hike dip in the sea, then head inland for a walkabout at Rhumerie de Chamarel, an artisanal distillery producing oak-matured rum that's comparable to cognac. Guided tours finish with swigs of the good stuff, after which you could settle in at L'Alchimiste, its chic restaurant, or head to the simple, family-run, totally lovely Palais de Barbizon, where you're welcomed by Chamarel's beloved Rico I'Intelligent. He runs front of house while his wife coaxes flavours from handed-down recipes, and another family member takes your order.
After lunch, head for Grand Bassin, a volcanic lake that's among the island's most sacred Hindu sites, presided over by
a 33m-high effigy of Shiva and fringed by a temple where priests perform blessings for small donations (and monkeys steal edible offerings made to the deities).
Savour The South
It's a spectacular winding drive along the south coast between Baie du Cap and Souillac, where breaks in the reef that otherwise encircle Mauritius permit the surf to build ferociously and then bash against the mainland. Outside Souillac, stop at windswept Gris Gris for a dramatic view – walks along the cliff above the surf-sculpted volcanic black rock shoreline are exhilarating.
North of Souillac, on a sugarcane estate, Le Saint Aubin is an old colonial residence originally built in 1819 from the timber of demolished ships. In 1970, it was disassembled and moved, piece by piece, to its current location. It's now a restaurant serving Creole chicken and smoked marlin salad and you can sip on the estate's artisanal rums in the tasting room. Saint Aubin's neighbour is Bois Cheri, the island's largest tea plantation that has a restaurant overlooking a crater lake. Pop into the factory to see how the leaves are air-dried and fermented before witnessing how astonishingly intricate (and ancient) machines fill tiny teabags, individually adding tags before boxing them in a matter of seconds.
East Coast Flops
For a truly lazy day, join a catamaran day trip to Ile aux Cerfs, the "Island of Stags" off the rugged east coast. Typically, you'll snorkel above coral beds, have a chance to parasail from moored, mobile jetties, and spend time sunbathing on a beach. If possible, linger for lunch at La Chaumière Masala, beneath an ancient Banyan tree – its simple Indian thalis are served in open-sided thatched cabanas on stilts so you get views of the water. Alternatively, wait till you return to the mainland and enjoy late-lunch or early dinner at family-owned Chez Tino's in Trou d'Eau Douce – try the irresistible and authentic Creole-Mauritian paella.
Ground yourself and take the marked hike through the lush rainforest-like gardens at the very beautiful La Vallée de Ferney, a declared 200-hectare sanctuary where rare trees, plants and birds are protected.
On the tiny coral Ile aux Aigrettes (Egret Island), accessed from Pointe Jérôme near Mahébourg, you can get a glimpse of Mauritius as it was before colonists began replacing indigenous flora with farmlands. The entire islet is a protected reserve sheltering ornate day geckos, Aldabran giant tortoises from Seychelles, Telfair's skinks, and Mauritius kestrels, once the world's most endangered bird.
Mahébourg, where the Dutch landed in 1598, has loads of character. Rustic restaurants with faded façades beckon while stalls at the markets ply local delicacies and just-cut pineapples. You can watch kite-surfers gunning it across the bay where the British and French once battled for possession of the island.
From Mahébourg, it's just 10 minutes to the airport, which means the former capital might be a useful final port of call. Then again, nowhere on the island is very far from anywhere else – it's about an hour from one end to the other, so never a need to feel like you're in a rush.