Savvy Shopper
Whether you're repairing a leak, updating or painting, here's a roundup of products designed to improve your home.
All-weather protection
When you're looking for a pure acrylic roof paint well suited for various roof types, exterior trims and cement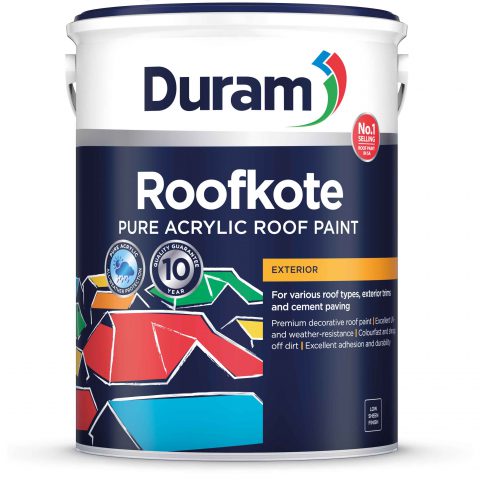 paving, then be sure to check out the Roofkote range. Due to the advanced technology, you can expect long-lasting colour, excellent UV and weather resistance that resists fading and chalking. Depending on the surface porosity and type of substrate, you can expect coverage of around 3–8m² per litre per coat, with a minimum of two coats recommended. The low sheen product is available in a range of standard colours. Available from good hardware stores and paint shops nationwide, or for more information, visit www.duram.co.za.
Reduces roof surface temperature
For a cooler interior and reduced energy costs pure acrylic Roofkote CoolTech is an attractive roof paint that uses solar reflective technology to reflect at least 30 per cent of solar heat. If that's not good enough, the product ensures long-lasting colour, is mould-and fungus-resistant, and dries quickly. Roofkote CoolTech can be used for various roof types and exterior trims. Due to the reduction in roof surface temperature, the lifespan of the roof is extended. If you're thinking of your carbon footprint when painting then you'll be pleased to know that the product reduces CO² emissions and has minimal impact in winter.
Depending on the surface porosity and type of substrate, you can expect coverage of around 3–8m² per litre per coat, with a minimum of two coats recommended. It is available in a range of carefully selected classic colours. Available from good hardware stores and paint shops nationwide, or for more information, visit www.duram.co.za.
Brush up for great results
At Builders you can expect to find a wide range of paintbrushes for all sorts of applications. If you're looking for a brush to make the job easier when maintaining your roof, look no further than the Advantage Specialist Roof Brush (140mm) priced at R150. Designed for use with either water-based paint – it's easy to clean with warm water – or oil-based paint, when cleaned with a suitable cleaning agent.
Seal even if damp
Den Braven All Round Sealant is ideal for sealing joints and cracks and for bonding; even under moist

conditions. It is perfect for sealing a leaking gutter or downpipe. Cracked tiles can be sealed until one is able to replace them. The difference with this sealant is that it can be painted, as well as being fungal-resistant. Go to Den Braven Sealants SA's Facebook page to watch a video on how easily a leaking gutter can be repaired. Available from all good hardware stores, or call Den Braven on 011 706 2945 for more information.
Weather resistant with excellent adhesion
Waterproof Den Braven AluBand is a high performance strong self-adhesive flashing with a weather-resistant aluminium foil top. Ideal for sealing and protection of joints in gutters, drains and roof constructions, or for weatherproofing chimneys and skylights. Available from all good hardware stores, or call Den Braven on 011 706 2945 for more information.
Securing smartly
For a good looking and economical roofing fastener the Eureka Roof Seal Nail and Cap, available in both 3.55mm and 5mm nail and 65mm or 75mm lengths, is the material for the job. It's a rust-resistant roofing nail with a waterproof nylon washer and cap as well as an Eva sealing washer. The nail enters rafters without splitting the wood then the Eva washer seals the nail hole in the sheeting, and finally the nylon washer presses down on the Eva washer. The cap prevents any water or UV light from reaching the nail head and is available in a range of colours to match the roof sheeting. Available from Builders and priced from R44 per pack of 50.
Makita
Makita's range of standard-duty industrial power tools provides the quality you'd expect from Makita, at an affordable price. The Makita MT M9203B Finishing Sander is compact, lightweight, easy to handle and your perfect partner for all those hard-to-reach corners. This 190W model weighs 1.5kg and is supplied with abrasive paper, a punch plate, a dust bag and a 2m-long supply cord. An optional hose attachment is available to connect directly to a dust extraction system. The Makita MT M4301B Jig Saw is robust, strong and powered by a motor that produces a powerful output of 450W. The M4301B is truly versatile, able to cut many different materials (wood, steel, metal and plastics) with its straight-cutting and three orbital settings. The M4301B weighs 1.9kg and has a 2m power supply cord. This model is supplied with a jigsaw blade and a hex wrench to adjust the base plate. The Makita MT M5802B Circular Saw combines portability and power, making it useful for a wide variety of tasks – whether on-site or in the workshop. A guide rule, hex wrench and TCT saw blade are included with the saw.
How to waterproof roof leaks
When experiencing heavy rain, you might need to get some urgent waterproofing done.
Start by inspecting your roof thoroughly – fixing a leaking roof is relatively easy once you have found the leak. Finding the leak is the hard part as evidence of the leak may not be where the actual leak is occurring due to the water flowing downhill before soaking into a wall or ceiling.
If you have a galvanised iron roof, you need to check the roofing screws and make sure that the rubber or plastic washers are still intact. Ensure that roofing screws are secure. If loose, the roof sheets will lift when the wind is blowing and the rain will be driven by the wind under the sheets.
If any of your roof tiles have been knocked or blown out of place, you may just need to straighten them out and use a.b.e bituseal plastic. If a tile is cracked, you can just repair it.
If there are areas on the roof that are allowing ingresses of water, such as valleys or damaged flashings, a temporary solution is a.b.e. super laykold tape or a.b.e. super laykold paintable tape. You can apply this to the leak temporarily to prevent it from getting worse or from leaking more until you can undertake a more permanent solution. It is easy to apply, allows easy adhesion to many substrates, and is UV-resistant, economical and can be painted.
If you need to repair old and leaking acrylic and membrane systems, a.b.e. hydroproof is ideal.
a.b.e. super laykold spray & seal is rubberised waterproofing in a 400ml spray can. It is easy to use, flexible with excellent adhesion, can be applied to damp surfaces and painted once dry.
For an effective, long-term repair, visit www.abe.co.za for tips and product advice.
Marvellous mosaics
Mosaics can be used in a multitude of ways to achieve durable and very different effects. Glass and ceramic tiles can add a splash of colour or introduce trends, such as geometric patterns or black and white decor, while neutral tones can add sophistication and interest to a room. These days even grout plays an important role in the overall result.
Installation tips for mosaics
The experienced team at TAL offers advice on how to get the best results when laying mosaic:
Not all mosaic materials are suitable for use on floors or other functional areas. The amount of traffic the installation will see will ultimately dictate which materials you can use for your installation.
Be sure to closely inspect the mosaic sheets, checking for broken or damaged tiles, and ensure that you have sufficient sheets to replace any broken pieces. Replace broken or damaged tiles before installation.
Get a clean-cut mosaic sheet by cutting from the back of the sheet with a utility knife.
Mosaics are difficult to cut as individual tiles because they're so tiny, so cut the sheets between the tiles.
A consistent amount of adhesive is important under mosaic tiles since their small size tends to accentuate irregularities; we recommend using a notched trowel to apply a uniform amount of adhesive under tiles.
Firmly bed the mosaic sheet into the adhesive and allow the adhesive to squeeze out through the joints between the mosaics to form the grout.
Despite the fact that the tiles are affixed to a single sheet, the sheets are flexible and do not necessarily keep the tiles perfectly square, so make sure that the tiles are all properly lined up.
Use a small piece of plywood (about 15cm square) and a rubber mallet to tap down the mosaic sheet into the adhesive. This firmly beds the tile into the adhesive.
Use a straightedge ruler to make sure the grout lines within the mosaic sheet remain straight.
You can also use tile spacers to help keep mosaics symmetrical.
Gently clean excess adhesive off the face of the mosaics before it hardens and allow the installation to dry. Remember to remove the tile spacers before the adhesive is completely set.
For installation videos on how to install mosaics, visit the TAL YouTube channel at www.youtube.com/TALSouthAfrica.
Made for mosaic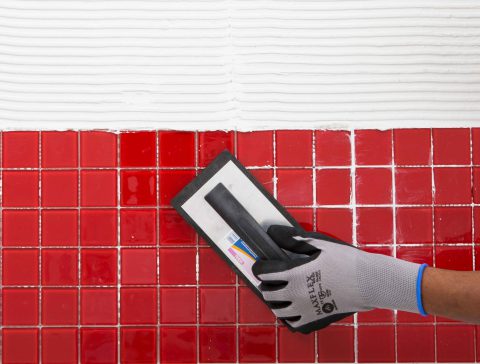 If you're planning a mosaic installation, try TAL Mosaicfix, a quick-setting tile adhesive designed for fixing ceramic, porcelain and natural stone mosaics onto walls and floors. TAL Mosaicfix can also be used to fix "fusion-type" glass mosaics with tesserae no larger than 100mm x 100mm. Installation is done in a single operation, so the product is both adhesive and grout. When tiling showers,
or other wet areas, modify the adhesive
with TAL Bond for water resistance and flexibility. Available from tiling stores and large hardware retailers countrywide, in either super white or light grey. Pack sizes include 5kg and 20kg bags. For tech support on TAL products, call 0860 000 TAL(825), or for advice on which adhesive to use for your tile installation.
Add some sparkle
Kerapoxy Design is a two-component, decorative, acid-resistant epoxy grout (available in eight different colours) – ideal for glass mosaics – that may be used as an adhesive. The decorative grouting can be used for internal and external tiled floors and walls, in particular for glass mosaic. In addition, it is suitable as an acid-resistant bond to all substrates normally used in the building industry. Often used for installing and grouting in swimming pools, and especially well suited for pools containing spa or sea water. It can also be used with Mapeglitter in silver or light gold, which adds a sparkle to metallic and glass tiles! As Kerapoxy Design is a specialist product, it is available through specialist tile installers or select distributors in Cape Town, East London and Johannesburg. Visit www.mapei.com for more information.
Natural style
Builders stocks a wide array of stunning mosaics from glazed to natural, suited to a variety of uses in bathrooms, kitchens and anywhere you'd like to create a mosaic feature. For an elegant finish, the Artmar Natural Stone Mosaic Fold and Honed Mini French Pattern Light Travertine Tile (305mm x 305mm x 12mm) makes an elegant addition to tiling projects.
Inspiring designs
Douglas Jones has always focused on finding unique, fashionable and inspiring mosaic and decorative tiles, and offers a uniquely South African creative assembly department. This team concentrates on designing and creating bespoke patterns, fades and mixes for each and every client, allowing their clients' imagination to be their only limitation! The department is dedicated to making sure the patterns, mixes and fades are created perfectly and dispatched timeously. Clients simply email a photograph they would like to have converted to a mosaic mural, specifying colours and mosaic ranges required. Their mosaic software converts this design in a grid fashion. The production department then positions the individual pieces in their proper places using the correct size mould (jig) and generates the printed pattern. The design is created on sheets of roughly 300mm x 300mm and each sheet is clearly marked as per grid numbers, enabling easy installation. For more information, call Douglas Jones on 086 166 7242 or visit www.douglasjones.co.za.
Slow cookers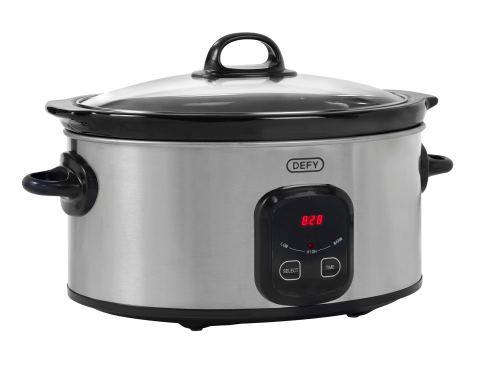 Slow cookers are the answer for any busy household. With ingredients "thrown into the pot" before work, you set the temperature and time and at the end of the day, the result is a sumptuous, fully-cooked meal. Not to mention a great way to use your vegetable garden harvest.
When selecting a slow cooker, it's best to choose one that has various temperature settings and even better (especially if you plan on leaving it for the day) choose one with a timer setting to avoid overcooking food. Top of the line varieties allow for the exact temperature and cooking time to be programmed in too.
Slow and smart
The Instant Pot Duo 7-in-1 6L Smart Cooker is the world's bestselling multicooker that combines seven kitchen appliances in one. It's a pressure cooker, slow cooker, rice maker, steamer, saute pan, food warmer, and yoghurt maker in one appliance. The advanced microprocessor technology and built-in sensors control a range of 14 smart cooking programmes for perfect results in a fraction of the time. It saves time and space in your kitchen, locks in more nutrients, and cuts down on energy costs. Priced at R2 099.99, it's  available from Hirschs, visit www.hirschs.co.za.
Succulent meat that falls from the bone is a guarantee with the Mellerware Tempo Slow Cooker. The Tempo slow cooker has variable settings depending on your needs and a removable ceramic pot allows for serving your creation straight from pot to table. The Tempo slow cooker has an oval shape to maximize its 3.5-litre capacity and includes a recipe book. Priced at R379.99, it's available from Hirschs, visit www.hirschs.co.za.
As the name suggests, the Defy 6L Stainless Steel Slow Cooker has a large 6L capacity, so is perfect for preparing a family meal. A 10-hour delay timer, adjustable heat settings and auto keep-warm function accommodates busy schedules. Priced at R889.99, it's available from Hirschs, visit www.hirschs.co.za.