How To Cut Glass Tiles Without A Wet Saw
I'm busy tiling my kitchen backsplash and wanted to find a way to cut the glass tiles without using a wet saw. By Janice Anderssen of DIY Divas.
I'm busy tiling my kitchen backsplash and have mounted all the solid sections, but I now need to cut the glass tiles to fit around the edges. Not having a wet saw, which is all they show on YouTube, and having lent out my tile cutter and never got it back, I decided to cut the glass tiles the old fashioned way, with a glass tile scorer.
I have previously tried this with my tile cutter, but the results weren't as good as this method.
Here's how:
I have had a glass tile scorer for many years. While using this to cut glass and mirror, I haven't yet used it to cut glass tiles. The tiles I am cutting are very thick, but I decided to give it a try to see if it worked.
Step 1:
Mark on the tile where you need to cut and use the tile scorer to mark along the drawn line.
Use a steel ruler to help follow the marked line and clamp this onto your tile and workbench. Apply some cutting oil or WD-40 before you score. This will make it easier to do the job and also extend the life of the scorer head.
Run the tile scorer along the line quite a few times, paying particular attention to the edges. If you don't score properly these will not cut in a straight line.
Step 2:
You can clearly see the line scored along the top of the glass tile.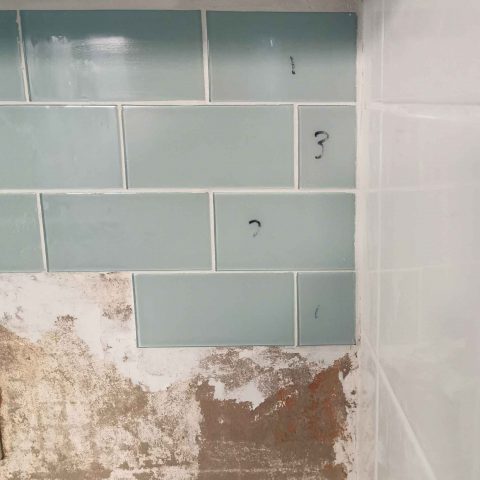 To cleanly break the glass tile, place the scored line over a skewer. Place your hand over the largest section and tap the other with a hammer.
Step 3:
The tile scorer should give you a clean break, but sometimes if you don't score hard enough, you end up with an uneven edge as shown below.
Step 4:
Now you can cut as many glass tiles as you need and don't have to buy any expensive tools to do the job.
Step 5:
Above and below: Filling in the gaps with the cut glass tile pieces.