SAB — A Legacy Of Transformation 
The South African Breweries (SAB) has a proud legacy of more than 120 years in South Africa, from its humble beginnings as a small trader in the dusty streets of Johannesburg to its place as one of the country's leading corporate citizens.
It has a footprint that extends the length and breadth of the country and the ability to play a significant role in addressing the nation's need for economic transformation and job creation.
Our transformation work goes back a long time. Well before it was legislated, we understood that we had a particular corporate duty to the communities in which we do business, to find ways to empower them. We understood that the economic impact of small business transformation and the growth of a flourishing entrepreneurial culture held enormous possibility for change.
Empowerment of others has been a key element of SAB's success and our commitment to programmes to deliver on this is based on the recognition that economic growth is the bedrock of societal advancement and stability.
We adopted our first employment equity strategy as early as 1971. The principles behind the strategy have become ingrained in our company culture and we champion equity in all areas — race, gender and disability. In the 1980's we introduced our first preferential procurement policy followed by our first empowerment programme in 1987, which would see SAB employees forming their own companies to distribute SAB products to the trade through the owner-driver programme. In the early 1990's SAB implemented two of the country's first empowered ownership transactions with the establishment of Tsogo Sun and Coleus (Pty) Ltd.
Our work in transformation has grown exponentially over the years and has come to include a number of different projects, each with its own purpose, and each designed to address particular aspects of the empowerment deficit we have identified.
In 2016, when we combined our business operations with AB InBev, our transformation agenda was given significant new impetus after we agreed with government that we would invest R1-billion over five years in a package of public interest commitments focused on agriculture development, enterprise development, job creation and societal benefits.
Our largest single undertaking to date — the R7.3 billion SAB Zenzele empowerment scheme — sought to address historical imbalances in access to ownership.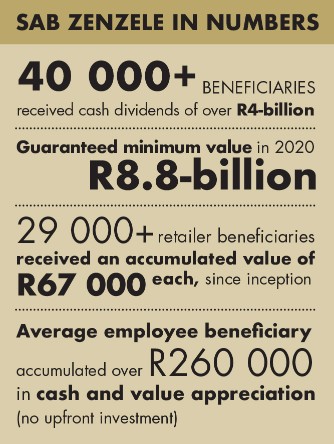 Initiated in 2010, this transaction saw 8,45% of SAB shares being transferred into three beneficiary structures — the SAB Zenzele Employee Trust, which holds shares for the benefit of SAB employees; the SAB Zenzele Holdings Limited, which holds shares for the benefit of black-owned beer and soft drink retailers; and the SAB Foundation Trust, which supports entrepreneurship projects to benefit low-income communities. The programme was designed to be genuinely broad-based, to provide tangible benefits to participants from the first year and to support the normalisation of the liquor trade.
The programme has been keenly adopted by its stakeholders, which have become deeply engaged — at the last AGM held in November 2017, more than 3000 shareholders turned up.
The 10-year duration of the transaction means that it will reach maturity in 2020, at which time SAB Zenzele shares will be exchanged for tradable AB InBev shares. The transaction has created over 40,000 beneficiaries who have received cash dividends of over R4-billion. A comparative assessment of active B-BBEE schemes in South Africa shows that SAB Zenzele has generated the most value, set at a guaranteed minimum of R8.8-billion in 2020. More than 29 000 retailer beneficiaries have received an accumulated value of more than R67 000 since inception.
For no upfront investment, the average employee has accumulated over R260 000 in cash and value appreciation.
The SAB Foundation Trust was set up to benefit historically disadvantaged individuals and communities, primarily through entrepreneurial development. Through the Social Innovation Awards we invest in business ideas that can solve social problems, including energy, water, health, education, housing and food security. The SAB Foundation Tholoana Enterprise Programme is a two-year business support and capital grant programme designed to assist micro and small enterprises to grow and create jobs. Since the launch of the transaction in 2010, the SAB Foundation Trust has committed more than R151-million and has supported 355 enterprises.  In the recent SAB Foundation Social Innovation and Disability Empowerment Awards 2017, 24 winners were awarded over R9 million.
The country's urgent need for job creation underpins our focus on entrepreneurship development, and at the end of 2017 we committed to use this as the basis for creating a total of 10 000 jobs in South Africa by 2022. We aim to do so through several targeted programmes including the SAB Foundation, SAB KickStart, SAB Thrive and SAB Accelerator, as well as our agriculture programmes focused on emerging farmers.
This holistic package of programmes is able to support entrepreneurs to develop small businesses from ideation to growth, transforming our supply chain, as well as offering us the opportunity to invest in the potential of entrepreneurs in the broader community. Critically, sustainable, deliberate transformation in our procurement processes will enable long term participation in our supply chain for previously marginalised enterprises.
The procurement department offers black women-owned companies preferential payment terms, with over R3-billion of spend in the hands of black owned businesses.
Our long-running flagship SAB KickStart programme has been making a difference since 1995, focused on entrepreneurs between the ages of 18 and 35. The programme has two arms — SAB KickStart Boost and SAB KickStart Ignite.
SAB KickStart Boost is a supply chain readiness programme built around the objective of enabling high-potential youth-owned businesses to become suppliers of various organisations in the private and public sector. We back entrepreneurs in key industries to access SAB's supply chain, and thus grow into sustainable businesses that create jobs.
SAB KickStart Ignite supports disruptive innovators that have businesses and products with high potential to grow to be creators of employment. SAB KickStart Ignite acts as a pipeline of entrepreneurs for more advanced programmes such as SAB KickStart Boost.
SAB Thrive Fund is an enterprise and supplier development fund established to transform the company's supplier base. Established in partnership with the Awethu Project, a Black Private Equity Fund Manager and SMME investment company, its mandate is to invest in and transform existing SAB suppliers to become more representative of our country's demographics.
SAB Accelerator has as its key purpose to grow SAB's supply chain to be inclusive of black-owned, especially black women-owned businesses. This incubator facility has been created through funding in terms of the Public Interest Commitments agreed by SAB and AB InBev in 2016.
One of our newest programmes is SAB Lerumo, a three-month supplier development programme targeted at black-woman-owned companies that are struggling to break barriers and secure market access.
Agricultural development initiatives have been ongoing for many years and include the Go Farming initiative which included the Women in Maize project. Women in Maize, a multimillion-rand investment supported by SAB, the Department of Small Business Development, and provincial government departments, which supports the empowerment of women-run yellow maize farms was first launched in 2015. Participating farmers are assisted with skills improvement, financing, training and access to markets, most importantly being included in SAB's supply chain. The Go Farming programme provides much-needed input loan funding to emerging farmers across Gauteng, KwaZulu-Natal and Mpumalanga. An annual average of over R100-million has been provided, improving community livelihoods, food security and stimulating local economies.
Over and above this, a commitment to investment in agriculture amounting to R610-million has been made under the Public Interest Commitments. These initiatives are aimed at establishing thriving barley, hops, maize and malt industries in South Africa that strengthen rural employment and job creation, accelerate the development of emerging farmers and enable SA to become a net exporter of hops and malt by 2021. The strategic intent is to create at least 2 600 new farming jobs in SA.
These enterprise and business development programmes will assist SAB to realise our preferential procurement targets that will see us obtain 95% of our production requirements sourced locally.
Our tavern investment programme Khulanathi focuses on enterprise development nationally to invest in infrastructure that can facilitate sustainable, financially independent operations and ensure that these operations offer safe community spaces. Since 2014 we have invested in 21 139 taverns at a cost of R175 million. We expect to invest R46 million on 3 715 outlets this year.
A separate Smart Trader Programme has a Tavern Upgrade component which addresses more substantial infrastructure. R40 million was invested here in 2017 and 3400 more taverns will see benefit from this programme in 2018, to the value of an average R11 800 per tavern.
The Smart Trader Programme is a multi-faceted, high-impact and holistic approach to engaging liquor traders on alcohol misuse. It is the first programme of its kind in the country to actively position the liquor trader as a champion in the fight against alcohol abuse.
Such social impact programmes have a key role to play in social transformation. The well-being of the communities in which we do business is important to us and we have invested many millions of rands annually over many years into programmes that have made a real difference to reducing drinking and driving, Foetal Alcohol Syndrome and underage drinking.
Our youth-facing programmes such as the Future Leaders reality television show that follows the lives of six South African youths tackling issues of alcohol abuse and other related social problems, and the 18+ Be the Mentor mentorship programme are powerful tools for youth engagement.
Our investment in skills development has been ongoing in the form of over 200 learnerships per annum.  Furthermore, significant progress has been made in offering learnerships to persons with disabilities. We have established a R40-million programme of learnerships that will see over 500 unemployed young people living with disabilities – who have no formal training – being offered structured training over the next 5 years, with the intention that a significant cohort will be absorbed into jobs in the SAB value chain annually. Additionally, we are investing others learnerships, and agronomy and engineering study bursaries at university level.
A holistic understanding of our place in society requires that we recognise the elements that can come together for good, and how we can facilitate and strengthen their impact. Corporate citizens have a unique position from which to drive transformation. Each has a particular ambit in which it can maximise its inputs. We are proud to say that we actively pursue every opportunity to do so.