Turning IT Relics Into Business Viable Infrastructure
The IT shop in your business is probably full of old relics, resulting from IT's ability to morph and change at the speed of light. Convert these items into useful business assets.
Cabinets are used as book cases, old server room racks pile up in the basement and CDs are being used as coffee coasters. But before you call the Skip to come and collect some of these, there are ways in which you can convert them for continued use.
The fragile datacentre
Today's datacentre is the hub of your business, but they are also the most vulnerable part of the business, particularly if they aren't secure. Theft of a simple cable out of one of the cabinet's that host your datacentre can be catastrophic to your business as it can result in downtime or even data loss. Which is why today businesses are opting to turf out their old datacentre cabinets and replace them with units that host a myriad security and environmental monitoring sensors and controllers, and that they can, more importantly, lock up and leave.
It makes sense. With the rise of cloud computing the datacentre is the juncture where connections meet. But you can transform your cabinets instead of replacing them – by turning them into Secure Intelligent Cabinets – with the simple retrofit of an intelligent handle to your existing cabinets.
Smart investments
The reality is that you don't need to replace existing cabinets in your server room you can transform your environment completely by simply adding Smart PDU controlled intelligent handles, and some sensors, where the existing handles are. This is particularly attractive to companies looking to ensure that their infrastructure is "compliant" and that only the right people with the right security clearance have access to them.

You don't have to stop at retrofitting intelligent handles. Installing smart PDUs and retrofitting intelligent handles, offers the greatest level of security, remote control and monitoring, as they provide outlet-level or point of presence event data collection. The Netshield IoT/Cloud, Web and SNMP Smart managed Zero U PDU's are designed for quick and easy installation, and are cost efficient, with reliable high volume power distribution.
Smart access
The key thing to remember when it comes to a cabinet that houses any part of your infrastructure, is the ability to monitor and report on access to the unit. Smart handles retrofit into the standard key based handle cut outs in your existing cabinets. They put the power back into your hands as you decide how each one is accessed, whether this is by an RFID card reader or a keypad. This allows for reliable, safe and monitored unlocking of the cabinet front and rear doors.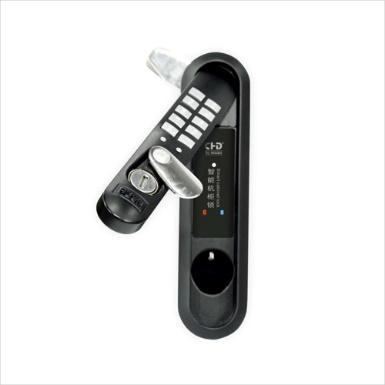 Both of these technologies can control access and monitor the door's status, allowing you to log events at the door. This information is relayed back to your centralised management environment and you can use it to analyse activities around the cabinet, including status, time, duration (of being open) and authorisation details (who is opening it).
For the technically savvy reader, the intelligent handles allow for monitoring and event logging messaging to be relayed through a conversion gateway on either SNMP, MQTT or AMQP protocols to centralised database services for optimal business analysis. Each handle includes LED indicators for status and event indications with a direct input for door monitoring contact, direct error output and type III equipment level surge protection.
Smart application
So you may argue that you spent millions in building a state of the art datacentre in your basement that would rival the Pentagon's security so why do you need this? Adding a secure layer to your existing cabinets with an intelligent handle allows you to now secure these units.
Ultimately this means that your cabinets become secure intelligent cabinets, supporting the need for compliant infrastructure in a world where compliance of not only data, but also physical hardware, is a critical component of business today.
Contact: sales@netshieldsa.com