Does Your Surveillance Centre Need An LCD Video Wall?
Marius van Wyk, Technical and Operations Director at SkyGroup Communications, says critical decisions are made at surveillance centres.
Surveillance centres are typically central intelligence hubs where different streams of information (CCTV camera footage, sensor data, etc.) come together to be analysed, monitored, and distributed. But exactly what role does a video wall play in this process? And why is LCD technology important to the final result?
The typical role of the large video wall in a security centre has changed over the years. In the past, it was the central location for monitoring. All camera feeds were displayed on it, and control room operators monitored the video wall throughout the day to keep a location secured. Today, there is simply too much information from all kinds of sources to be displayed on a single video wall. This has caused a shift in purpose for the video wall, changing it from a viewing and monitoring tool to a collaboration driver.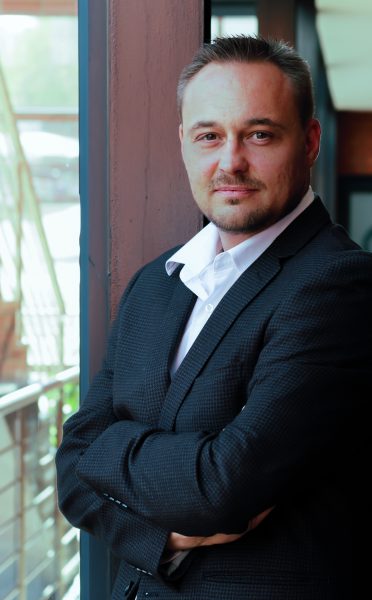 Operators work from their personal work posts and only display content on the video wall to consult with their colleagues and managers. In this way, video walls are the central point of focus in emergency situations, when communication needs to be optimised and decisions made without even the slightest delay.
The rise of LCD in control rooms
There are multiple technologies available for video walls. The most important are near-seamless LCD displays, rear-projection cubes, and Direct-view LED tiles. In the surveillance market, the cost of high-resolution LEDs does not yet cover the added value. Historically, rear-projection cubes have been the most frequently used technology in control rooms; their longer lifetime, high reliability and the minimal gap between the different modules created a better visual experience.
However, manufacturers have been working to perfect LCD technology. As they take up less space and have smaller price tags attached, LCD displays have earned a place on the shopping lists of control room designers.
We are currently working with partners who worked tirelessly to get the LCD component right. Designers in this field have relentlessly tackled the traditional shortcomings of LCD technology, with every aspect of the platform being re-evaluated and, if necessary, redesigned. This has resulted in video wall technology that delivers a magnificent image – with small bezels, high brightness, and great colour uniformity. The new designs have also yielded dramatically improved uptime and lifetime.
Calibration without the downtime
The balance of brightness and colour has long been one of the greatest challenges for video wall; as the panels are located so close together, even the slightest difference in settings is enough to ruin the effect of the entire wall.
Manual recalibration is not a suitable solution; a labour-intensive and time-consuming process, it results in hours of downtime that are simply unacceptable in a 24/7 critical environment. More modern automatic-calibration systems solve this issue such as: sensors that are integrated into the panels that can provide the system with the data to automatically recalibrate, creating a perfectly balanced image in mere seconds. Furthermore, maintenance of these is improved as it can be done ad hoc or on a scheduled basis (e.g. every night) to ensure operations are not disturbed at critical times. Which is the "service" nirvana.
We have also seen a number of additional innovations included into new LCD video walls – including the mounting structure and modularity – these nuances ensure that maintenance and service are a lot easier and less time-consuming than with traditional walls. Backlight lifetime is also essential, in control rooms so make sure whatever solution you opt for factors in about 100,000 for this.
If you have all of these boxes ticked then you should have an LCD video wall that will serve critical control room environments for years to come.