Remembering Gerald Gordon
A tribute to a veteran architect whose creativity and desire to solve housing problems made major contributions to the theory and practice of architecture.
Dr. Gerald Gordon, a Johannesburg-based architect, passed away in September 2016 at the age of 83. He qualified in architecture, studying part time in order to combine work and study, at the University of the Witwatersrand in the early 1950s.
Gordon ultimately earned three degrees in architecture. In 1987, he received his Master's degree (cum laude) for his thesis, 'Mies van der Rohe: Less is more: more or less? An exploration of his doctrines for the purpose of illustrating the problem of architectural pontification', which took a disruptive view of the-then current architectural theory and fashion. In 1994, Gordon earned a PhD for his redesign of AutoCAD. His research aimed to enhance the standard computer-drawing algorithms, and produced a significantly more flexible and powerful design tool.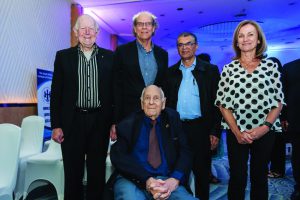 Gordon was known for his design originality. He was an artist who believed that good design should marry with structure and building processes. His mantra, that 'all design should be based on structure', led him to take calculated risks. His design ideas and love of art led him to explore new building technologies and design. The lure and beauty of simple and effective vernacular architecture, which he'd admired while travelling in Europe and the Middle East, strongly influenced his thinking about using natural and appropriate housing materials.
While living and working in London, Gordon studied law at the London School of Economics. This background was a valuable addition to his service as the Chairperson of the Transvaal Institute of Architects. A legal grasp enabled Gordon to resist what he considered short-sighted or invalid municipal and town-planning restrictions, and helped him structure his own contracts with his clients. A colleague noted that he systemised everything. Even his architectural specifications captured his minimalist approach to design management.
Gordon's home in Johannesburg was built clinging to what were considered the unbuildable rocky cliffs of Linksfield Ridge. He was conscious of walking in the footsteps of Hermann Kallenbach – the friend of Gandhi, architect, stonemason and carpenter − who had also pioneered and blended nature, site and design in the same area. Gordon's unconventional four-storey home was entered at parking level, and led down rock-hewn steps to the main living area backed by the quartz rock face so typical of Joburg's ridges. Similar commissions followed as his skill in building on difficult terrain became known.
Gordon joined the staff of the School of Architecture at Wits, where he was recognised as a designer with a unique approach. An 18-year academic career followed. He initially taught design, and then design through technology. His academic hallmark was in offering students insights combining architectural history, theory and independent analysis to inspire African originality.
To improve design in mass housing and township layout, and because Gordon believed that good design was compatible with any level of affordability, he introduced the 'Design under cost constraints' subject. Gordon's low-cost building research resulted in a system called 'Thin skin' construction. Possible for any type of housing, it was particularly relevant for the upgrading of informal settlements.
Gordon wrote a book on his housing designs, From vernacular to spectacular. As an acknowledged 'housing philosopher', he presented papers and chaired international conferences on sustainable building. When he retired from Wits, he continued his research there as an honorary research fellow in housing. Owing to the shortage of funds for social housing and his determination to create built case studies, he used his own funds to build prototypes of thin-skin construction.