Growing the Green Trend
The discussion over whether "going green" should be a priority for the hospitality industry is over, it is a priority and should be viewed as a catalyst for introducing innovative ways to enhance the guest experience.
This business ethos has won awards for First Group whose 'thinking outside the box' approach to full-scale sustainable operational systems includes initiatives such as worm farms, fish programmes, beehives, bat hotels, owl houses and water purification treatment plants.
"We are constantly looking for ways to use the influence of the hospitality industry to effect change. Guests are becoming more aware of eco-friendly practices and even more so when it comes to the dining experience. Choosing restaurants that are going above and beyond to minimise their carbon footprint without compromising on flavour is becoming a deal breaker," says Lamont.
Chef Sam Stone, who is the Group Development Chef, concurs: "With the huge influence of TV cooking shows and social media, people love to consider themselves 'foodies' who embrace clean eating and expect the same when visiting our hotels and resorts. This means evolving our menus, continuously finding ways to reduce our food waste and replacing plastic with bio-degradable options when it comes to straws and other take-away packaging."
When dining at a First Group hotel or resort, guests get to savour organically grown herbs and vegetables that are free of any herbicides or pesticides.
"Having our own gardens allows us to pick fresh, nutrient-dense ingredients that are grown with minimal intervention and very importantly, have no carbon footprint. Our menus embrace freshness that is rooted in an 'eat well' philosophy and the respectful use of food, which gives our guests the opportunity to 'dine clean and green' with us," adds Chef Stone.
As part of the business ethos to keep growing the green trend, First Group has increased its awareness around reducing food waste by implementing the Central Kitchen initiative, which hinges on a zero-waste approach. Offcuts and trimmings are used for specials, potatoes into mash for a side order, butternut into a soup, beef bones and mirepoix into jus and wilted herbs into infused oils.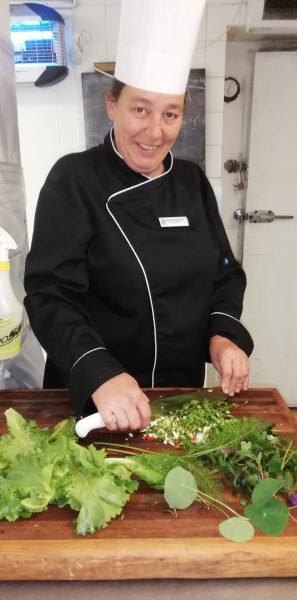 "Addressing food waste was not just a matter of installing a compost bin. It required a strategy to minimise the food waste in the first place, which entailed adding smaller portion options for people who eat less than the regular-sized portions and creating menu items that incorporate food prep items that were previously discarded," explains Chef Stone.
The global move towards taking up the Chefs' Manifesto – a Sustainable Development Goals initiative that is aimed at inspiring chefs across the world to champion the use of lesser-known, diverse and indigenous ingredients from sustainable sources – has also been adopted by First Group's culinary team.
Chef Colleen Mulholland at Selborne Golf Estate, Hotel & Spa, agrees, "I love cooking with freshly picked vegetables and herbs, artisan breads and artisan vinegar because it tastes distinctively better and you can ensure the freshness of your meal. My goal is to move completely away from all readymade and instant products, so that everything we prepare is cooked from scratch."
Lamont concludes, "Our goal is not only to achieve eco-savvy restaurants, but to also create memorable dining experiences for our guests while we do our bit for the environment and future generations."