The Capital Hotels And Apartments
Where affordability, adaptability and luxury meet, o­ffering you a vast selection of hotel, apartment and conference rooms.
Designed to match your lifestyle, giving you everything you need to make your stay as comfortable as possible. Whether you're visiting for business or leisure, The Capital Hotel and Apartments is centrally located so that you're always right where you need to be.
Since its inception in 2008, The Capital Hotels and Apartments has achieved outstanding success, as a leading supplier at the forefront of the corporate hotel industry. Thanks to significant public support for its initial investment, The Capital's steep growth trajectory has gone from strength to strength, with the company now widely regarded as one of the largest providers of fully serviced luxury apartments and hotel rooms in the country.
From day one, The Capital Hotels and Apartments identified an escalating need for safe and cost effective accommodation that would directly address the needs of the escalating number of blue-chip and multi-national firms basing themselves in South Africa's s bustling  business districts. This ever-growing demand, along with a state of economy that proceeds to impose even stricter company travel expenditures monitoring, means that executives apartments continue to present the more affordable alternative; a quality yet 'no frills' product that delivers real value to business and leisure travellers alike.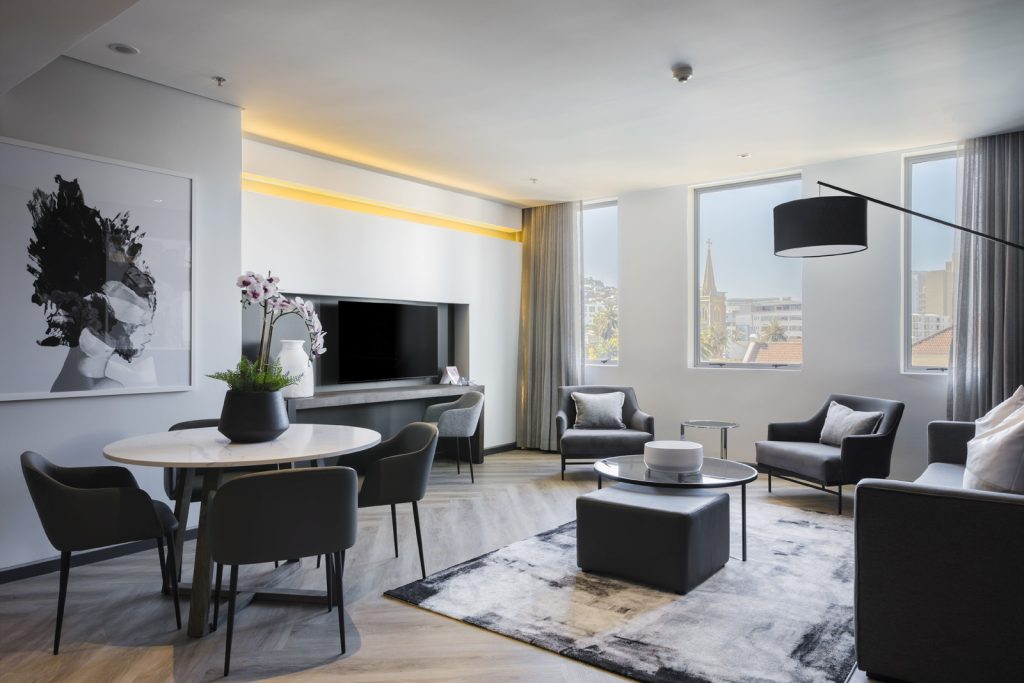 With its reaffirming Right, where you need to be positioning, The Capital has cemented itself as a dominant player in the hospitality marketplace, and is now poised for the next wave of growth; building further on its success, stability and strength in the industry, offering a broad range of short, medium, long term accommodation and conference facilities at affordable rates. The Capital Hotels and Apartments' portfolio consists of properties in Sandton, Rosebank, Melrose, Pretoria, Mbombela, Durban and Cape Town.
Unwavering focus, and an uncompromising strength in quality management have been crucial to The Capital's tremendous growth in occupancy rates, financial performance, and overall customer and corporate relationships.
Why Stay at The Capital
Fast Facts:
National hotel group  with multiple properties in key locations
Hybrid hotels with fully serviced luxury apartments (1900+ rooms)
World-class conferencing facilities and adaptable meeting rooms, able to accommodate large scale events
Enjoy an array of complimentary services: uncapped high-speed Wi-Fi, scheduled shuttles, laundry in apartments and secure parking
Ease of booking – Online, call Centre, on app, and on global distribution systems (GDS)
Corporate rates and special offers available
Best price guarantee for La Famiglia members
Join The Capital's La Famiglia & Save up to 20%
La Famiglia members get the guaranteed best rates in town.
It's simple:  Family always pays less. You will not find lower rates for The Capital hotels anywhere else.
With zero joining fees and instant discounts of up to 20%,  La Famiglia guarantees members the lowest rates FOR ANY OF The Capital's hotels, always. If you find a better rate anywhere else online,  The Capital will give you a free night.
Instagram : thecapitalhotelsandapartments
Facebook: TheCapitalHotelsandApartments
Twitter : TheCapital_SA
reservations@thecapital.co.za +27(0) 11 290 9700