Loyalty Success Stories
Leading retailers require leading loyalty programmes. Anthony Sharpe sizes up two of the best performing in SA.
There's always pleasure when local stars shine internationally. This is certainly true in the area of retailer loyalty and rewards programmes. Woolworths picked up three gongs at the Loyalty Magazine Awards held in London earlier this year, beating off record numbers of entrants with its MySchool MyVillage MyPlanet iniative, which is linked to its WRewards programme.
The Woolworths team walked away with the awards for best corporate social responsibility initiative linked to loyalty, best long-term loyalty programme and the regional award for Middle East and Africa.
"We're very pleased because we're one of just four groups that won three awards," says Pieter Twine, general manager of loyalty and MySchool at Woolworths. Twine says that what made WRewards different from the outset was the introduction of instant gratification, being the first retailer in South Africa to offer discounts on the spot to members.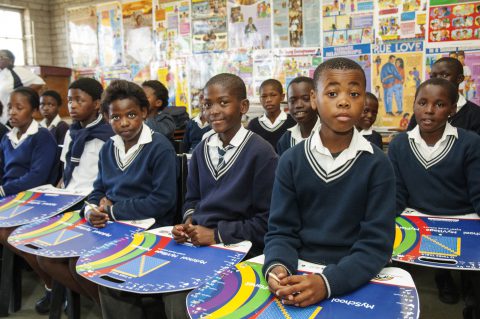 WRewards is a tiered system and members can progress to bigger, direct benefits based on spending patterns. Whenever members buy certain products – chosen based on ongoing analysis – they receive a 10% to 20% discount immediately. Those utilising Woolworths Financial Services get a further 5% discount and Woolworths credit-card holders get up to 3% of their spend back in vouchers. At the same time, their spend translates into funds donated to up to three causes.
Since its inception, the MySchool programme has donated R570 million to the various causes it supports.
"I think the emotional cause of MySchool MyVillage MyPlanet clearly differentiates us in the South African market," says Twine, "especially because many have tried it, but none has succeeded at the scale at which we have."
Of course, the measure of a successful programme is its impact on consumer behaviour. Twine says this is measured at three levels.
"The programme's success needs to drive incremental sales – basket behaviour and frequency. It should drive emotional connection and ongoing engagement with the brand. And the third measurable outcome is people promoting the programme – MySchool has a net promoter score (NPS) of 59, which measures the likelihood of members recommending it to a friend."
Globally, an NPS of over 50 is considered very good. According to IndexNPS, Amazon in the US has an NPS score of 62.
Shopping smarter
Another successful supermarket rewards programme, Pick n Pay Smart Shopper, has also been in the news, albeit for a somewhat different reason. Launched in 2011, the programme attracted a staggering five million members during its first year, against a target of three million. The system of one rand-value point earned for every R100 spent was seen as a great value proposition.
But last year Pick n Pay quietly announced that it was cutting the value of cashback points earned from 1% to 0.5%. This meant customers now need to spend R200 to earn R1 worth of cashback. Was Smart Shopper, in fact, a victim of its own success? Customers were not pleased, but Pick n Pay's head of marketing John Bradshaw says that despite a period of adjustment, engagement levels remain unchanged.
"Feedback from customers showed that they were seeking more immediate help to balance their household budgets," says Bradshaw, "so we modernised Smart Shopper in March 2017 to place a stronger emphasis on weekly personalised discounts, in addition to customers being able to earn points that can be switched to a rand value and spent in store on whatever they want or need."
Pick n Pay also took the controversial decision to reduce the validity period for points from three years to one. Bradshaw explains that this is all part of keeping customers engaged and active.
"Our data shows that most of our customers switch and spend their points within a year, often when their points balance reaches R10, R20 or R100," Bradshaw says, "For the minority who don't, we've been encouraging them to spend their accumulated points and get more value from the programme. Our experience with active Smart Shoppers is that the benefits are more effective when used within a year."
Staying relevant
How will successful schemes stay that way? Both Twine and Bradshaw agree that as digitisation spreads and personalisation becomes the norm, consumers are increasingly buying from brands that are relevant to their specific needs. This means businesses are under increasing pressure to grow and sustain relationships with their customers, with all the mutual understanding and evolution that implies. Loyalty programmes offer a great way both to collect relevant data on consumers in order to develop that relationship, as well as a means by which to maintain it.
"Everything we do, whether it's through Pick n Pay or Smart Shopper, is based on customer feedback and behaviour," says Bradshaw. "Every Thursday, Smart Shoppers receive personal 'Just for You' discounts on the products they buy most often, worth over R500 per customer per year. No two Smart Shopper discounts are alike. As all customers shop differently, we try to give each customer the best offers based on what we know about them from their shopping habits."
Woolworths has also recognised the need to connect relevantly with customers, says Twine. "If a customer doesn't see that you understand and want to meet their needs, they will disengage," he explains. "We've done some tests by offering personalised vouchers to a large part of our base and we've learned over time how important they are in terms of engaging with customers' unique needs and expectations.
"The more you understand your customers – and the more they see that – the more your communications stand out from the clutter. Most people are very busy and belong to many different programmes, so they only engage with the ones that are valuable and relevant."