Designer Home, Lush Views
Well-known South African personality Melinda Bam designed her home in the lush surrounds of a game reserve where views are unobstructed and natural light and a sense of gratitude are in abundance, writes Nia Magoulianiti-McGregor.
Who I am is a TV presenter, former Miss South Africa, entrepreneur, artist and nature lover, who is detail-oriented and a creative at heart. I live with my husband Adriaan and our two French bulldog pups, Rover and Ruby.
The style of the home we designed is modern contemporary with a nod to African contemporary. It showcases our love for the outdoors. We constantly tweaked the design and interior details to make sure we captured the essence of our home and created an open feel that is also warm and inviting. We also played to the lush green surroundings of the reserve around us, ensuring views were unobstructed.
The thing I like about our style is that most of the aesthetics and design components were compiled over time, drawing inspiration from our travels both locally and internationally. It's about the way those spaces lived and felt that created an emotional connection to us, and which we tried to incorporate throughout. We adore how unrestricted the spaces feel while still having complete privacy with the thoughtful placement of louvres, trees and the general orientation of the house.
Our home is important to us because it's a place we dreamt up from our shared experiences. It's an extension of who we are, with space for the people we love, and the ability to enjoy nature.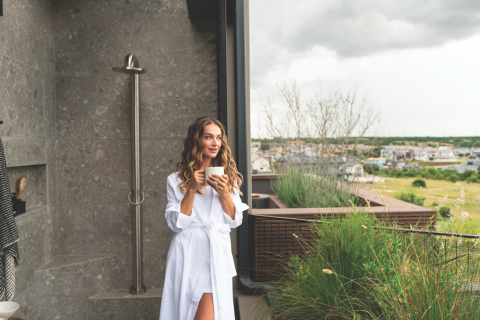 We chose this property after praying about the stand and location of our home. It's surrounded by nature in a beautiful game reserve, and far from the madding crowd, yet it's close enough to everything important. We hear the cicadas in the afternoon and watch the antelope grazing around us.
It reflects our personality in that we believe magic lies beneath the surface. It reflects both our desire to disconnect from the business of life and material things and connect to the present. I am an emotionally driven person, and that is reflected in the mood and ambience of our home.
My favourite room is our main bathroom. It's a sanctuary where we can reconnect with each other. When we designed our bathroom, we wanted a space that draws the outside in. Large open windows that can push back completely, tall ceilings, greenery and an outdoor shower were just some of the items on our checklist. Every angle of the bathroom, from vanity to shower, is positioned to provide a view.
My favourite item in it is the DADOquartz Maya bathtub.
The best part of our bathroom is how light transforms this space at different times of the day. It opens up to an atrium where our stunning JEE-O outdoor shower overlooks the roof garden.
For privacy, I designed stackable wooden louvres with gaps big enough to let light in yet small enough to block anyone with binoculars.
I also love our infinity pool overlooking the sunset.
This was inspired by our travels to the Maldives and Greece where the sunset would put on a show at the end of the day and the reflection on the swimming pool would be its encore.
I also love Adriaan's ingenious idea to move our boma to the corner of our stand where we are completely immersed in the bush.
A few of my favourite things in the kitchen include my integrated Siemens Home Connect appliances, the high-gloss white floor-to-ceiling cupboards, the airy concrete Caesarstone top with a step-down solid walnut bench, and the accompanying walnut drawers and floating shelves lit up with a beautifully hidden LED glow.
My most useful appliances are my Siemens Home Connect built-in oven and a fully automatic coffee machine because of their sleek design and functionality.
The most extravagant item on my wish list is an Anton Smit life-size Faith sculpture for our entrance.
The best piece of design advice I have been given is: "You may like many things, but many things are not like you – know the difference when selecting pieces you'll live with."
And the worst was: "In the end, you won't even notice it."
My favourite colour scheme, décor-wise, is natural and earthy tones with the occasional splash of colour.
When I look around my home, I feel a deep and overwhelming sense of gratitude. It's a privilege to have created this space with Adriaan, and we never take that blessing for granted.
The most heard music in my home is Bethel Music or my mix of bossa nova or Yellowjackets jazz playlist.
The one thing guests in my home may not do is jump from the main bedroom patio into the pool – although Adriaan constantly entices them to do it with him.
But they're very welcome to open another bottle of wine, have deep meaningful conversations or simply sit and listen and stare at the sunset.