---
Sometimes it feels as if we do holidays wrong; we arrive home tired, overweight and unfit. Tamara Oberholster finds out how to make your next holiday do what it's supposed to do: leave you feeling revitalised and ready to take on the world.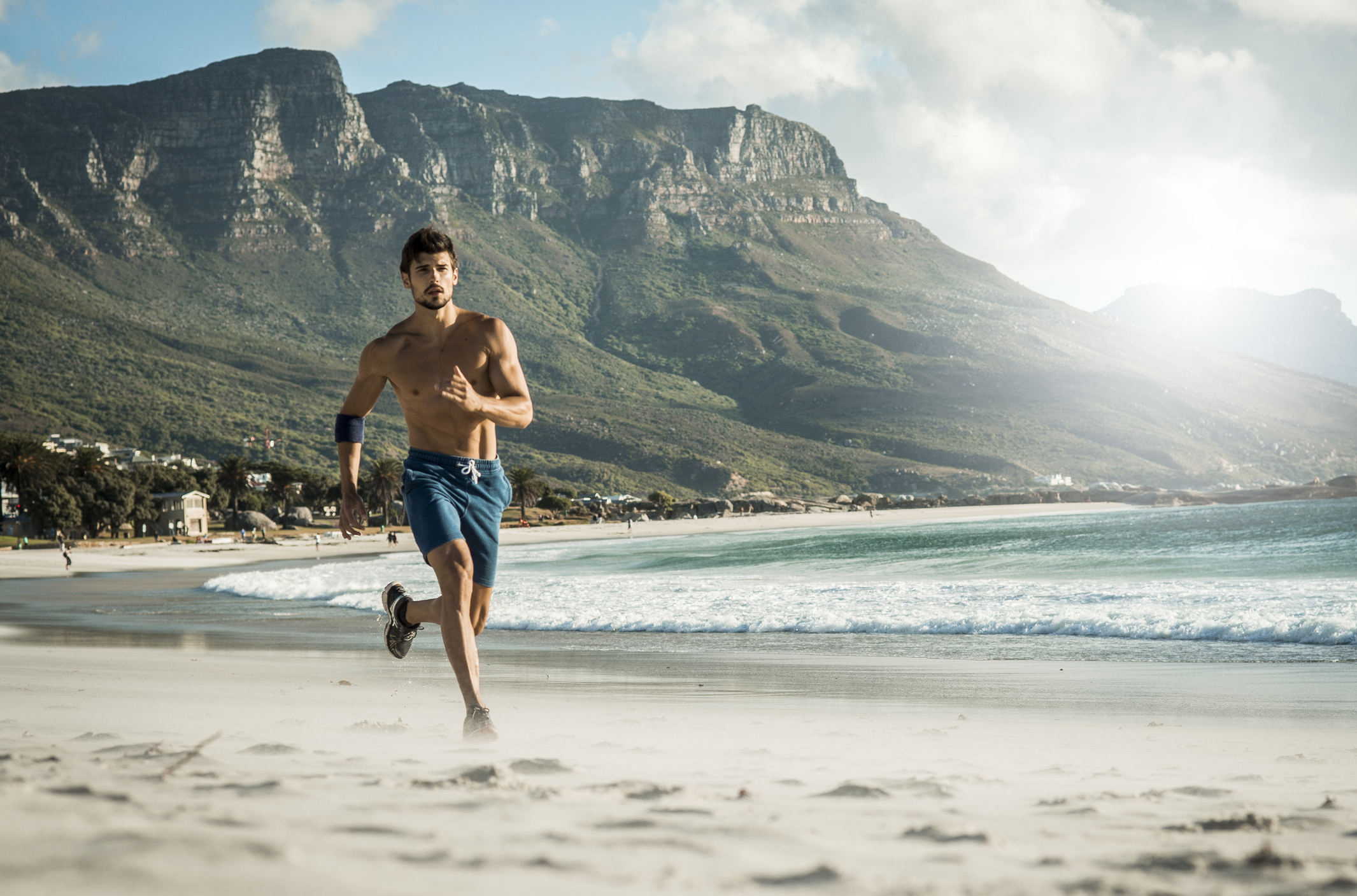 Image: ©iStock
Holidays are about rest and relaxation. The point is to return to work (or school) refreshed and revitalised. Yet unhealthy holidays can leave you more worn-out than before, whether it's from eating too much, not getting enough sleep or exercise, or battling jetlag. Thankfully, with a little planning, you can have a healthier holiday, whether you're at home or away.
Avoid overindulging (but still enjoy yourself)
Registered dietician Jacqui McKay says the main food-related holiday challenges people face are a lack of routine, combined with more socialising.
"You may be eating out at restaurants (where you can make a good choice, but the portion and preparation aren't always controlled) or at friends' houses (where you often don't have a choice of what you are served)," she says. "Alcohol intake can also affect your portion sizes and food choices. If you're away, hotels and buffets can make eating healthily more challenging."
Her advice is not to write off your holiday in terms of healthy eating. "Stock up on lots of fresh fruit, vegetables and salads (including crudités) so that, in between socialising, you have healthy options at home," she says. "Experiment with interesting smoothie and salad recipes. Cut out sugary drinks and fruit juices, as these are kilojoule-dense. Drink plenty of water, and remember the golden rule for parties and restaurants: don't arrive starving, as your choices and portions could get out of control."
Another way of making extra holiday kilojoules disappear is to make an effort to exercise for at least 40 minutes every day. "Keep moving and keep hydrated; then you can afford the afternoon nap and a few extra snacks and sundowners," says McKay.
She notes it's also important to compensate after an indulgent meal. "For example, if you have a big brunch, just have a fruit and plain yoghurt for lunch. Or, if you want dessert, cut out the carbohydrate at your meal. Don't avoid social occasions – just watch portions, and be wise with what you eat beforehand and at the next meal."
Make time to move
Not many people feel like hitting the gym while on holiday, but getting some exercise can help you to feel your best. According to Tarryn Seagram and Cheryl Whelan, co-founders of TransformHERS Ladies' Outdoor Fitness Programme, it's possible to strike a balance between relaxing and maintaining your fitness.
"Making exercise fun is key to staying motivated while in holiday mode," Seagram says. "Incorporate your family members into the workout – have a family challenge so everyone is involved, including the kids. Workouts needn't take up too much of your time (you are on holiday, after all). Instead, make it a power 30 minutes per day."
Whelan adds: "It's also helpful to change your mindset from 'taking time off' to 'keep moving'. It's a sure way to beat the holiday bulge (because, let's be honest, we all consume too much when we have time on our hands), and to return home feeling revived and ready to tackle your usual routine."
Keep healthy while globetrotting
If you're planning an overseas holiday, there are a few additional health-related matters to consider. Dr Cora Bopape-Chinyanga says one of the most common issues is jetlag. "Jetlag, also known as time-zone change syndrome or desynchronosis, is a real phenomenon. Flights are not comfortable enough to sleep on, and this disturbs your normal circadian rhythms (sleep and wake times). Your body and its hormones have those rhythms established in your own time zone. On long travel over multiple time zones, this goes into disarray," she explains.
To combat this, Bopape-Chinyanga suggests sleeping on the flight if you can, and avoiding caffeinated drinks and alcohol while flying, as well as later in the day at your destination. "Take a few days to settle into a new time zone and routine," she says. "Try not to party and stay up all night. Go to bed at night in a dark environment and stay awake during the day."
Another common challenge is that foreign foods, while exciting, may harbour different micro-organisms. "Some may cause harm; some may not," Bopape-Chinyanga says. "The same suggestions apply for staying healthy in your own country – wash fruit and vegetables thoroughly before consuming. Make sure meat, especially chicken and pork, are cooked well and right through. Eat at reputable restaurants. In terms of alcohol, anything in moderation is acceptable. If possible, buy bottled water. Keep well hydrated throughout the day."
It's also important to check beforehand if there are any vaccinations or prophylaxis required for the regions you're visiting, Bopape-Chinyanga notes. "Travel health insurance is also mandatory and is reasonably priced in South Africa."
Health pointers aside, she has one final piece of important advice: "If you are travelling with your children, don't forget to take their unabridged birth certificates!"
Holiday eating – top tips
Dietician Jacqui McKay's advice for healthier holidays:
Watch portion sizes.
Keep your activity levels up.
Whenever possible, fill half your plate with salad or vegetables.
Opt for a spritzer or light beer instead of a cocktail or sugary cider.
Choose water/sparkling water with lemon and mint instead of fruit juice or sugary cold drinks.
Snack on fruits and crudités with hummus or cottage cheese, or popcorn, instead of chips and dip.
Choose salad or vegetables instead of fries.
Compensate for indulgences whenever possible.
See a registered dietician for healthy recipes and more detailed guidance with portion sizes.
Holiday first-aid kit
Dr Cora Bopape-Chinyanga suggests packing the following:
Antiseptic balm.
Antiseptic detergent (small container).
Cotton wool.
Bandages/plasters.
Over-the-counter painkillers (choose paracetamol rather than codeine, which is a controlled substance in some countries).
Anything that needs more than these supplies should be dealt with at a medical facility.
Fun holiday fitness
Tarryn Seagram and Cheryl Whelan suggest the following:
Away holidays
On coastal holidays, do brisk walks along the beach, stopping every 100m for star jumps or push-ups.
Take a skipping rope or TheraBand with you – they don't take up much space and can give you a good workout in a short space of time.
Many resorts have tennis courts (and racquets for hire). Challenge your partner to a game, or set up a family round-robin tournament.
Do aqua exercises in the pool. Run on the spot; use a pool noodle to support you and kick underwater (on your front and your back); and, while standing, do fast, small circles with breaststroke movement with your arms underwater.
Holidays at home
Put on music and dance. If you're exercising as a family, take turns to choose the next dance move for everyone.
Take your workout to the streets – do interval runs between streetlights in your neighbourhood or between songs on your iPod.
Cycle around your neighbourhood or at a local cycle park.
Take your dogs for a walk in the park – you'll all enjoy the exercise.
Visit an ice-skating or roller-skating rink with the family. This is a good workout for your legs and core.
Make exercise fun!
---