---
Sungula Nkabinde asks if black economic empowerment has had a positive impact on all South Africans.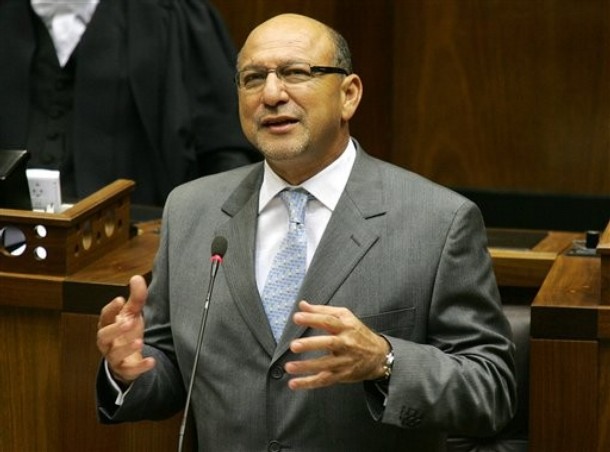 Image: Trevor Manual
There is a growing group of people who ascribe to the view that black economic empowerment (BEE) has only benefited an elite few who have become wealthy — and even super wealthy in some cases.
Trevor Manuel who, at an Association of Black Securities and Investment Professionals (ABSIP) conference last year, said: "In spite of 13 years of legislation and regulation and eight years since the introduction of the first Broad-Based Black Economic Empowerment (B-BBEE) codes, and an even longer history of discussion of empowerment charters and vast sums of money committed to B-BBEE, the evidence on performance suggests that the best endeavours have produced patchy outcomes, at best."
George Sebulela, secretary general of the Black Business Council, agrees with manuels sentiments and adds that the policy has thus far been ineffective. Although he is hopeful that the government's black industrialists programme will bring about real transformation, he says the B-BBEE framework was poorly executed, not least because the government has failed to deal with individuals and companies who seek to cheat the system. People involved in fronting, for example to be penalised severely enough to deter others from being involved in the practice. "It is quite correct that the impact of BEE has not been predominantly successful. The mechanisms of the transaction that were done were not in favour of proper transformation.
"In fact, I remember at some point that mergers and acquisitions in the country were sitting at R477-billion and that the majority was driven by black empowerment transactions. But the funding mechanisms was reliant on the performance on the stock exchange, meaning that if the company performed poorly, those deals were not very profitable," said Sebulela.
"It is a great vehicle for empowering many people. But the mechanics of implementation is not sufficient in order to transform the economy for the benefit of those people. The government was meant to enforce various laws in order to ensure that BEE policies were implemented, but they failed to do so. The mining charter is one such example. A lot of mining companies did not meet their targets before the deadline, but nothing was done to those companies. The mechanics of implementation is what makes BEE ineffective."
Has BEE contributed to slow economic growth?
Dr Anthea Jeffery, head of policy research at the Institute of Race Relations (IRR), is even more critical of BEE, saying that it has contributed negatively to the South African economy. She says that our economy has one of the lowest growth rates on the continent and that BEE has contributed to our rising unemployment statistics and widening inequality. She cites two field surveys done by the IRR where black people were asked whether they had benefitted from BEE and only about 14  per cent of black South Africans said they had derived some personal benefit from it. "This makes it worse in a country where so many people don't have any work experience or a good-enough education to benefit from employment equity opportunities. They're not going to be the ones to benefit from preferential procurement contracts, which also seem to go to a small group of beneficiaries. If they run an SMME they will battle to make a success of it with growth at 0.3  per cent of GDP, because nobody can hope to grow business in an environment where the growth rate is so low."
Transformation consultant Paul Janisch agrees with this view, saying that, although he believes there have been aspects of BEE that have been positive, there is no amount of policy regulation that can transform an economy of such gaping inequality.
According to statistics from the Department of Education, only 37  per cent of pupils that started school in 2005 matriculated last year, while only 14  per cent qualified to go to university. Janisch says: "There is no point in starting a business in rural areas because there simply isn't enough money. It's too far out for a large corporate to even begin to support it. The infrastructure investment in the poor areas has been insignificant."
Institutional memory and experience
This poor service delivery is something that Jeffery also attributes to employment equity regulations, which saw public officials of the apartheid era quickly replaced by new people, resulting in the loss of institutional memory and experience.
She thinks that a slower process, where senior personnel in the old regime stayed on to mentor the new people coming in would have been better overall for those who are never going to get the opportunity to get management posts and to benefit from public procurement regulations that favour black entrepreneurs.
She says BEE has done harm to poor black people in the sense that, for a number of years now, the lack of capacity within the public service has been a key barrier to doing business in South Africa and the World Economic Forum has now identified it as the top barrier.
Growing a black middle class
One thing that cannot be denied is the growth of South Africa's black middle class, which, although Jeffery concedes that employment equity laws have helped to expand the size of the black middle class, she is not convinced that this would have happened anyway, and more organically, if South Africa had concentrated on growth and good education.
"If we had focused on education and rapid economic growth of 5 to 6  per cent, there would have been a huge demand for skills that white people couldn't have possibly met, resulting in black people getting the education and opportunities necessary to move up in the world of work. So, it's difficult to say that we've done better with employment equity than we might have done if we focused on growth, entrepreneurship and education instead of redistribution," says Jeffery.
Transformation awareness
Janisch says that, if one looks at BEE as an accepted policy and an accepted system — (referring to the scorecard method) to measure the levels of transformation within an entity — it has worked.
This is evidenced by the sheer number of companies and small businesses outside central metropolitan areas that now have scorecards compared to ten years ago. He also says that, with more than 400 BEE verification agencies in the country, there must be a need for the services of these companies.
"The big pressure for BEE compliance came from the larger corporates whereby they put pressure on companies to match industry average of compliance in order to benefit from those corporates' procurement activities," says Janisch, adding that B-BBEE needs to be given more time.
He says scorecards have been around since the early 2000s, but the one that is understood – that is, before the new regulations were published last year – was only published in 2007.
Janisch adds: "So, you are looking at a transformation process that has been in effect for ten years. The minister was informed in 2012 that transformation had not taken place, so he decided to change the rules. But, at that stage, he'd given something as far reaching as black economic empowerment only five years to become successful.
---