TVET SA Celebrates Our Learners' Achievements
---
There was a hustle and bustle at the River Club in Cape Town as learners from all over the Western Cape gathered to get ready to attend the first ever TVET SA (Pty) Ltd Learner Graduation Ceremony. Cameras flashed as learners donned their graduation gowns – a proud moment for the learners and their employers.
Images: ©TVET SA (Pty) Ltd
TVET SA (Pty) Ltd recently hosted a Learner Graduation Ceremony for 150 learners who successfully completed nationally recognised learnerships (Sewing Machine Operator and Finishing) and skills programmes (Patternmaking, Sewing Multiskiling, Sewing Machine Mechanics and Team Leaders).
For many of graduates, this was their first experience of achieving a nationally recognised certificate for completing a formal learning programme. Taking into consideration that a large percentage of the participants in clothing related learnerships and skills programmes are early school leavers, entering a recognised learning programme through TVET SA (Pty) Ltd represents a unique opportunity for them to obtain industry-relevant technical skills and to increase their employability and prospects for upward progression.
Some of the learners were unemployed and without much hope when they entered the learnership programme a year ago. But many of those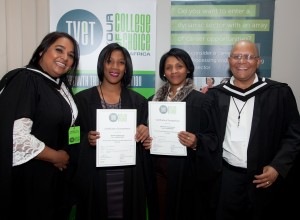 who persevered through the theoretical and practical learning process and workplace experience and successfully completed the programme, have since found employment in the formal clothing and textile industry in the Western Cape. Equally, learners that were employed prior to entering the learnership have gained increased skills levels and are now able to confidently pursue opportunities for further learning and development, change in job scope or promotion.
Addressing the graduates during the ceremony, Ms Theresa Otto, Director: Technical, Academic & Programmes encouraged the graduates to seek further opportunities to engage in training and development to access their full potential: "Receiving your certificates this evening, does not signal an end, but rather the beginning of a life long journey of learning. Continue to make us proud, by being hard-working, innovative and committed."
Sharing her experience of being a learner again at the age of 47, Primrose Mbasa from Levi Strauss & Co said that she took a decision upon enrolment that she would not let her age stand in her way of completing the NQF Level 2 Sewing Learnership. Despite encountering difficulties along the way and with the support of her family, she completed the learnership and she is now ready to pursue new opportunities that may come her way.
Speaking at the ceremony, General Secretary of the Southern Africa Clothing and Textiles Workers' Union (SACTWU), Mr Andre Kriel, emphasised the need for coordinated efforts to fast track training and development in the clothing manufacturing industry. Quoting from the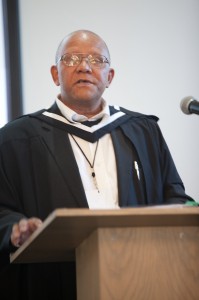 Clothing Industry Summit Accord signed on 5 April 2017, Mr Kriel highlighted some of the training intervention measures that were agreed on by the employer and labour parties for the next five years such as the placement of 6,000 learners on learnerships per annum and creating opportunities for learners to enter short skills programmes (5,000 per annum).
A further measure captured in the Summit Accord was the reintroduction of industry-wide graduation ceremonies to acknowledge the achievements of workers and unemployed learners who completed learnerships and skills programmes. He applauded the efforts made by TVET SA (Pty) Ltd in hosting the Learner Graduation Ceremony and in so doing, giving effect to the Summit Accord.
Mr Kriel congratulated the graduates for making good use of the opportunities that were presented to them through their employers, TVET SA (Pty) Ltd and the FP&M SETA.
The learning programmes provided by TVET SA (Pty) Ltd are generally implemented in partnership with employers in the clothing and textile industry who either select workers to be enrolled on learnerships or skills programme or provide workplace experience to unemployed learners entering learnerships. Jennifer Choice, MD of TVET SA (Pty) Ltd paid tribute to the clothing and textile companies who continuously invested in the development of their workers and supported the training of unemployed learners entering the industry.
Mrs Choice also acknowledged the crucial role played by the FP&M SETA through its ongoing support to the clothing and textile industry. It was noted that the majority of learning programmes implemented at TVET SA (Pty) Ltd were funded through discretionary grants allocated for this purpose by the FP&M SETA.
Representing the FP&M SETA CEO at the Graduation Ceremony was Ms Leigh Hayes, Regional Manager for the Western Cape. In delivering the message from the CEO, Ms Felleng Yende, Ms Hayes highlighted the 14-year partnership between FP&M SETA and TVET SA (Pty) Ltd)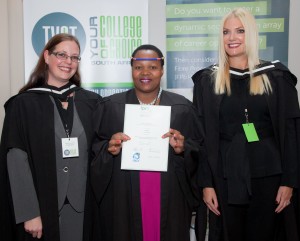 which have come a long way in terms of producing impactful skills development initiatives for the clothing manufacturing sector and for the youth in South Africa. "It is through partnerships such as this that the FP&M SETA can achieve its vision of producing future perfect skills development." She also congratulated the graduates for embracing the opportunity and seeing it through to successful completion, stating that no-one could take education away from them and that it may open many more doors of opportunity.
The most important part of the graduation ceremony was the handing over of learnership and skills programme certificates to the graduates by the officials which included TVET SA (Pty) Ltd Directors, Mrs Jennifer Choice and Mrs Theresa Otto, General Secretary of SACTWU, Mr Andre Kriel, General Secretary of the National Clothing Industry Bargaining Council, Mr Sicelo Nduna, Executive Director of the South African Apparel Association, Mr Johann Baard and Ms Leigh Hayes, FP&M SETA Regional Manager.
Congratulations again to all our graduates!
---