Home » » Tuning Out The Noise
Tuning Out The Noise
---
Tamara Oberholster talks to three women who have built successful careers in traditionally male-dominated sports arenas by persevering, ignoring detractors and demonstrating their worth, paving a way for others to follow.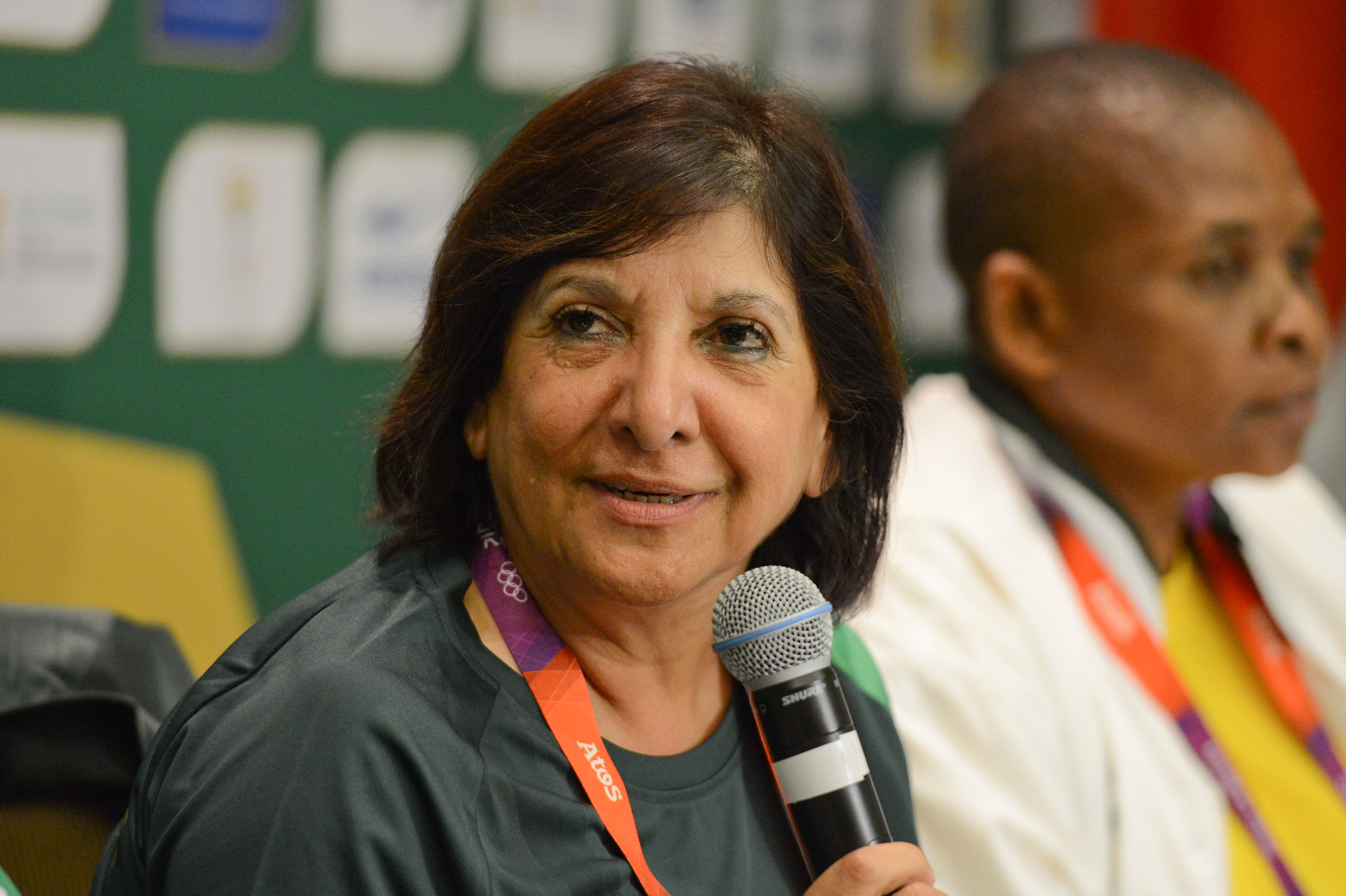 Image: Hajera Kajee - 2012 London Olympics: Team SA press conference
Dr Carol Austin, head of performance support and medical at Team Dimension Data (Africa's first World Tour cycling team), believes it's important to remove the gender barriers that still exist today. "Fortunately, we're in an era of change, and many women and men are working hard to change the status quo. We need to harness the potential contributions each individual has to offer, in the workplace, our families and communities, independent of gender or other 'defining' parameters. Those in leadership positions are critical to driving real change," she says.
Her own experience proves that women can succeed in roles traditionally held by men. "Men's road cycling remains a traditional, male-dominated, euro-centric sport. Our team at  Dimension Data has been instrumental in breaking down many perceived limiters and modernising the sport.
"When Douglas Ryder invited me to work with the Dimension Data team a decade ago, he did so on the basis of my skills, competence and aligned vision/drive. I have always held a senior leadership position within our team, valued for my strategic direction and implementation of our high-performance programme. The team's growth, progress and consistent performances over many years underline my delivery. I am African. I am a woman. I develop African talent for world-class performance. I lead by example, and invite others to disregard perceptions/misconceptions and to get on with the work. There is so much work to be done," Austin says.
For other women wanting to break into the sports sector, she has the following advice: "Find and understand your passion and purpose. Look for aligned big dreamers. Commit for the long run. Never take your eye off the A-game."
Austin says South Africa has plenty of sporting talent, but a critical need is creating a development pathway for young athletes across a broader spectrum of communities and sporting codes.
For example, Europe has a well-developed cycling culture and an established framework for athlete development, whereas in South Africa, cycling is primarily a recreational sport accessible to a wealthy few.
Austin says Team Dimension Data aspires to change this by supporting the Qhubeka charity, which distributes bicycles to facilitate social development and build a stronger cycling culture in South African communities.
"Through our performances on the world stage, the team hopes to inspire the dreams of a new generation of African talent," Austin says. It also creates pathways for talented U23 riders into the EU pro-peloton though its Continental Team.
Scoring a hat trick
Kass Naidoo, South Africa's first female cricket commentator, says being the first woman cricket commentator meant breaking the rules and making her own, while still respecting the system. "I thrive on challenges and have enjoyed the learning curve I have been on since falling in love with cricket all those years ago," she says.
She was inspired to become a cricket commentator after hearing West Indian Donna Symmonds commentate on a match in South Africa in 1992. "I was hooked and will always be grateful to her for sparking my initial interest in cricket. I am also inspired by the courage of Caster Semenya."
Naidoo is passionate about promoting South Africa and sports. "The fact that I get to do that every day of my life is really rewarding. Aside from hosting live cricket, I co-host  Game On on Radio 2000, Monday to Friday from 6pm to 7pm, and I work extensively on the gsport initiative to gain public support for women's sport."
She says lack of sports funding is a key challenge. "We need funding to produce champions. Corporate South Africa needs to do more to stand up for our athletes." Her organisation, gsport, aims to help in this regard. Naidoo and her husband, Ryk Meiring, a lawyer, launched gsport4girls 11 years ago to raise the profile of women's sport and encourage corporate South Africa to back female athletes. "We taught ourselves to build a website and started telling the positive story of women's sport, giving an online face to the success of women athletes. On 26 August, we hosted the 12th edition of the gsport Awards, the country's longest-running women's sports awards. We have honoured 120 recipients  since 2006."
For other women looking to pursue a career in sports, Naidoo's advice is: "Know your purpose. Be courageous. Work hard. Enjoy what you do and live in the moment!"
Tough road to the top
"I have faced many challenges," says Hajera Kajee, deputy-president of the South African Sports Confederation and Olympic Committee (SASCOC). "Being 'tolerated', not being listened to, and being the minority in the upper echelons was tough, as was the lack of support and funding for women's and girls' programmes. I have  overcome these things by remaining vigilant and letting my voice be heard. I have also been consistent in my hard work and provide solutions to problems that are tabled, so that I remain relevant and make a positive change within sport in South Africa."
Despite the challenges she faced, Kajee was the first woman elected to the National Olympic Committee of SA (NOCSA) in 1996. She serves as Women's Commissioner of the International Table Tennis Federation (ITTF) Women's Committee and as a member of the International Working Group (IWG) on Women and Sport. In 2004, she was elected as first vice-president of SASCOC, before taking up her current role in 2014. Also in 2014, she was recognised with the Steve Tshwete Lifetime Achievement Award for Women in Sport.
Kajee grew up among five boys, and says she had to prove herself academically and on the sports field. She played netball and table tennis at school, and later became a competent administrator at club, provincial and national level.
"I enjoyed taking part in debates and being involved in policy formulation. That made me realise that I am a leader and I do have the capacity and ambition to pursue a sports career," she says.
Gender inequality remains a challenge, and change is slow. Male athletes still enjoy higher salaries, more opportunities to compete and higher recognition of their achievements. Nevertheless, Kajee says, South Africa is working to ensure women's equal participation and transformation in sports.
"Women of today are confident and determined to carve their place in the world of sport and business. They've learned to focus on their skills and maximise the opportunities to become powerful leaders and successful business partners," she says.
"Women are, however, generally averse to taking risks. But risk-taking is a key element in the leadership environment – taking calculated risks is essential. Overcoming aversion to risk-taking and fear of failure is an important aspect to keep in mind while embarking on the journey of success."
---