---
At 48, football legend and South African icon Lucas Radebe has stared down many brutal trials, including a heart attack and the death of his beloved first wife. He's still standing. Nia Magoulianiti-McGregor finds out the secret to his unflinching emotional and physical resilience.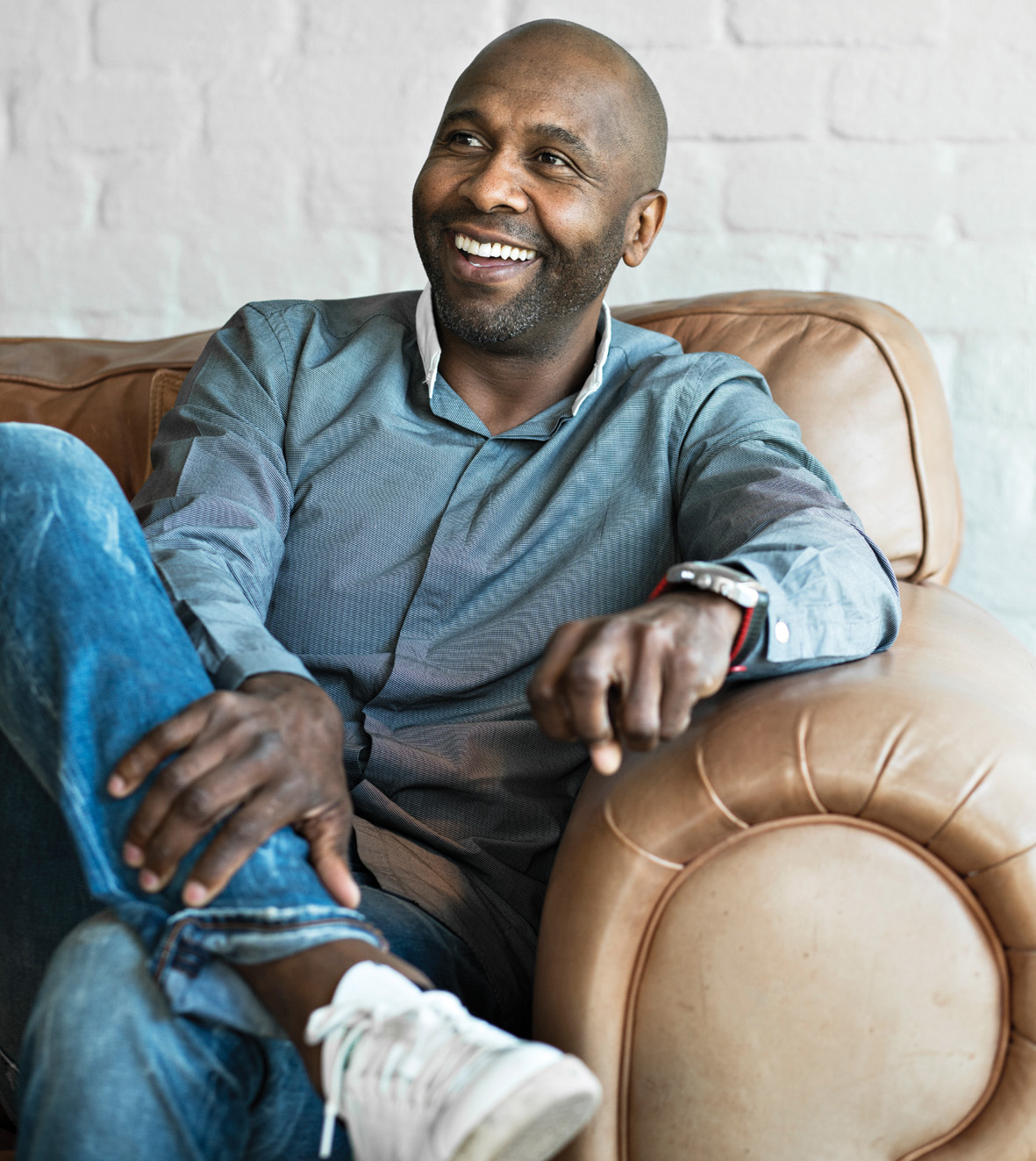 Image: ©Christoph Hoffmann
Discipline. Focus. Appreciation. Gratitude.
These are not just words to former Leeds captain and Bafana Bafana football icon Lucas Radebe. They are the secrets to his success. Radebe has formed his life around them. Carved his way with them. Defeated the odds because of them.
Radebe's abundant love of life and generosity of spirit belie not a few punishing experiences. He's had to confront his own mortality twice, overcome the pressures of international sport in a cold climate, and find his emotional lightness again after the death of the first great love of his life, wife Feziwe Radebe.
Far from defeating him, Radebe's brushes with death and hard times have, he says, made him all the more grateful for everything in his life. "Everything happens for a reason," Radebe says philosophically.
Thank Emily Radebe, his late mother.
As a 16-year-old in Diepkloof, Soweto, the young Lucas ran with a tough crowd – some hell-bent on, as Radebe puts it, "choosing the road to criminality", with every intention of taking him along for the ride.
Not on Emily's watch. She and his father, Johannes, "shipped" him off to a small town in (then) Bophuthatswana, now North West, to attend the same school as his older brother, Abraham – and remove him from harm's way.
"I was enjoying life in Soweto. I was at the heart of everything. It all came to a stop. Suddenly I was at Ngotwane High School in this rural – I mean very rural – town called Lehurutshe. There were no parties or drinking spots, and the only club was a football club called the ICL Birds. I joined it to pass the time," says Radebe, who adds that he was lonely and completely out of his comfort zone.
"This was the first test of my mental and emotional strength. I had to learn to focus. To find my direction and discipline. To eat healthily to build myself up physically. Sticking to a routine helped me emotionally. Football had started occupying my mental space and, I learnt, I could do better there than living with all the distractions in Joburg.
"This time of my life moulded my career. It carved my character."
When, in 1989, Kaizer Chiefs asked him to join the team, he went against the advice of Emily, who wanted him to become a teacher. "I had no choice but to make it work."
That required more discipline, added focus. He was, at the age of 20, a professional footballer. He was also back in Johannesburg.
Though the City of Gold glittered, Radebe kept to his newly learnt lifestyle of discipline and routine. "My confidence in my ability to stay focused built me up mentally."
While Emily still kept a close eye on her son, Radebe had learnt to access his internal parent. "My lifestyle defined me." He built up his character, adding layer upon layer to form a strong template for the future. "To this day, I do things wholeheartedly. I finish what I start. I don't back down."
This has helped him to survive more than a few trials and close calls, including a shooting in 1991.
On his way to the shops in Diepkloof, Radebe, 22, heard a bang. "In Soweto, you heard shots all the time. But there was blood everywhere. It took a while for me to realise I'd been shot.
"I needed emergency surgery, but, luckily, the bullet had entered my back and come out through my thigh, missing organs and arteries. Still, it hit me hard."
"Will I be able to play football again?" was his first question. "I knew then that I would have been depressed for the rest of my life if I couldn't play." It strengthened his resolve. "During recovery, it made me appreciate what I was doing. I worked even harder. I found I was grateful for so much, but especially for my big caring family." (Radebe is one of 11 children.)
He has described the shooting as a "blessing in disguise". "After that, I was even more determined to make the most of my life."
A year later, he made his first appearance for Bafana Bafana, and two years after that, Leeds United head-hunted him and he moved to England.
"It was freezing-cold in Leeds," he says. "It got dark early. Training was hard. It tested my coping skills. I never played in the big games, and I was depressed and homesick. Phil Masinga (his South African team-mate) and I would try to save up 50 pence pieces to phone home from a payphone."
Then there were knee injuries and a clash with the team's manager. "I wanted to leave. I thought, 'My bags are packed; I'm going to go'. But I realised the opportunity I had, and the responsibility I had. I thought I would rather fail than not try at all.
"I needed all my mental faculties and strength in that moment."
He stayed. He used his new emotional bulwarks: Discipline. Focus. Appreciation. Gratitude. Four years after arriving, Radebe was made captain.
But the most devastating blow of all occurred when his beloved Fezi was diagnosed with cancer. "I had retired in 2005. She had been living in Leeds since 1997 and now we were going to do everything we had planned to do as a family. Seeing her going through chemo, especially with the kids, Owami and Little Lucas, so small, was terrible.
"Focusing on playing football, training and then coming home to pain was very hard."
Fezi died in 2008, breaking his heart.
Perhaps literally. A year later, on the treadmill at the gym, Radebe collapsed. "I didn't know what happened to me. I didn't feel anything. I was unconscious. I woke up in hospital."
He was diagnosed with a rare heart condition. "But I'm convinced it was related to my wife's death. You think, as a man, you have to be strong for the kids. But inside? Inside, I was breaking. I didn't know how I was going to cope. Fezi had helped me throughout my career. She helped make me strong. And then she just wasn't there anymore.
"Physically, after the heart attack, it was difficult. I took about 30 tablets a day. I put on weight. I was scared of going to sleep in case it happened again. I couldn't train for two years. I had to give up caffeine. I didn't touch energy drinks.
"I'm an active person and I pushed myself so I could train again."
Though he had a pacemaker inserted – "it's my guardian angel" – Radebe had to learn to manage his stress. "I know when I need to be still and calm."
Radebe, who says single fatherhood wasn't easy – "I soon appreciated what mothers go through" – delighted fans when he married Thobela Silver two years ago.
"We have seven children between us and I sometimes think maybe just one more," he smiles. (Lucas also has two older children: Jessica, 20, and Ofentse, 24.)
He is passionate about maintaining his healthy lifestyle. "I manage pressure and stress. I don't drink alcohol, except for a little red wine occasionally. I drink rooibos and eat healthily, with lots of vegetables." He plays golf and a little soccer for exercise.
He has reinvented himself as a businessman in sports management, and is involved with youth development at Gauteng schools, including the organisation of the ET Radebe Tournament. E for Emily.
Emotionally, he has reframed past difficulties.
"Knowing I have overcome tragedy makes me feel all the stronger. If it wasn't for that heart attack, I wouldn't appreciate my family as much as I do today. If my wife hadn't passed on, I sometimes wonder if I would have taken my kids for granted. These are the things that have strengthened me.
"I'm grateful to life. I appreciate I can see my kids grow. I know everything happens for a reason."
Some discipline. Focus. Appreciation. Gratitude. And a dollop of true grit.
---