The R1bn Rebirth of Sun City
Sindy Peters - Biz Community.
---
Sun City has been the leisure destination of choice for both local and international markets since 1979, and has had to continually reinvent itself in order to stay relevant over the years.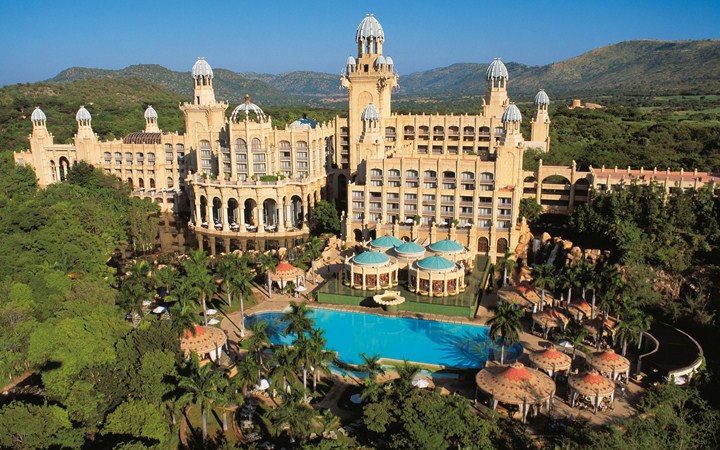 The Palace of the Lost City at Sun City. (©Wikipedia.org)
From 2013 up to 2017, Sun City is spending R1bn revamping its four hotels and entertainment zones, merging creative architecture and design. Michael Farr, group general manager of Corporate Brand and Communications at Sun International said the following in his interview:
What are some of the major design changes in store for Sun City?
The 382 luxury self-catering apartments at the Sun Vacation Club have been upgraded, the 380 bedrooms at the Cabanas have also been refurbished, along with refreshing the public areas and the pool bar, and relocating the children's play areas.The entrance and reception area have been remodelled for a more contemporary and modern feel, with a balconied foyer overlooking the hotel's newly rejuvenated restaurant.
The Sun City Hotel has also been repositioned to provide an "always on", Vegas-style party zone, with nightclubs, burlesque clubs and restaurants. The new Legends upmarket restaurant showcases memorabilia of celebrities who have stayed at Sun City over the years. This new 190-seater restaurant with an open-action kitchen now has an entertainment stage too.
At the Cascades hotel, we added the Luma Bar in 2013, while Bocado Restaurant has replaced the old Santorini restaurant and offers Mediterranean cuisine for guests.
A new ultra high-end VIP casino has opened at The Palace – The Palace Villa and Salon. The upmarket Plume and Tusk Bar and Lounge have also been refurbished. The popular Grill Room has been upgraded with a new lakeside terrace. The Palace will have a new spa in 2017 and an upgrade of the breakfast buffet area too.
Sun City has boosted its entertainment offering for teenagers and adventurers with the launch of an adventure hub, Adrenalin Extreme, with a range of outdoor activities. The Valley of Waves water park has been extended with new rides – with more to come – while a new microbrewery-themed gastro pub, The Brew Monkey, has also been opened, along with a new fresh fast food eatery, Food Factory. Kamp Kwena, which has been a firm favourite for children at Sun City, will also have a complete refresh.
Sun Park is a new multipurpose facility with an indoor events venue and outdoor space for hosting lifestyle events, music festivals and product launches.
In January this year, we started a massive upgrade of the Entertainment Centre, focusing on a complete facilities upgrade to attract convention business throughout the week. We have invested heavily in this upgrade in order to recapture our place as the premier convention venue in the country, which we are confident we will do.
In addition, the Entertainment Centre will have a suite of new experiences for the whole family and will be home to a South African Hall of Fame honouring the country's sportspeople and performing artists.
How has the hospitality and gaming industry evolved since 1979 – what have been the greatest developments and challenges?
The greatest development since 1979 was the advent of urban casinos following a change in legislation and particularly the opening of five new casinos in Gauteng, starting in the late 1990s. This meant Sun City had to adapt quickly in order to remain a destination of choice. Fortunately, Sun City remains an iconic destination and with this current investment, we believe it will be restored to its former glory.
While the leisure and tourism landscape have changed enormously since 1979, perhaps the two innovations that stand out over the years are significant  upgrades in technology and sustainability.
We have done a huge amount of work in water management, recycling and energy reduction. We were also the first hospitality company in South Africa to commit ourselves to using only sustainable fish stocks through our agreement with SASSI.
This commitment to sustainability has a positive effect on cost-reduction, is more sustainable from an operational point of view but importantly, fills a stated need from an increasing number of visitors to the complex.
According to reports, Sun City has experienced a slump. How will the tourist spot be re-imagined to lure back tourists and investors?
It is true that Sun City has not been performing optimally, particularly with new entertainment offerings opening up elsewhere.
Performance was affected by the visa restrictions introduced last year which choked off a lot of business. Also there's disruption at various points, while the resort is undergoing renovation. There is also a general decline in economic conditions, in particular with corporates cutting back on conferences.
The visa problem is now easing but it will take some time and we expect that with the new conference facilities open in 2017 we will win back much of this business. We are also growing a new line of business in VIP gaming, which brings international gaming tourists to the resort.
Recently we have seen an upturn in our occupancy rates. Sun City saw unprecedented growth in visitors from China and Hong Kong during the 2015/16 festive season as the weaker rand appeared to help counteract the negative impact from new visa regulations. The Palace Hotel accounted for 126 of the 133 rooms sold to Hong Kong guests and more than a quarter of the 383 rooms sold to Chinese visitors over December.
South Africa has plenty of leisure options for travellers, how will the refurbishment help beat out the competition?
This is a very significant upgrade and the feedback so far has been exceptional. We have committed about R1bn to making sure this icon of South African hospitality continues to offer everything leisure and business travellers could possibly want.
The Sun City brand is an extremely strong one and there are few South Africans – and tourists to South Africa – who haven't heard of Sun City and the kind of experiences that can be enjoyed at the complex. We're really delighted with the improvements and innovations at Sun City and our guests are really enjoying them too.
Once the refurbishment is complete, there will be nothing in South Africa to compare it to.
When can we expect Sun City's Entertainment Centre to open its doors again?
The temporary closure of the Entertainment Centre may be a bit disruptive but we really have gone to extraordinary lengths to ensure our guests have a great time, including the creation of the Sky Village where we will be hosting all our normal conference business.
We expect to reopen the Entertainment Centre by November 2016.
---