Home » » The Office Past, Present, Future
The Office Past, Present, Future
---
Virtual offices and telecommuting have become buzz words in our modern world, but does the brick-and-mortar office still have a place? By Shoks Mnisi Mzolo.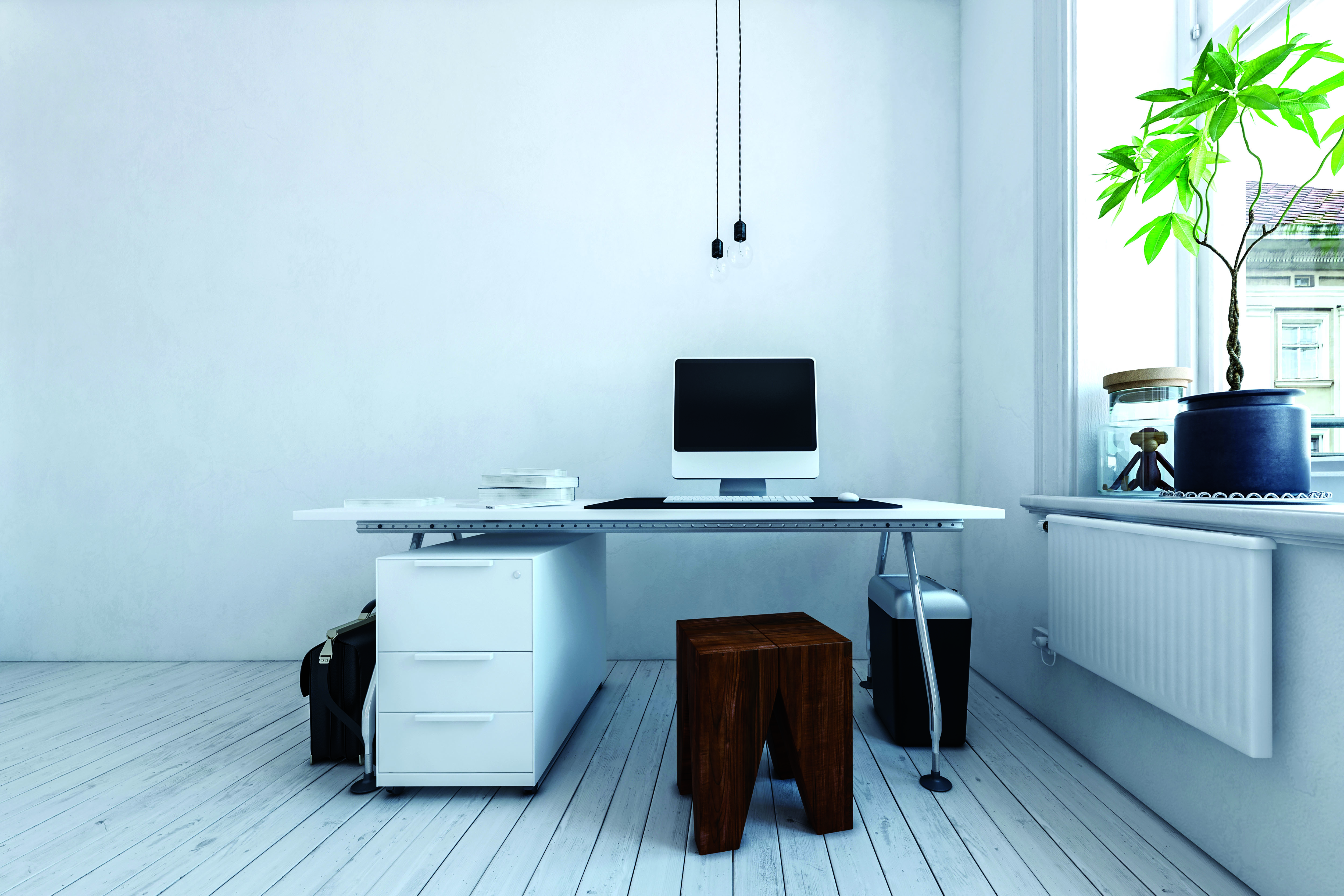 Image: ©Shutterstock
Despite the hype about telecommuting being the next big thing, virtual offices are far from pushing brick and mortar workplaces to extinction.
While the virtual-office model is often associated with online services that create an impression of presence, without offering dedicated office space, it also refers to company employees switching to telepresence, allowing them to work from anywhere. This is enabled by technologies such as the internet, voice-over internet protocol, video conferencing, cloud tools and wide-area networks.
One school of thought maintains that people are more productive collectively, whether physically or otherwise, and that collegiality is better in the traditional workplace versus its virtual peer. Techies sourly recall 2013, when Yahoo tossed its work-from-home policy, hauling employees back to their desks. Telecommuting – a neat way to dodge traffic and protect the environment – has downsides. First, communication between colleagues becomes less frequent. Second, researchers assert that striking a work-home balance and measuring productivity can get tricky.
Indeed, just about every good coffee shop has become a workplace, as digital natives armed with laptops and mobile phones plug in to work. That's probably the most common virtual office. Still, in the bigger scheme of things, the number of professionals who use coffee shops as their base remains a drop in a cup. "I do think, however, that the coffee shop businessperson culture is on the rise," says Adrian van Eeden, chief information officer at the Gordon Institute of Business Science. He says some of his colleagues "quickly transform from office-bound workers to coffee-shop bohemians, and back again, as the desire arises. Some people find the environment distracting. But there's something to be said about staying close to the pulse."
What about the demographic? It seems unsymmetrical: creative types and techies abound, yet accountants or geologists (among others) hardly feature in such working zones. Van Eeden sees things differently. "Profiles range across the spectrum. I say 'hello' on a daily basis to business owners, IT specialists, healthcare professionals and, incidentally, a geologist on the odd occasion. Some can spend the entire day here; others drop by for a brief coffee and email check-in between meetings because of the proximity of our school," he says, adding that the key to virtual offices is high-speed broadband. "You can do a fair amount of homework even when the line is down, just probably not in as rich a manner as when online."
Contrast that with the matter of Yahoo banning at-home work, believing an office environment breeds co-operation and improves delivery. (The hi-tech firm has since softened its stance.) Diebold, which makes ATMs, credits its switch from the traditional workplace to an off-site policy to an ability to attract some of the industry's brightest stars. With Cisco saving an estimated $277-million in productivity annually through telecommuting, and Yahoo having softened its tune, it's tempting to think that the brick-and-mortar environment is slowly losing ground, much like digital music has finally overtaken CDs in sales.
"Cisco has consistently made it onto the Fortune 100 Best Companies to Work For list largely because telecommuting is a cornerstone of Cisco's culture," says the Nasdaq-listed ICT giant. The results Cisco has recorded since letting its employees off the modern-day Cubicle Farm for this new model – driven, in no small part, by younger staffers, the digital natives – are seductive (see box). Figures from South African-based blue chips are hard to come by, but MMI Holdings' human capital group executive, Linda Mthenjane, says the financial services firm keeps abreast of technologies that allow employees to work away from the office.
What about within the academy? Professor Deon Tustin, from the Bureau of Market Research at the University of South Africa, notes in his paper on telecommuting academics in a distance-learning environment that there are "higher levels of student satisfaction with academic support from telecommuters than non-telecommuters".
His research also revealed "high levels of support for telecommuting" were associated with reduced overload, and "lower levels of emotional and physical fatigue". Coupled with the ubiquity of technology today, economies are also changing their profile from primary to tertiary − a scenario that supports virtual offices. When asked whether the virtual era opens doors to slackness, Van Eeden says, "The (centralised) office is a throwback to the 18th century industrial era. The clock-in, clock-out mentality and managing people by time spent at a desk rather than by output is a symptom of management who are too scared to change. Saying employees are lazy without a visible drum-beater reflects that fear. "Maybe the super-scary concept to the traditional business is that the workers themselves are becoming virtualised. Why does the worker need to work for one business?" ­
The virtual office: employee pros and cons
Pros
Opportunity to take advantage of the location to conduct research;
Lower/zero travel costs and travel time;
Cost savings related to 'work clothes' and (usually pricey) office food;
Increased productivity flexibility.
Cons
Lower perceived personal growth and career advancement;
High costs of running the home office, and inadequate work environment;
Increased family-work role conflicts;
Reduction in chances of promotion; and
Job creep leads to overwork.
Source: Professor Deon Tustin, Bureau of Market Research, Unisa.
---