The Economics Of Luxury Living
---
Upmarket mixed-use estates offering the ultimate in luxury living continue to be on-trend and the aspiration for most home-owners.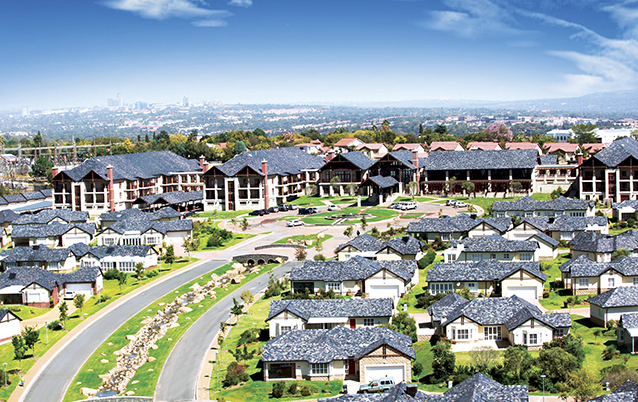 Image: An aerial view of the completed Waterfall Hills Mature Lifestyle Estate. ©Xavier Saer
Infrastructure caught up with two luxury developments in Gauteng, Steyn City Lifestyle Resort and Waterfall Estates, to understand the economic impacts as yielded by these developments.
According to Willie Vos, CEO of Waterfall Management and Operating Company, one of the key drivers behind the mixed-use development concept is the convenience that it offers an integrated live/work/play environment – which is often attractive to those looking for a lifestyle option that gives them everything they need in close proximity. Waterfall Estates was launched in 2006, but planning started in 1997, with the company rolling out further phases to the project.
Giuseppe Plumari, CEO of Steyn City Properties, adds that one of the highlights of the lifestyle resort is its cutting-edge security, and the freedom of movement that this allows.
"The estates naturally provide an incredible quality of life, which is further augmented by the array of activities on offer at Steyn City, from cycling and running tracks to walks along the 18km promenade, tennis, swimming, children's play nodes, a skate park, equestrian centre, beautifully planted parklands and green belts, restaurants and a deli and the Nicklaus-designed golf course." The official opening of the multi-billion rand Steyn City Lifestyle Resort was held in March last year.
At a macro level, Steyn City has been a catalyst for the rapid growth of the Fourways node and the creation of the 'new north' of Johannesburg.
According to Plumari, much of this growth has stemmed from the fact that Steyn City Properties has adopted the bold approach of an upfront, multi-billion rand investment into the required infrastructure and services in and around the development, with more than R50bn to be invested in Phase 2 of the project.
This level of investment has already had direct, positive socio-economic benefits for the neighbouring, disadvantaged communities of Diepsloot and Cosmo City through the creation of more than 13 000 jobs, he explains.
It has also seen the developers entering into a number of public/private partnerships with government, including the construction of new roads (R511), sewerage, water and other basic services. The biggest of these was with the Johannesburg Road-works agency on the R511 William Nicol Road upgrade, which saw Steyn City contributing R300m (a third of the total cost) to expand arterial roads and ensure that this project was completed as soon as possible. As a result, William Nicol Extension has transformed into a six-lane dual carriageway with additional dedicated pedestrian and cyclist lanes.
In addition, Steyn City is working with government to extend William Nicol through to the N14, a project which is already under way.
"We have given a commitment that once specific volumes are reached, we will further partner with government for additional infrastructure upgrades. Steyn City is also partnering with government to upgrade Cedar Road.
"In future, the thoroughfare will feature two lanes on either side, running from Fourways Life Hospital through to Steyn City Cedar Gatehouse. Phase I of the upgrade to Cedar Road has already been completed and opened, and Steyn City will make a bulk contribution of one third of the total cost of construction," states Plumari.
The Waterfall Estate too continues its heavy infrastructure investment and to date has spent over R1bn, with a further R600m earmarked for road, water and electricity development over the next three years.
In addition, both these estates contribute significantly to job creation.
Steyn City is committed to job creation and upliftment of its neighbouring communities, and has already created an economic hub fuelled by 13 000 new jobs. Aside from Steyn City's local artists programme, where artists from the neighbouring community receive training from established sculptor Charles Gotthard, its skills centre provides training in bricklaying and tiling for people in the community.
Vos adds that Waterfall Estates too has created some 15 000 jobs. "We foresee that the development will create a further 60 000 permanent jobs in the future and overall, over the period of development, we estimate an approximate 90 000 jobs would have been created. By 2023 we will have paid about 10% of Johannesburg's rates and taxes."
---