The Beauty Of Brick Weave
Architects: TC Design Architects, By: Mike Louw, Photographs: Michael Schmucker and Ludwig Steyl
---
The brick screens around the University of Mpumalanga's Building 4 are both practical and aesthetically pleasing.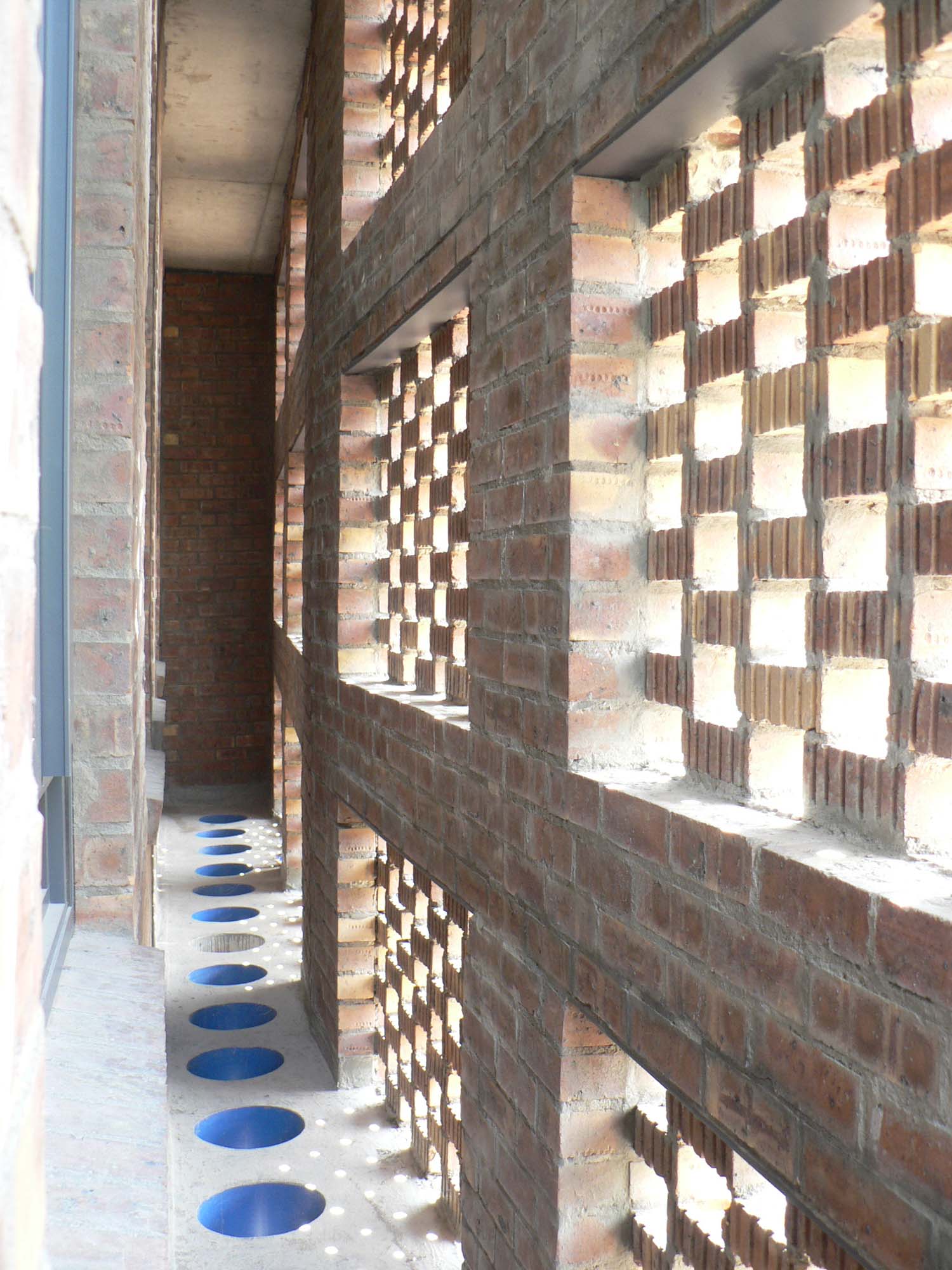 Image: Brick sun screen internal view
In this seminal work The Four Elements of Architecture, Gottfried Semper describes masonry as a natural evolution of the original wall or enclosure, which consisted of hanging carpets or woven mats and covers. Semper describes the  hanging carpet as the 'true wall', which only in some instances received a more solid wall behind it for load-bearing purposes, permanence or security.
The brick screens that have been wrapped around Building 4's weather façade are clearly this building's true walls. The brickwork references the earlier facebrick buildings on campus, while performing an Aaltoesque play of patterns that include a combination of stretcher bond, stacked bond, Flemish bond, soldier courses, and the distinctive open-bonded honeycomb brickwork pattern of the screens.
The brick screens have been carefully positioned to allow for natural ventilation, while screening the windows behind from the harsher morning and afternoon sun. They admit dappled natural light into the interior during the day, and at night they turn into a glowing chequerboard. Together with the perforated metal balustrades and the round HDPE sleeves cast into the slab behind that allow for secondary illumination of the ground-floor walls, the woven brick walls turn Building 4 into a shimmering lantern that illuminates its prominent intersection at night.
Sectional 3D legend
Facebrick roller-course coping.
Concrete plinth for air-handling units.
Insulation to suspended slab (loose) laid over waterproofing with pebble ballast over.
RC slab.
Facebrick soldier course lintel to all openings.
Precast concrete lintel.
Facebrick (both sides) laid in stretcher-bond flush mortar joints with headers omitted to form screen.
Cut facebrick on edge of windowsill.
Galvanised-steel brickwork support angle-bolted to structure.
Aluminium window.
Facebrick externally laid in stretcher-bond flush mortar joints with internal walls plastered and painted.
HDPE sleeve cast into slab with drip
---