---
At first glance, a retrospective is an odd title to give an architect still in the prime of her life and work. However, such is the simultaneously long, drawn-out time span and the 'backward-and–forward-looking' nature of the profession, that it's an apt description.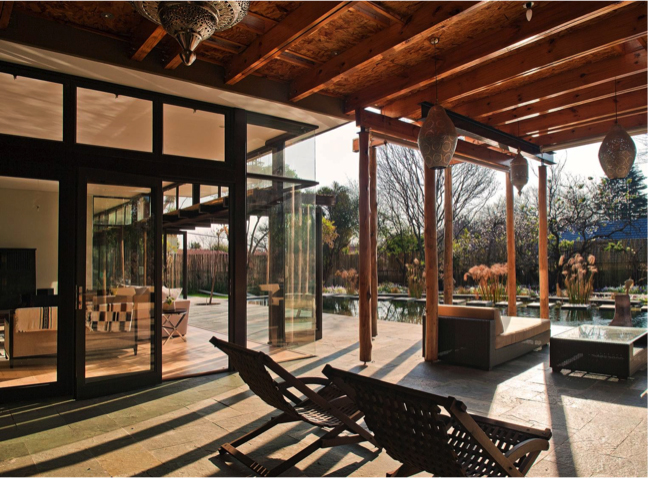 As recently as a decade ago, a 50-something- year-old architect was routinely described as 'young', or at least 'coming into his/her own' — as opposed to 'having arrived.' Not so much anymore. Assemble the collective of genuinely young architects who have won the prestigious 2015 Turner art prize, and you'll see they're all under 30.
Thankfully, retrospectives — like memoirs —  require a certain depth of perspective, which five years of work experience can rarely provide. As a noun, the word is most commonly used to mean 'an exhibition or compilation showing the development of an artist's work over a period of time'. Again, in reference to the work of Kate Otten, there's another apt word in there: artist. An ubiquitous Google search [of her work] reveals a number of oft-used words: 'everyday', 'human-centred', 'delight-filled', 'a philosophy of the ordinary', 'deeply personal' and even 'fun'. The late Alan Lipman picked up on this last word, describing her oeuvre as 'cheerfully humanist', which seems to better describe an attitude towards design rather than the buildings themselves.
Certainly her best-known and possibly most celebrated building, the Women's Jail in Johannesburg, while undoubtedly beautiful, is hardly 'cheerful'; neither in its history, programme nor form. Perhaps, it's a trope to describe a rather idiosyncratic architect and female at that? Otten would be the last to claim anything even remotely 'gendered' about her work but, given that peer evaluations and critical readings of anyone's work — female or not — are central to one's growth and maturity, it's a point worth returning to (as we shall).
So, how does one adequately describe a quarter century's worth of building, exploring, narrating, refining? In her 2013 Sophia Gray Memorial Lecture, Otten talks of a 'deeply personal engagement' with clients, sites, users, workers and colleagues in the 150-odd buildings that the practice has undertaken since 1990. It seems fitting, then, to begin this retrospective with the personal by 'going back, way back', as Neneh Cherry once sang. Disclaimers: we're very old, very good friends. And the conversation that gave rise to this article took place over dinner and wine.
Otten was born in Durban, raised in Johannesburg and studied in both places. Two abiding memories seem to stand out: one, a peripatetic childhood that resulted in having lived in 24 different 'places' [read 'homes'] by the time she was 21 and, two, an abiding affinity for landscape, particularly the tough, wild expansiveness of KwaZulu-Natal.
In his seminal work, Landscape and Memory, the British historian Simon Schama examines the impact of the landscape around us — rivers, forests, mountains, jungles — on our culture and imaginations. In the Introduction, there's a wonderful description of René Magritte's 1938 lecture explaining his version of La Condition humaine, where a painting has been superimposed on the view it depicts so that both it and the view are indistinguishable. 'We see it as being outside ourselves, even though it is only a mental representation of what we see on the inside.'
Schama's interpretation: that we require 'design before we can properly discern its form, let alone derive pleasure from its perception. And it is culture, convention and cognition that make that design; that invests a retinal impression with the quality we experience as beauty.'
Put another way, a landscape is only meaningful through the lens of culture, the myriad interpretations that are at once historical and emotive, filtering and altering (in a very literal sense) our view of the world around us. Nowhere is the relationship between landscape, culture, history and memory more contested — and, conversely, more rich — than in South Africa.
Otten's own interpretation of this relationship is significant since it speaks not only to the general dilemma facing all immigrant cultures, particularly those within the complex framework of empire, but  more specifically to her practice as a designer, an architect, a shaper and therefore 'taker' of place. In the same way, perhaps, that all writers are readers before they become writers, all architects are observers before they become designers: the impulse to see — differently, acutely, askance — precedes the desire to make.  So what is it that Otten sees?
Her answer to the question is not straightforward, nor is it simple. Nature, yes, clearly. The 'natural' world in all its stubborn wildness. And people . . . their desires, needs, dreams and ambitions. Her own instinctive need to 'do a good job', to satisfy the demands placed upon her — both professionally and personally — since, for her, they are often one and the same. At the same time, there's an insistence on respect: for her clients, rich or poor, marginal or powerful, individual or collective; for place, rural or urban, historical or contemporary; for joy, a firmly held belief in the power of architecture to inspire strong emotions, to transform understanding and appreciation of space. To this list one might add  her own place in the world, the historical, deeply sublimated desire of (many, not all) white South Africans to write themselves into the narrative of this part of the globe, to claim a stake that goes beyond the contradictions of contemporary South African identity. It's an uncomfortable suggestion. 'I don't  know,' is her honest and disarming answer. 'I don't  think about it in that way. Maybe.'
The analogy is not accidental. Like the artists Andy Goldsworthy and David Nash, for example, Otten's buildings invoke nature without forcing it into acceptably tasteful form. Trees remain trees. Found sculptures of driftwood, twigs, thatch and twine sit comfortably alongside starkly modern pitched roofs or bold, exposed trusses. A branch snakes its way sinuously into a column. In the Wits Rural Facility (2014), the building is nestled completely, 'taking place' within landscape, rather than on or around it. There's a boldness at play which, again, has nothing to do with cheerfulness but rather with confidence.
The question of confidence is a central theme in Otten's work, and often a surprisingly contradictory one. To begin with, there's the confidence that comes from having run one's own practice almost right from the start. The confidence of 25 years' worth of practice. The confidence of having won a number of important local and international awards. The confidence of  having been entrusted with the design of buildings of national significance and heritage value. The confidence to face one's peers and, within a disciplinary sense, 'to stand up and be counted'.  That sort of confidence is hard won, fought for and cherished. But the re-telling of the road to present-day success reveals a more interesting truth, which is perhaps more universal than most architects care to admit: it was not always thus.
As one of three students at Wits in the 1980s to receive a previously unheard-of 100 percent for her thesis project, the early confidence that 'someone acknowledged what I was doing, even if it was different,' was both nourishing and fraught. UKZN, where Otten studied for her first two years, was dominated by the term 'practice'. Rodney Harber, who taught Otten in  her first year, and the influential Building Design Group, a collective of architects and students in Durban in the 1960s and 1980s, bequeathed a passion for craft and making, which the more theoretical atmosphere of Wits (the university she joined in third year) threatened to undo. 'Everyone was talking about  some guy called "Corb",' she recalls. 'I had no idea who or what he was. Eventually, I figured out they meant "Le Corbusier", but I still had no idea.'
This rigid separation between practice and theory (or writing) which, although not unique to South Africa, has peculiarly deep roots here, is something Otten struggles with to this day. 'I'm not an academic, I just do stuff,' is a phrase that regularly peppers our conversation. In truth, of course, the two are nowhere near as clearly demarcated. As Reinier de Graf (partner at OMA) notes, 'The experiences within practice feed writing inasmuch as writing is based on theorising the experiences. You need the practical experiences in a real and pressing form to say anything meaningful. We're faced with a very schizophrenic situation, where those who write about architecture do not know practice, and those who practice never manage to convert their knowledge into writing or any other communicable form.'
De Graf speaks of contemporary Western architectural praxis — to which South Africa occasionally and sporadically belongs — but the schizophrenia is equally present. Despite a few forays into academia as a critic or examiner, Otten has never been invited to teach which, again in De Graf's words, 'Really is the same as writing, in a sense that it gives you space away from your primary activity to reflect on it as a theoretical subject. They're often thought to be in opposition but teaching, [like] writing, is [simply] an additional space.' One gets the sense that it is a space Otten would have liked to have [occupied].
But there is one space that's been quite remarkable in the context of contemporary South African architecture, which is rarely commented upon — it's the space taken (or claimed) by Otten and her contemporaries (Class of '87), who have dominated the architectural profession in such interesting ways. It's rare to find so many strong female sole practitioners (Otten, Calburn, Garson, Le Roux, Masojada, Walters and Cohen, to name but a few) in the same place at the same time, but it's equally rare to find as strong and varied a group of practitioners who were all taught by the same people at more or less the same time (again, Otten, et al., to which one might add Rose, Morojele, Swanepoel . . . The list is long.)
The shadow of Pancho Guedes, whom Otten revered, looms large. Again, there's an appreciation of the land — its colours, textures, forms — that Guedes, coming to South Africa via Mozambique and Portugal, was particularly sensitive to. Otten's first overseas journey was not to Europe, as was more common, to 'gawk at the Parthenon'; it was to India, where she 'gaped' at the Taj Mahal, instead. It remains one of her favourite buildings, as does the work of Hasan Fathy. Her first job out of varsity was with Muhammed Mayet, in whose work, cultural context and thinking she found particular resonance and meaning.
As mentioned at the beginning of this article, the label 'woman architect' is not one she's comfortable with, but there's little doubt (in my mind, at least) that the experience of working 'outside' mainstream architectural culture, particularly at such a formative period in her career, was an important point in the development of her own oeuvre. The majority of practitioners in her office are women and facilitating their ambitions is as important to the practice ethos as its design sensibilities. She speaks of making a platform; not literally, as with her own home lulu kati kati, but perhaps not so far from it either.
Does she have a favourite building? Or, put another way, is there a project she wishes she hadn't done? Her answer — as ever — is disarmingly frank: 'The Women's Jail was a difficult project. I feel — I felt it at the time — that I wasn't quite ready for it. We — the country — weren't ready for it, that not enough time had passed . . . It was quite raw.'
In a way, it was a fitting comment on which to end our discussion. Raw. Earthy. Gutsy. Cheerful. Human. The overriding impression is one of an architect on the cusp of many things: place, time, engineering, art . . . ambition. There's clearly more to come.
---