---
The mining sector continues to be proactive in its efforts to reduce the danger of silicosis and other attendant diseases.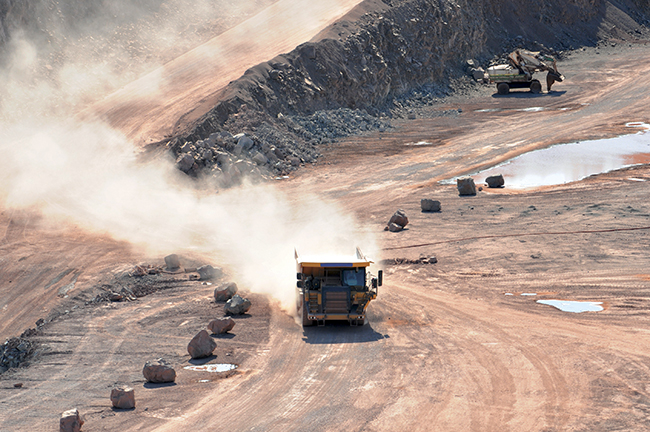 Image: © iStock – hsvrs
South Africa continues to deal with the legacy of gold mining, an industry that has been in existence for more than a century, but which has not had effective safety precautions and regulations for much of that period. Of the health challenges faced by the gold-mining sector, perhaps the biggest is the danger of silicosis, an occupational lung disease.
Silicosis stems from repeated inhalation of silica dust, which comes from quartz, the rock type in which gold is embedded. The dust is generated by drilling or blasting the rock. Miners then breathe this into their lungs, which eventually scars their lung tissue.
Worse still, breathing in silica dust will also lead to a compromised immune system, which increases the risk of developing other lung diseases such as tuberculosis (TB). While it is not a foregone conclusion that if you have silicosis, you will contract TB, figures show that those afflicted with silicosis are between four and five times more likely to get TB.
Reduction measures 
In attempting to deal with the challenges related to this disease, a considerable amount of work is being done by Chamber of Mines-member gold-mining companies to manage both dust generation and dust exposure of employees as a result of mining work.
According to Charmane Russell, spokesperson for the Chamber of Mines, these companies have not only committed to the prevention of future cases of silicosis, as well as the detection and treatment of current ones, but have invested significant resources to ensure that these commitments are realised.
"We can certainly see that the trend around numbers of diagnoses is definitely in decline, no doubt as a consequence of continuing improvements in the quality of dust management over the last few decades," she says.
"The 2003 Mine Health and Safety Council (MHSC) milestones set as a goal that no miners unexposed prior to 2008 should be diagnosed with silicosis. Thus far, to the best of our knowledge, no such individuals have been diagnosed. Of course, it is premature to assert that that target has been met, because of the long and growing lead time."
Russell explains that in dealing with the challenge of silicosis, and its attendant dangers with regard to diseases such as TB, the industry focus is threefold. Firstly, it emphasises prevention.
"Today, mines manage respirable crystalline silica at the source, by means of wet drilling and other engineering controls such as ventilation, dust allaying, filtration at tipping points and centralised blasting to prevent peak exposures. Employees are also provided with personal protective equipment (PPE). Furthermore, mines have been constantly improving their standard of dust monitoring, sampling frequencies and dust analysis methods, which has resulted in the incidences of silicosis declining over time.
"Secondly, there is a major focus on detection and treatment, which includes regular compulsory medical assessments for early detection of the disease and, where detected and where possible, transferring individuals into areas with less exposure."
In the vast majority of cases, silicosis is contracted only after 10 to 30 years of cumulative dust exposure, adds Russell, so current diagnoses are not a reflection of current dust management effectiveness. It is important to note that, given the length of time it takes to contract silicosis, the dust management procedures put in place now will likely show results only in about 20 years' time.
Finally, she adds, compensation is the third leg of this work, and will be a major focus of the initiative that has been announced.
Maintaining safety
"Respiratory masks form part of the comprehensive PPE issued to all employees whose work requires them to reduce exposure to inhaled pollutants. It is mandatory for employees to make use of PPE wherever necessary," Russell states.
Work continues on reducing exposure to dust, she adds, pointing out that over the past decade, the general dust incidence has decreased by more than 50% as a result of the introduction of new or improved technologies.
In fact, if current dust controls are rigorously applied and adhered to, they may well provide enough protection. However, the problem – as always – lies with enforcement. The South African Department of Mineral Resources (DMR) has a shortage of inspectors to monitor dust levels at the various mines, as this requires highly skilled people. Often, mines are relied on to measure and report their own dust levels, when a rigorous external body is really what is needed to run checks.
Nonetheless, continues Russell, industry provides considerable support to the operations of the Mine Health and Safety Inspectorate, while the MHSC plays a key role in the oversight of dust-control measures.
"In fact, it is the MHSC's dust-control targets that the mining industry has committed to achieving. Ultimately, progress made around the issue of silicosis on the occupational health and safety front is clear testimony of the combined efforts of the mining industry, government, the trade unions and various stakeholders like ourselves," she concludes.
---