---
Sula Iron and Gold's announced intention to change its name to Sula Gold is a clear indication that the multi-commodity company has refocused its interest towards gold.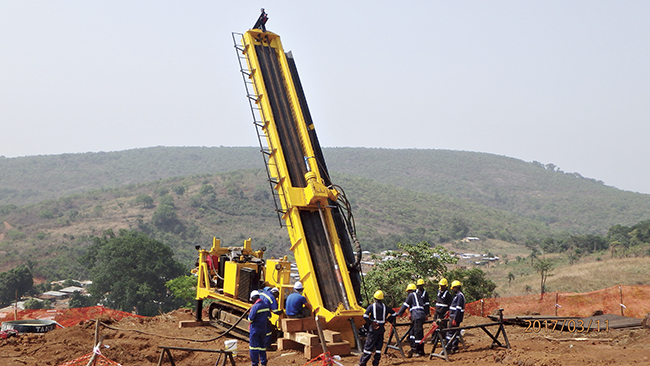 Image: Drilling with Dalakuru village and our camp in the background
CEO Roger Murphy is confident that industry's appetite for gold will continue to be robust going forward. In fact, in spite of the challenged financial conditions, Sula Gold successfully raised £1.5m in November last year, and £0.5m in March this year, to progress a drilling programme on its Ferensola gold project.
"We are a small exploration company funded by equity markets, and have established good connections, especially with London capital markets."
Sula Gold is keen to make the jump from explorer to miner and, as such, the London-listed company is intensifying its drilling efforts on its highly prospective 153km² Ferensola project, located in northern Sierra Leone.
"We are currently drilling the eastern portion of a 4km-long IP (induced polarisation) anomaly and hope to deliver a maiden inferred resource as soon as we can," states Murphy.
Although the company originally planned for the use of one drill rig, the drilling contractor, Equity Drilling, in February mobilised two rigs at Ferensola. As a result, Sula expects to be able to drill more than 2 400m, thereby potentially enabling a larger JORC exploration target to be identified.
Meanwhile, recent assay results indicate a tonnage range of between 5mt and 7mt, with grades ranging between 4g/t and 8g/t, equating to between 0.8moz and 1.5moz of gold, from one of several IP anomalies on its licence.
Murphy adds that artisanal miners in the area are mining "a lot" of gold from the riverbed, and that this gold appears to have been washed down from the ridges.
"The Ferensola gold project is located on ridges and is, therefore, well positioned to be developed into a low-strip-ratio open-cast operation."
Iron ore and coltan take a back seat
According to Murphy, the company has taken a decision to place its iron ore and coltan assets on the back-burner while it progresses its gold programme.
"We understand the value of iron ore, but, as a bulk commodity, it requires a hefty investment in rail and port facilities," he explains.
Sula's iron ore asset is contiguous with that of Chinese steel company Shandong Iron and Steel Group's Tonkolili iron ore mine in Sierra Leone. The Tonkolili project already has established port facilities, and Murphy states that, in time, Sula would consider a deal or JV with Tonkolili to unlock the value in the iron ore.
The company has also shelved its coltan project, for which it earlier considered commissioning a small pilot plant to process a number of bulk samples from the Ferensola project.
Interestingly, demand for coltan, which is mined for its tantalum and niobium elements, is high. Coltan is used extensively in the technology industry in the manufacture of capacitors, which are used in almost all electronic circuit boards.
---