Home » » Starving Off Hunger Gets Harder
Starving Off Hunger Gets Harder
---
With about 12 million South Africans unsure as to where their next meal will come from it's good to know that some of the country's businesses are contributing to improved food security and nutrition through various feeding schemes.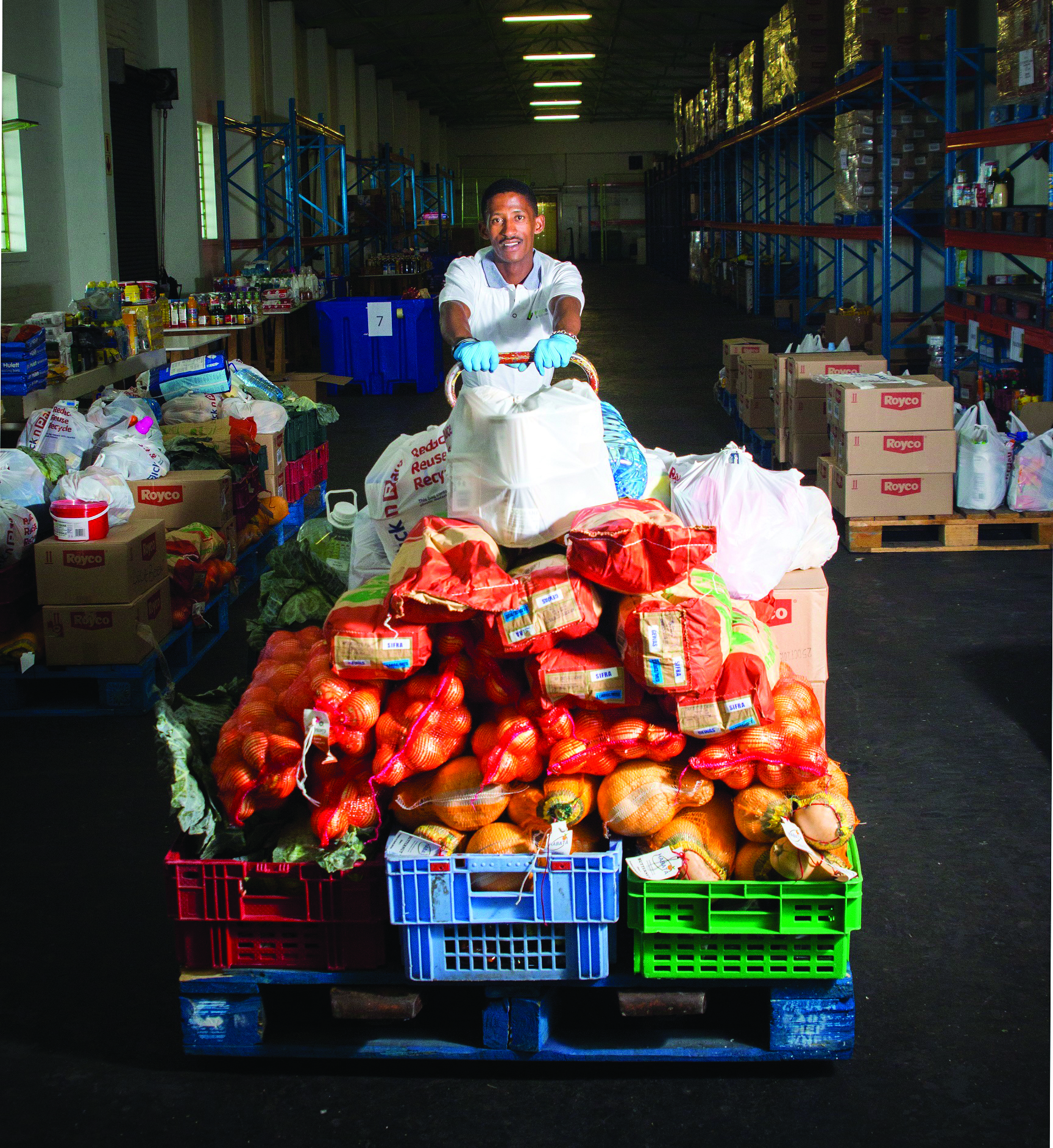 Image: Food donations
These businesses are: Afgri, Cambridge Food, Food Lover's Market, Heinz Food SA, Kellogg's, Nestlé, Parmalat, Pick n Pay, Pioneer Foods, Rainbow Chicken, Shoprite, Standard Bank, Tiger Brands, Trencor and Unitrans. But, according to Andy du Plessis, managing director of FoodForward SA (formally known as FoodForward SA), the growing number of people going hungry every day requires more to be done.
FoodForward SA is a nonprofit organisation (NPO) that collects safe food that would otherwise go to waste from food manufacturers, wholesalers and retailers, and redistributes it to registered NPOs that feed hungry people. Established in 2009 and a member of The Global FoodForwarding Network, it provides something of a benchmark on how to make the most of unsold food – something that could be useful for those countries that have only recently noted the value of the practice.
In February, France introduced a law banning supermarkets from throwing away or spoiling unsold edible food. Shortly afterwards, Italy passed a similar law compelling supermarkets to donate waste food to charities. On a slightly different bent, a Danish charity recently opened the world's first surplus food store selling produce 30 – 50% cheaper than normal supermarkets. But, unlike FoodForward SA – whose primary concern is to feed disadvantaged, hungry people ­– the Copenhagen-based store, called WeFood, is "aimed at low-income shoppers and people concerned about food waste".
More people to feed
During the past year, FoodForward SA's national network, which provides food to more than 600 beneficiary organisations who feed in excess of 170 000 South Africans every day, has had to increase its supply by 78%. With revenue and procurement decreasing substantially in 2016 because several government contracts concluded last year and were not renewed, this has not been easy.
"Although we've managed to mitigate the impact of the drought by enlisting support and donations from more suppliers this year ­– fundraising income has exceeded expectations, increasing by 56.6% – rising costs of food and fuel have added pressure to households and made it increasingly difficult for people to feed their families," says Du Plessis. "This in turn has placed greater demand on us as we need to source more surplus food."
With increased demand, comes increased costs: "Our trucks are collecting and delivering food all the time, which means our running costs are high," he says. "We not only rely on big business and food drives to supply us with surplus food, but we also depend heavily on financial donations to fund our operations."
FoodForward SA is also listed as a beneficiary on Pick n Pay Smart Shopper and MySchool MyVillage MyPlanet rewards programmes, enabling members of these initiatives to donate their points to the organisation. Uptake on this, however, remains low.
Du Plessis hopes this will change with increased awareness: "We continue to appeal to members of these programmes to consider contributing to alleviating hunger in South Africa by donating their rewards points to our cause using the simple and convenient methods provided by these loyalty programme owners."
Fortunately, food donations continue to grow. The quantity of food collected and delivered by FoodForward SA this year has increased by 9.3% to 3347 tonnes, which translates to 11 million meals.
Retail partners up their donations
Pick n Pay has been involved with FoodForward  SA since 2009. Last year, the company donated  1 737 tonnes of food to the organisation (up from 933 tonnes the previous year). This translates to five million meals.
"We are FoodForward SA's largest retail partner and our involvement with the organisation is in line with our War on Waste campaign launched in July 2015. This campaign aims to reduce food waste by 20% by 2020," says Pick n Pay General Manager Andre Nel.
Although the Shoprite Group only began donating surplus food to FoodForward SA at the end of last year – the retailer already had its own national programme for food donations, soup kitchens and support of food gardens in place  –  it donated more than 46 tonnes of surplus food to the organisation during the 2015/2016 financial year (ended June 30, 2016).
CSI manager for the Shoprite Group, Wendy van Rensburg, explains the group's decision to work with FoodForward SA: "With its vast network of beneficiary organisations feeding thousands of people on a daily basis, FoodForward SA is well placed to identify and vet beneficiaries of the group's surplus food donation programme. The partnership made sense from a logistical capacity perspective, with the Shoprite Group being able to offer the scale of its national footprint to significantly increase FoodForward SA's reach."
FoodForward SA is currently undertaking a national verification exercise of all the beneficiary organisations that have been recipients of the Shoprite Group's own surplus food programme. "As such," says Van Rensburg, "the total amount of surplus food that will be donated to beneficiary organisations via FoodForward SA is expected to increase significantly after this vetting process."
But, despite increased donations, challenging times mean FoodForward SA has had to look for other ways of making the food-bank model more affordable and scalable. By adjusting its model, minimising costs and maximising resources, the organisation has achieved a 28% reduction in operating costs to R10.8-million, bringing the cost per meal down by 9.24% to R1.08.
One of the initiatives that have helped expedite FoodForward SA's accomplishments this year is its Virtual Food Banking (VFB) model, which was introduced early last year. VFB connects verified beneficiary organisations with participating retail stores closest to them and allows the beneficiaries to collect food items from these businesses every day. The system significantly reduces FoodForward SA's costs by eliminating warehousing and unnecessary transportation. It also reduces spoilage and means greater access to nutritious fresh produce. In addition, it allowed FoodForward SA to scale operations nationally, giving the organisation a presence in remote and rural areas it was unable to serve previously.
FoodForward SA's VFB model has grown by 366% in the past year. To facilitate further expansion, Cape Town digital services agency Code Like Clockwork is developing a system to streamline and automate VFB processes. The idea is to provide a free and easy-to-use online system that will make communicating, monitoring and reporting all VFB processes by retailers, beneficiary organisations and FoodForward SA  more effective.
FoodForward SA also manages breakfast programmes for two companies, providing nearly 10 million meals to schoolchildren across the country every year. Kellogg's Breakfast  for Better Days campaign (in partnership with Clover and Tetra Pak) feeds 25 000 children daily, while the Pioneer Foods Breakfast Programme feeds 24 000.
Another major South African feeding initiative is the Tiger Brands Foundation's in-school breakfast programme, operated in partnership with the Department of Basic Education's National Schools Programme. According to Nevashnee Naicker, Tiger Brands group communications and stakeholder manager, by September 30, 40 million breakfasts were delivered to schoolchildren since the  programme was established in July 2011.
---