Small Towns Regeneration Conference
---
The recent inaugural Small Towns Regeneration Conference centred on the impending need to revitalise small town communities, thereby reducing the excessive rate of urbanisation, writes Dumile Sibindana.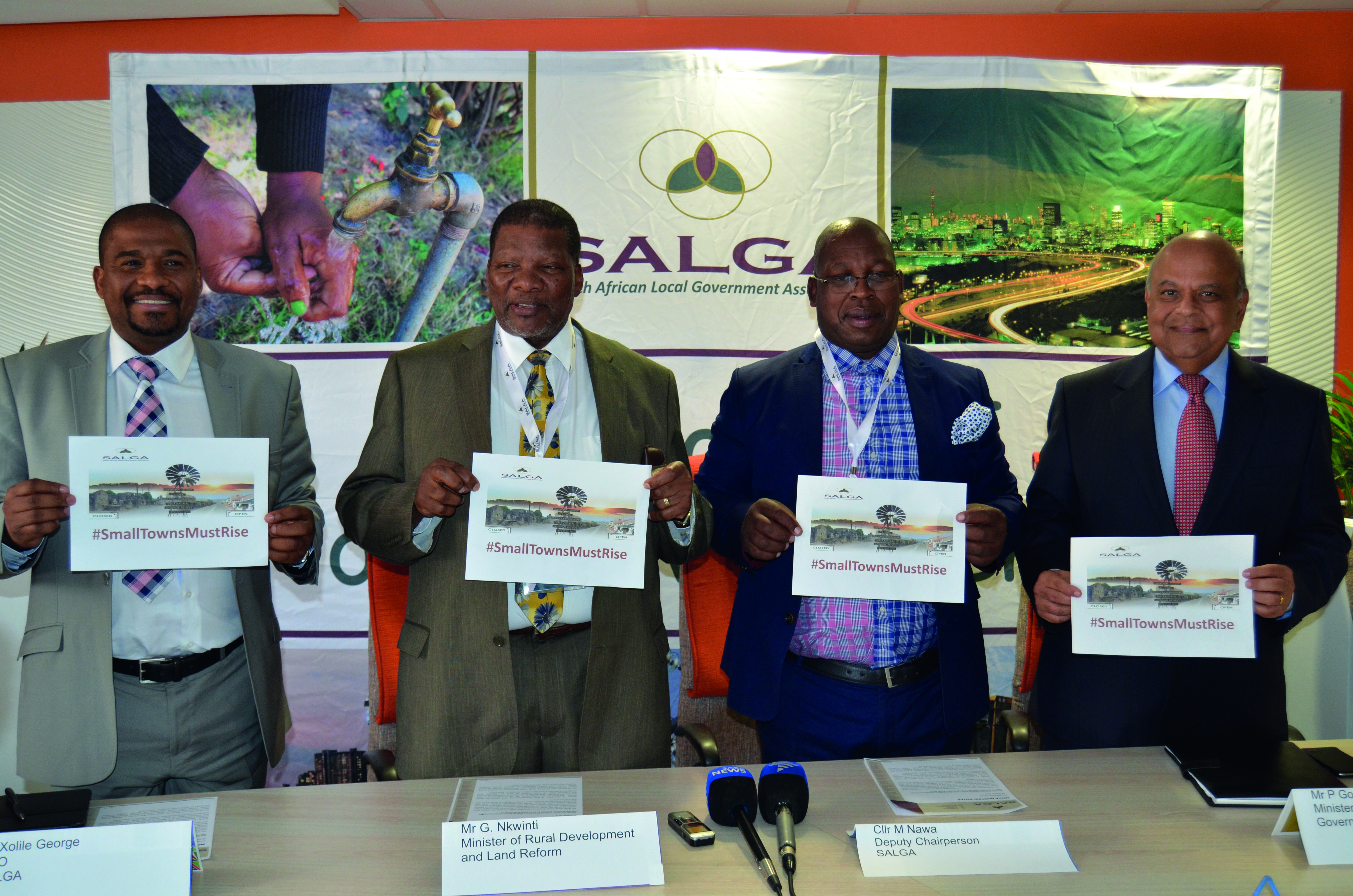 Image: Delegates at the STR Conference held last October
The inaugural Small Towns Regeneration (STR) Conference, held from 22-23 October last year, brought together diverse attendees, including municipal mayors and managers, ministers, academics, members of mayoral committees in economic development, and private-sector representatives, among others. The main issues that were tabled at the Conference revolved around the need to breathe life and energy into small towns, in an effort to manage urbanisation and its devastating effects on unemployment, infrastructure and housing in bigger regions.
The main aim behind the STR Conference was to facilitate discussions between various stakeholders, focusing their abilities on collectively formulating strategies to improve small-town economies. When small towns are developed through the establishment of infrastructure and other investments, more job opportunities can be created, particularly for their immediate local communities. The creation of such employment opportunities will subsequently reduce the number of small-town inhabitants in pursuit of job opportunities in large cities, and in return build a sense of self-sufficiency that will empower them.
Over the years, large cities such as Johannesburg have struggled to accommodate the large influx of people in search of employment opportunities and a better standard of living. Many of these individuals come from small and rural towns. The National Development Plan (NDP) envisions a South Africa that embraces the importance of revitalising small towns and rural communities, and seeks to create jobs and thriving agricultural markets through government and private-sector investment. This initiative ties in with decentralising economic activity from larger, vastly populated metropolitan cities to other small-town regions.
One of the challenges, however, pertains to the manner in which the targeted funding for STR schemes will be raised. Additionally, these schemes will require extensive collaboration between all government spheres. For instance, the allocation of funds for STR schemes by national government will be futile if the provincial sphere does not have an apt strategy to implement the necessary measures. Similarly, the strategies formulated by the provincial sphere targeted at these schemes will be ineffective if the municipal councils don't utilise the funds for their intended purposes. As a result, collaboration is a key factor for the successful regeneration of small towns. Public-private partnerships should also be fostered if the goals envisioned for STR schemes are to be realised.
Social media impact of the conference
A social media campaign was started on Twitter, under the hashtag #SmallTownsMustRise, to promote the Conference. It was an effective tool in creating awareness around the need for small towns to be empowered, and enabled numerous individuals to share their views.
An estimated two-thirds of South Africa's population live in urban areas. This number has substantially increased since 1994, and thus the pressures faced by larger metros to provide employment opportunities and other vital services to its residents have intensified. Unfortunately, for the third of South Africans living in rural and small towns, fewer resources have been allocated to developing these regions.
Echoing this sentiment, Minister of Rural Development and Land Reform Gugile Nkwiti released a statement on Twitter, referring to the lack of financial support afforded to small towns and rural communities when compared to larger municipalities and cities. Many followers agreed that more developmental finance should be allocated to these regions in order to revitalise them. Despite a number of initiatives aimed at developing small towns, such as the drive to expand the agricultural sector through the creation of AgriParks and downstream agricultural industries, more can and should be done.
It may have taken some time to stage a conference of this magnitude, but one thing is certain: revitalising small towns has become increasingly important. Stimulating economic activity through investment in these regions will go a long way to reducing socioeconomic issues, such as unemployment and poverty. The NDP, as well as the stakeholders at the Conference, support this notion, and there's hope that the constructive discussions that took place during the Conference will result in positive action and, more importantly, the revitalisation of small towns.
---