Skills Development Critical For The 4IR
By: Nelendhre Moodley
---
Driverless vehicles, drone technology and 3D printing are innovations set to change the face of the mining industry as we know it.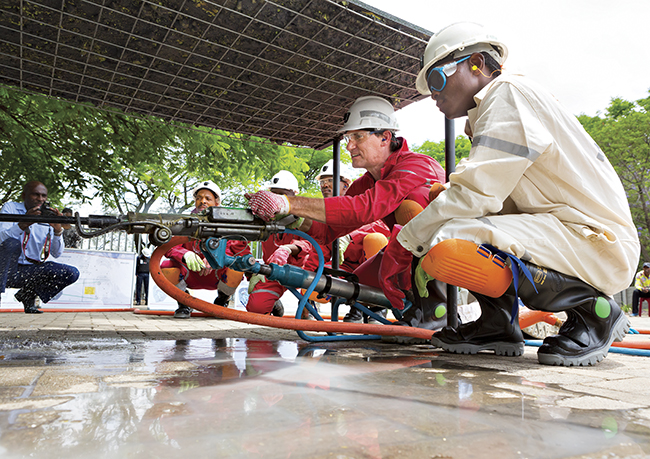 Image: AngloAmerican Platinum Drill guide intro - Rustenburg
In light of the challenged commodities environment, mining houses have, for some time, been looking to technology to drive down costs, improve production and ultimately improve the balance sheet. Industry-leading mining houses, such as Anglo American, have stressed the need to look at other industries for inspiration related to technological innovation.
Deloitte's Tracking the Trends 2017: The top 10 trends mining companies will face in the coming year report agrees that leveraging learnings from sectors such as automotive, manufacturing and pharmaceuticals offers great opportunities for the mining sector.
However, one of the key concerns remains aligning these new-age developments with the existing training and skills development availability in the mining sector, which continues to battle with fundamental elements such as ensuring that employees are equipped with adult basic education requirements.
The question then is: is making the jump from meeting the basic educational requirements to adopting cutting-edge technology even a considered possibility?
The head of skills development at the Chamber of Mines, Mustak Ally, states that one cannot overemphasise the importance of training and skills development in the mining sector, and agrees that industry is advancing rapidly from traditional mining methods to adopting the latest innovations and technologies.
He explains that, given the skills demand associated with the Fourth Industrial Revolution (4IR), training and skills development will continue to be of critical importance to the mining industry as it tries to balance basic educational needs with the sophisticated requirements for advanced technology.
"It is essential to understand that it is not worth exploring the aspect of modernisation without taking into account our biggest input, which is our people. As such, it is imperative that the mining industry aligns the expected demands arising from the Fourth Industrial Revolution and mechanisation to enhancing the existing skills levels with the required technological needs.
"A public-private partnership has been established involving the Chamber of Mines, the CSIR, various universities, original equipment manufacturers and government departments, which is involved in research aligned to progressing modernisation in a holistic and people-centric manner."
Moreover, being part of the global village means that the South African mining industry has to remain competitive; therefore, it needs to impart the relevant training and skills sets to ensure increased productivity and competitiveness.
"The challenge, though, is that skills development and training are not happening fast enough to ensure that the industry has the required level of competency," Ally says. "Thus, there is a need to improve the basic level of school education and the curriculum requirements in alignment with industry requirements. This challenge must also be addressed in the post-school education system."
It is also important to identify early on the industry skills gap, he adds. "Schools are churning out students without having established where the areas of industry demand lie. So, we face a challenge that a number of school-leavers and graduates are not equipped with the relevant skills or industry understanding to meet demand."
As such, models to determine skills gaps need to be more robust; all stakeholders need to become intricately involved in determining the areas of skills demand, and this can be fed to schools and tertiary institutions.
"We need an integrated approach that takes into account future investment, in line with required future skills needs, and make this available to learning institutions, so that we ensure there is a skills need match."
However, in line with meeting training and skills investment, the mining sector needs to lift its productivity levels and contain its costs, so that it achieves higher levels of profitability.
Increased profitability will encourage companies to increase investment in training and skills development, particularly in the technology-related areas, notes Ally.
According to the Chamber of Mines website, mining companies have spent over R500m annually over the last couple of years on innovation, and the Chamber has advocated that substantive investments be made by government to accelerate these efforts.
For its part, the Chamber has established a new senior executive position to champion modernisation throughout the organisation. In addition, an innovation team, consisting of senior company representatives, has been established to steer the Chamber's efforts.
---