---
On a boat on a river, Darrel Bristow-Bovey unearths the secret to experiencing a quieter, more intimate Europe.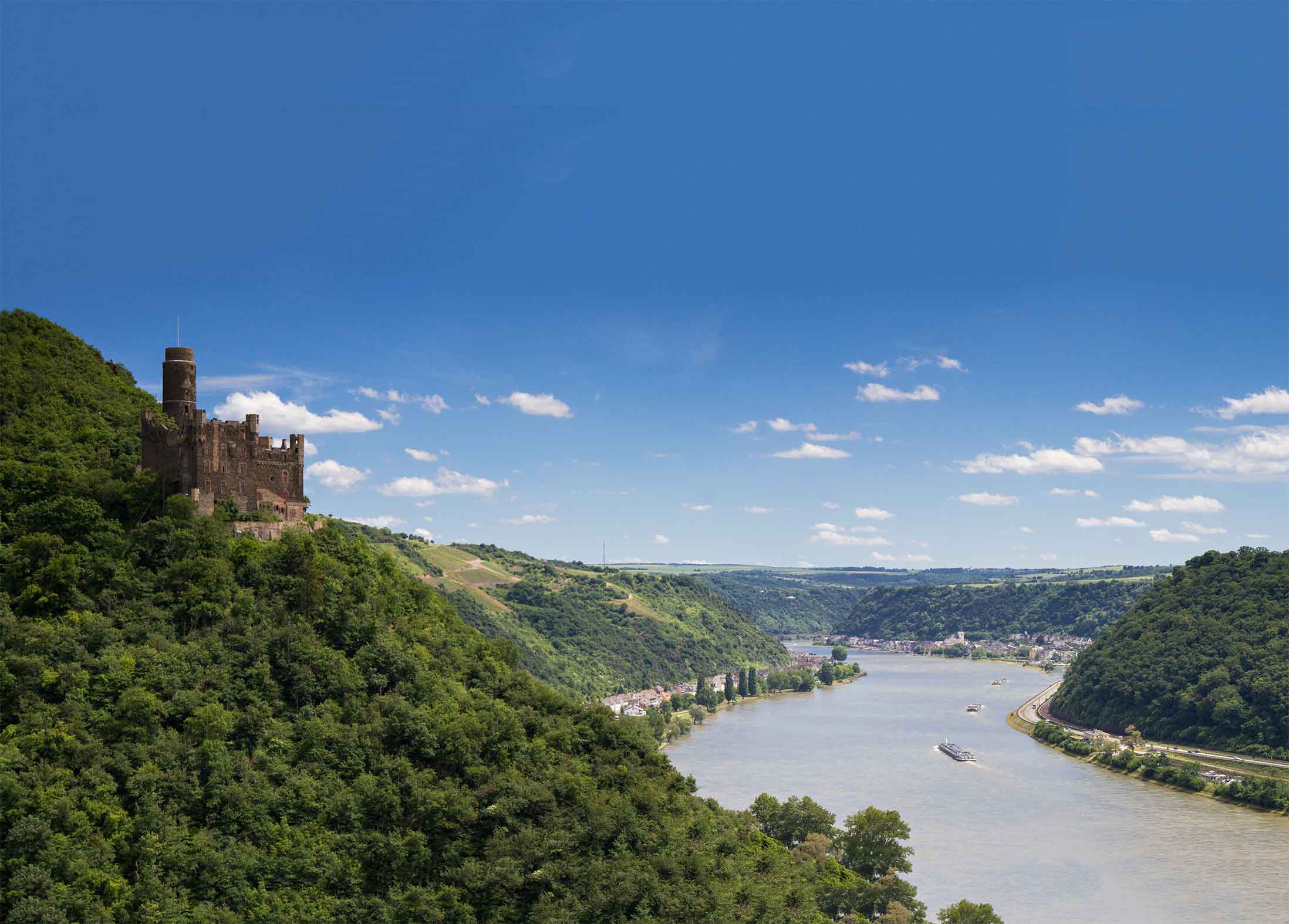 Image: ©Shutterstock
One of the most perfect moments I've ever experienced happened this year, on the Rhine. Perfect moments can't be made: they sneak up silent and unexpected when you're alone; they mug you with velvet gloves.
My belly was pleasantly full with a fine dinner of crispy duck with German cherries and a crisp dry Riesling. I took a stroll on deck and watched France slide past on the left bank and the sun dropping orange over Germany on the right. The water peeled away from the hull in low, slow waves like oil or honey. Golden light moved across it and the lee side of the ripples were amber and black. On the shore a man in a white cloth cap and a green jacket walked a white dog and waved his stick in greeting. A bright string of geese passed overhead. I felt so utterly and peacefully part of the world that I couldn't tell where it ended and I began. I felt connected to everything. Up ahead, at the bow, I saw the mystery woman, her chin tilted to the alabaster sky, holding her mysterious box, thinking her mysterious thoughts.
I was on Uniworld's SS Antoinette, a slender low-slung luxury riverboat, 125 metres long, so elegantly proportioned that it makes the landscape look more beautiful, that for eight days at a time slides serene as a swan up the Rhine from Amsterdam through the winelands of Germany and the border with France to Basel in Switzerland, and then turns around and comes back again. I was standing on the quayside behind the train station in Amsterdam on the first day, admiring the boat, trying to identify which balcony belonged to my stateroom, when I first saw the mysterious woman.
She was perhaps 60 and wore very large sunglasses and green leather gloves and there was something about the way she walked, calmly and with a very still head, that made me notice her. She looked like a spy, or a former movie star travelling incognito. Later that evening as we left Amsterdam through fields and windmills and soft blue dusk, I saw her again, sitting in the salon, still wearing her sunglasses so you couldn't see her eyes.
Later in the dining room she was alone again at a table, staring out at the Dutch night, and my partner said, "Ask her if she wants to join us."
I wasn't sure. I often choose to eat or travel alone and it's annoying to have people pity me, but it's better to be annoying than to let someone be lonely so I stopped by her table.
She smiled and politely declined. "But thank you," she said. "Would you ask me again in four days?"
That night after dinner instead of going up to the Leopard Bar we lay around in our stateroom and drew back the curtains and watched the moonlight on the Rhine and threw grapes at each other and pretended to be celebrities.
"What do you think her story is?"
I wondered.
"These sheets are amazing," said my partner. "That's 100% cotton. And did you see the marble in the bathroom?"
"Why four days? What's in four days?"
"Feel this mattress. I'm never getting out of bed."
We didn't see her the next day. We spent the morning wandering through the old town of Cologne, buying fragrances, peering fearfully at the old Gestapo headquarters. In the afternoon we joined an excursion for a tour of the Cathedral and the art museum, ending with a tasting of Kolsch beer in a downtown beer hall. The beer is served in small glasses because it has to be cold at all times. As you finish one, another is placed at your elbow.
Ordinarily I don't take organised excursions – I don't like crowds or moving at other peoples' pace – but these were different. There's a maximum of 157 passengers on the Antoinette; no more than 20 or so per excursion. They're free and relaxed and you're given a QuietVox – a personalised earpiece so that you can wander off on your own, completely out of sight, but still hear the tour guide speaking.
The next day, in Koblenz, we took the aerial cableway up to the Ehrenbritstein fortress and looked down on the silver Rhine far below and the blue Moselle and the 2000-year-old town spread around the confluence of the two. We saw the mysterious woman, sitting alone on a tree stump beside the fortress, looking out upriver. She was sitting very still and on her lap she had a small box. She hadn't seen us, and we didn't want to intrude.
The next day we went through the Rhine Gorge, 65 kilometres of steep hillsides covered in vines and studded with medieval castles. Is there anywhere else in the world with such a concentration of castles? You can't throw a stone without hitting something crenellated and ancient and picturesque. I sat on deck in the yellow sunshine with a vast stein of beer and drifted past the battlements where Mad King Ludwig stood with his crossbow, practicing his marksmanship on passing peasants, past the dark towered castle where Wagner set his Twilight of the Gods, past the Lorelei rock on a sharp river bend, where the flame-haired mermaid of the Rhine sat sunning herself, singing siren songs to call the seamen to wreck their ships on the black sunken shoals.
I saw the mysterious woman again, still holding the small box, standing solitary against the rail, her hair whipping in the slight breeze, looking like an older, more sensible Lorelei.
In Rudesheim we went wine tasting and afterwards took bicycles from the boat and cycled down country lanes and the steep cobbled streets of the village. From a hillside we watched a shower of rain move up the river, scuffing its smooth surface like velvet being rubbed the wrong way, and passing by, missing us entirely and leaving us smiling in bright sunshine. We briefly considered cycling alongside the river a couple of hours to the next village and meeting the boat there, but then we remembered the macaroons with afternoon tea in the salon and we remembered  that Venelin the Slovenian barman had promised to make us his special cocktail before dinner.
"Cycling is for people who don't have cocktails to drink," said my partner, which made me very fond of her.
We were sipping champagne with cassis while Venelin shook his shaker and mixed his cocktail when the mysterious woman came in. She joined us at the bar, and introduced herself. Her name was Lois. She didn't have the box with her. She ordered a very dry Spanish sherry.
She apologised for being unfriendly these past four days. She told us that her husband James had died earlier in the year after 33 years of marriage. They had been planning this trip for ages but then he became sick and they delayed. They delayed too long. They had visited the Rhine when they were newly married – they had swum together at night in the river and eaten grapes from the vines that tasted so sweet and so cold in the summer heat. She had debated whether to come on the cruise – she had been afraid there would be too many people, that she would feel crowded or feel forced to participate, but it had been perfect: it was like checking into a small boutique hotel, intimate enough never to feel lonely, but with the space and privacy to be silent and to spend time with James.
With James? Yes, with James. James was in the box. She intended to scatter his ashes somewhere along the way, without anyone knowing. Would we keep her secret? We clinked our glasses to her secret, and to James, and to their love.
For the next four days we helped her look for a suitable place. We talked her into coming vinegar tasting with us at the Doktorenhof vinegar estate at Speyer, where they make drinking vinegars in 120 flavours from fine Palitinate Riesling grapes. They were delicious and refreshing and we each bought three bottles to take home.
In Strasbourg we walked along the canals and shared a baguette and cheese in a peaceful place under an oak tree. I thought that might make a good place for the scattering, and I offered to keep watch, but Strasbourg is in France and she thought that would be cheating. The Rhine means Germany.
We spent the days together and we laughed a lot and drank Alsatian wine and she brought James along and told us stories about him and their life together and by the end it felt as though we had made not one new friend but two. She still hadn't found the right place to scatter him though, and she was running out of time.
"Maybe you just don't want to part with him," said my partner. "That's okay too."
On the last night, moored beside the river in Breisach, my partner and I sat on the balcony of our stateroom, drinking coffee from fine china cups, talking about the trip, and how lucky and happy we were, and whether anything would ever be so perfect again. It was late and the half moon lay across the water and I thought I saw something moving in the river, something both dark and pale. A little later there was a soft tap at our door and Lois was there, sad but smiling. She came to tell us that James had found his resting place. Her hair was still wet from the river.
---