SA's Political Landscape is Changing
---
South Africa's political situation and economic decline are among the catalysts for future change, contend Babalwa Shota and Sixolisiwe Ndawo.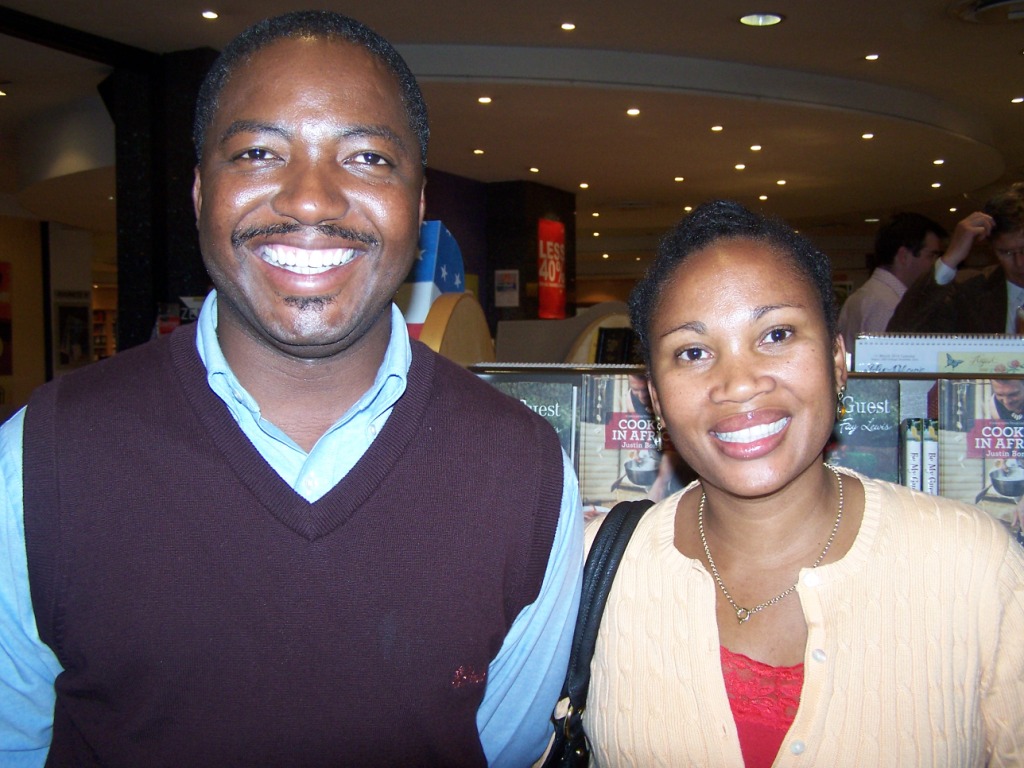 Image: Dr. Mcebisi Ndletyana and Dorothy Ndletyana.
Judging by the recent municipal elections, South Africa is in for history-making changes of the likes not seen since 1994. And with the ordinary man and woman making their voices heard through ballots or burning tyres, the world awaits to see where the country once viewed as Africa's powerhouse is headed.
In a May 2015 article entitled 'Dark Days Ahead', The Economist painted a bleak picture of South Africa's economic outlook, calling it a "huge mess".
Unfortunately, it was not the first time that soaring unemployment, a sluggish gross domestic product (GDP), a pessimistic citizenry and a factional political landscape had been cited among factors that have seen the country go from being an entire continent's beacon of hope to scrambling to save itself from junk status. Between the social unrest, xenophobic attacks, struggling state utilities and the drought, South Africa  has had no shortage of challenges that have threatened the economy in the  last few years.
These factors have slowly piled up to create the perfect storm, resulting in civil unrest in the form of service delivery protests, which have seen citizens pitted against law enforcement in scenes reminiscent of protests  40 years ago.
This year, statistics revealed that violent protest action in the country has doubled since the heady days of 2010, when we hosted the FIFA World Cup. According to an Institute of Race Relations research report, violent protests have gone up by a staggering 96% in the last six years.
Since the dawn of democracy, at least for the past 15 years, South Africans have taken their issues to the street, in somewhat peaceful protests of song and dance with the most inconvenience being a traffic jam here and there. Curiously, in 2013, the number of protests dropped but the disorderly behaviour spiked, according to the South African Police Service Annual Report 2013/2014.
The report states that there were 971 "unrest-related incidents'' in 2010/2011, and that exponentially rose to 1 907 in 2013/2014 – a 96% increase. These included violence towards others; burning of tyres; vandalising government property and infrastructure; leaving faeces in government-owned premises; and the barricading of roads.
Prominent South African commentator on local and global politics Professor Tinyiko Maluleke is unperturbed by these findings. "The protests are part of a long conversation between the people and their government," he says. "It's a sign of our democracy being alive and kicking. However, there is a price to be paid. These protests bring things to a standstill – schooling, the economy and third parties. They cost the country its image as well as its economic standing, displaying it as economically and socially unstable. It does no good for the country's gross domestic product and its standing among its peers."
In August 2013, Cape Town residents woke up to "poo protesters" who dumped human waste on the steps of the Western Cape Legislature and then again on one  of Cape Town's busiest roads, the N2.
Professor Maluleke cautioned that such spectator views "buffer investment for foreign direct investment [FDI] and internally as well".
In July last year, more than 300 residents of the Dube hostel in Soweto went on a rampage, burning tyres and barricading roads with rocks in their demand for electricity. Soon after, the #FeesMustFall campaign caught fire in the wake of the #RhodesMustFall campaign, both of which spilled over to the diaspora and made international headlines.
#FeesMustFall was preceded by a three-day student lockdown at the University of the Witwatersrand campus, a week before an announcement by the university that fees would be increased by 10.5% in the following year, despite an inflation rate of only around 6% for the same year. By the end of the second week of protests, almost all major universities across the country had joined in, including the University of Cape Town, the University of Pretoria and Rhodes University. It was books down and placards up on the streets.
This year has so far seen relative ease in student protests, but being an election year, 2016 has proved to come with its fair share of challenges. Billed the most hotly contested local government elections since democracy, the recent results saw the governing African National Congress take a significant knock in the polls, with analysts calling it a "ballot protest"  against the government and ruling party.   There were widespread killings rumoured to be about factionalism within the ANC as well as ward candidate positions.
Interestingly, the markets barely reacted to this, according to Argon Asset Management's economic strategist Thabi Leoka. "The market is always jittery come election time, as there are many things to factor in during that period," Leoka says. "Our recent protests have largely been sectorial strikes, hence why they have had no effect on the economy. Any strike that comes from the mining and manufacturing sector has an adverse reaction on the markets, so any disruptions in these sectors will have an effect on the country's GDP."
In 2013, when strikes had decreased but the disorderly behaviour had taken residency with protesters, the markets reacted. "The first two-quarters were negative because of strikes,"notes Leoka.
But the recent elections, which were declared free and fair, had no effect on the markets. "Investors were happy with the outcome of these elections as they were peaceful and non-violent and posed no threat to the markets. Also, the rand started strengthening because of Brexit," says Leoka, adding that South Africa is a more attractive yield story than its counterparts, the United Kingdom and America, meaning that the country's  debt has been far better to sell.
But she does warn that while the strikes may pose no threat now, certain issues are to be taken into consideration. "A shift in policymaking or the removal of portfolio heads has an impact on the markets, as the case of former Finance Minister Nhlanhla Nene showed."
Dr Mcebisi Ndletyana, political analyst and head of the Political Economy Faculty at Mapungubwe Institute of Strategic Reflection, says South Africa is in for layers of change in the near future.
"Now we have more councillors than before; we will have more coalition parties that bring instability in the municipalities," he says. "The fact is the [ANC] has dropped by 8%, which shows disapproval [of the party] by voters on a municipal level. There is little improvement in ANC-run municipalities ,and the amount of wasteful expenditure and unauthorised expenditure is ballooning."
Professor Maluleke concurs with  Dr Ndletyana on the instability that  should be expected with potential  coalition governments. "A little bit of instability is inevitable, because we are moving into new territory," he says. "There is a new kid on the block, the Economic Freedom Fighters, and they are an unknown entity at government level."
But he also points out the benefits of a coalition government: "Where a coalition is advantageous, is in the electorate sending a clear message to someone that 'we don't trust you with 50% and that  we want to speak to other political parties. We want you to watch one another and blow the whistle on each other.' That is the hidden message behind the numbers  we have seen."
So will these new expected changes have any role to play in how far the rand is stretched in the months to come? Not according to Professor Maluleke.
"I sometimes think the FDI [outlook] is overrated," he opines. "I think it's far more important for citizens to invest in their economy, and not just monetary, but in the dreams it has for the country. If people have more faith in their country, then the country is more profitable."
As an economist, Leoka sees it like this: "We are not a FDI country, but a largely free market economy. While South Africa may suffer from a number of legislative uncertainties that discourage foreign investors, it is still the most attractive economy for transnational companies and the third-largest FDI recipient in Africa."
With the winds of change rapidly sweeping across South Africa, it remains to be seen where the country will be standing after the swirl of dust has settled.
---