Home » » SAIA Celebrates 21st Publication Of The Digest
SAIA Celebrates 21st Publication Of The Digest
---
On 22 February 2017, the South African Institute of Architects (SAIA) engaged with stakeholders and promoted the youth by awarding its first three bursaries to deserving students, following the launch of its bursary programme last year.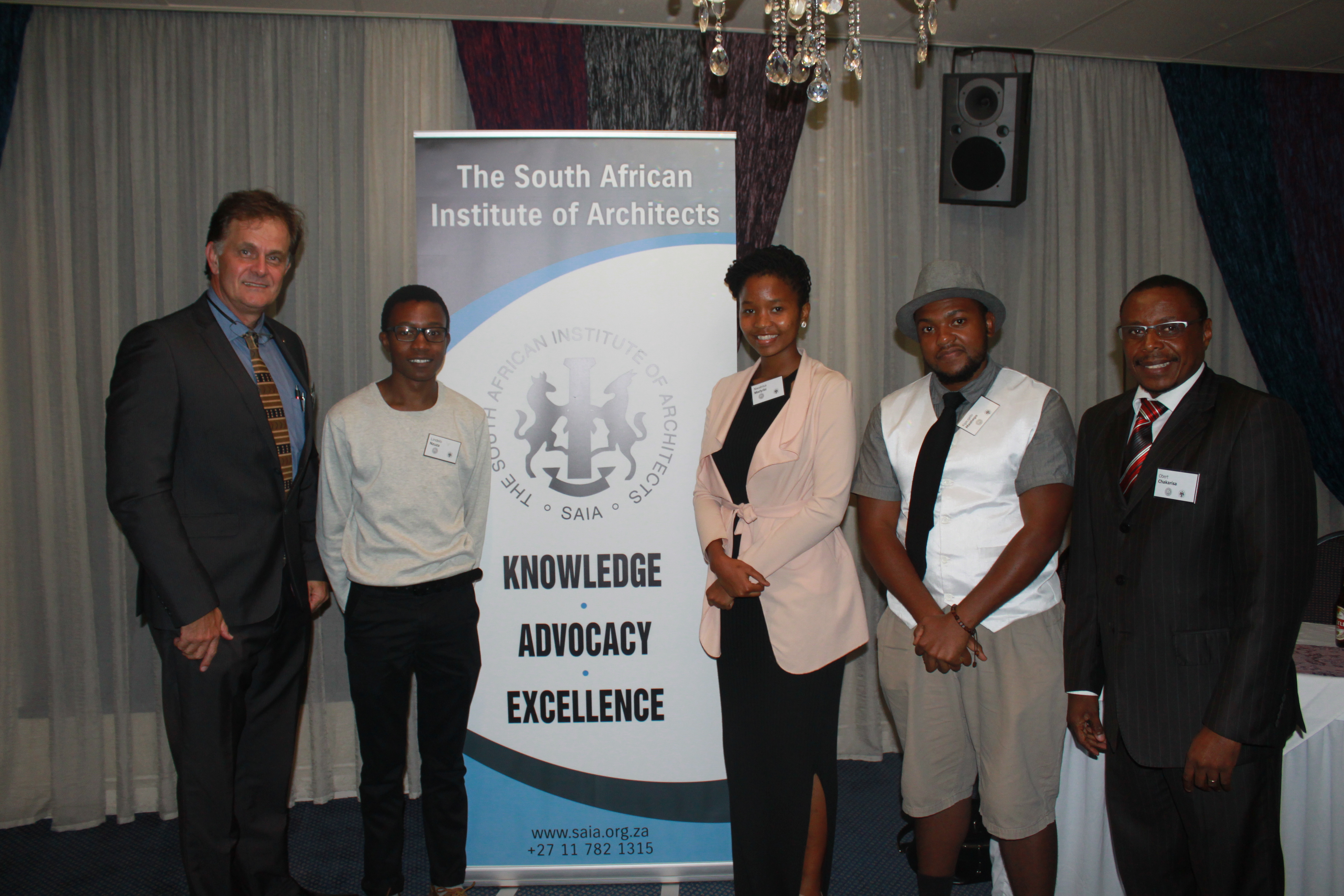 Image: (From left: Mr Kevin Bingham, SAIA president, Mr Lindelo Nzuza (student), Ms Nwabisa Madjibi (student), Mr Kgaogelo Mashego and SAIA CEO, Mr Obert Chakarisa).
All bursary recipients are studying at a Masters level and have made the grade in terms of their marks, while also impressing the panel during interviews. These bursaries were awarded following a very strict selection process conducted by the SAIA Bursary Adjudication Panel headed by SAIA Chair of Transformation Mr Fanuel Motsepe and SAIA Vice President, Ms Maryke Cronje.  The recipients are: Ms Nwabisa Madyibi (University of Cape Town), Mr Lindelo Nzuzu (University of the Witwatersrand) and Mr Kgaogelo Mashego (University of Johannesburg).
The bursary recipients were delighted that SAIA is helping them achieve their study goals so they can soon begin their careers. Says Ms Madyibi: "I am very grateful for this bursary and one day hope to work closely with SAIA to help it further its objectives."
SAIA's CEO, Mr Chakarisa congratulated the three bursary recipients and wished them well in their studies: "We trust that the right choice was made and that the recipients will make SAIA proud and one day plough back their expertise into our Institute, so that others can be afforded the same opportunity."
Stakeholder engagement
SAIA is fully aware that while government processes and regulations are essential in our built environment, they frequently impact heavily on our member's business operations and in many cases their livelihood and even survival.  That's why SAIA is working hard at enhancing its engagement with crucial stakeholders within the built environment.
This evening SAIA initiated a stakeholder engagement between SAIA members and key stakeholders in the built environment including, a ward councillor, mayoral committee members, the South African Association of Consulting Professional Planners (SAACPP), the Master Builders Association and others.  As SAIA frequently engages at the highest levels of government, the organisation engagements rank from local government to participation at the very highest level of government.
It was agreed that key issues affecting the profession include:
Procurement of municipal services
Approval processes from local authorities.
The latter encompasses building plan approvals and the professional regulatory context.
Through these stakeholder engagements, SAIA is pursuing all possible avenues to ensure that the interests of members are safeguarded.  "We appreciate the willingness of key stakeholders to engage with us to iron out difficulties and make the operating environment more conducive for all, "says SAIA's CEO, Obert Chakarisa.
Additionally, 2017 marks the 21st year that the Digest of South African Architecture has been in publication. "This is an extremely important celebration as the Digest is published annually and has become respected as an archive of the best work produced by the profession," says Professor Iain Low, editor of the Digest for the past ten years
"Though these and many other activities SAIA continues to promote the interests of the architectural profession, spanning a multitude of facets," concludes Mr Chakarisa
Visit: www.saia.org.za
---