SA Better Off After 15 Years of Development and Democracy
Phakama Mbonambi
---
Phakama Mbonambi looks back at the past 15 years, highlighting the remarkable achievements of local government.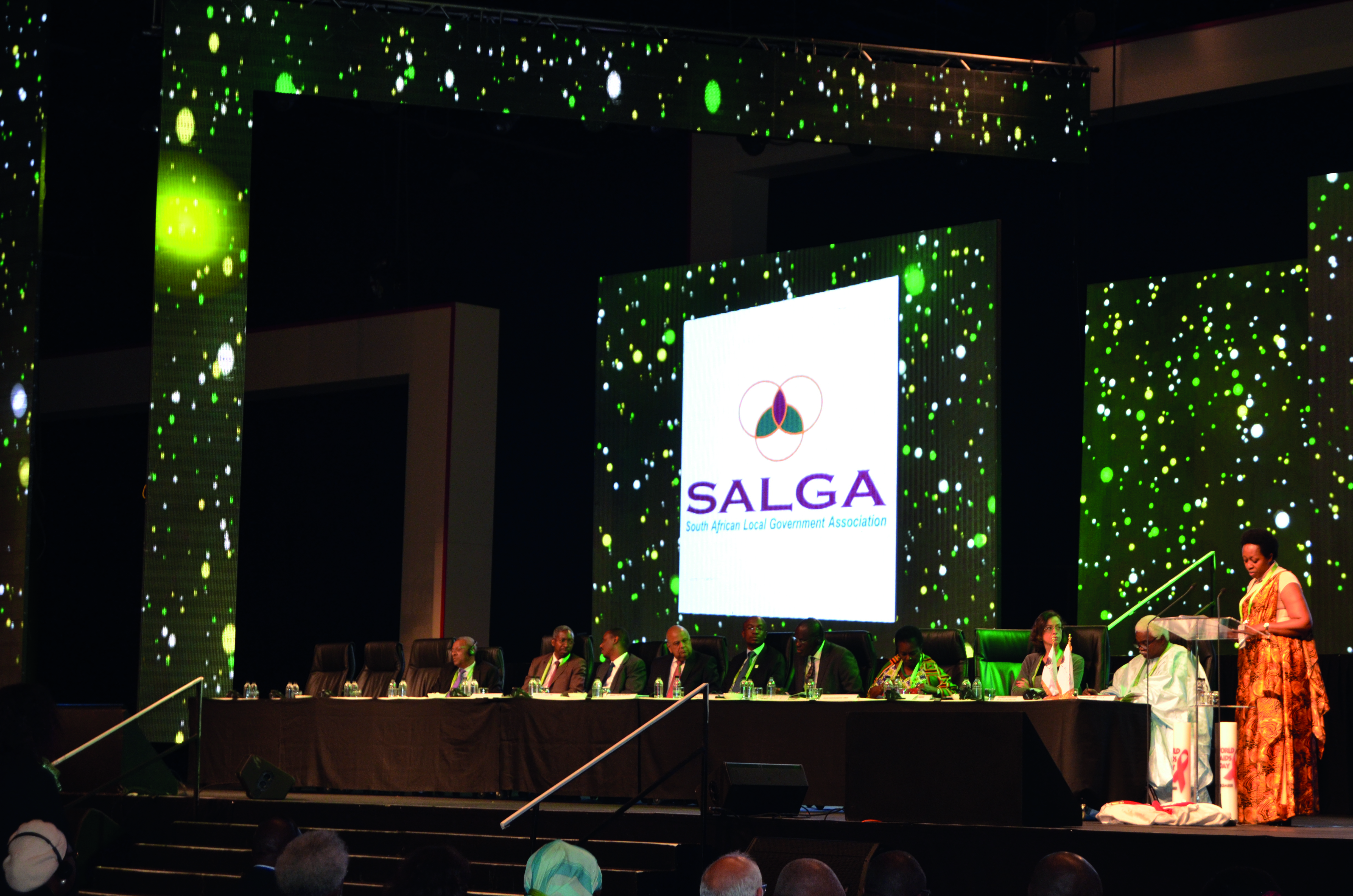 Delegates at the SALGA Awards Celebrating 15 Years of Restoring Human Dignity event.
The South African Local Government Association (SALGA), an organisation made up of autonomous municipalities, is the voice of local government.
Founded in 1996, SALGA helps local government realise its mandate of being responsive, accountable, effective and efficient. This has been a difficult process, with some residual challenges. However, the huge strides that have been made are particularly noteworthy.
South Africa's local government is referred to as 'developmental' because it is 'committed to working with citizens and groups within the community to find sustainable ways to meet their social, economic and material needs and improve the quality of their lives.'
What then are the services that local government is responsible for providing? These are: water; sanitation; electricity reticulation; refuse removal; storm-water management; municipal transport and roads. Local government is also responsible for community services, such as parks, sport, recreation, and street lighting. To reduce the cost of living for poor households, the provision of free or subsidised services is also paid for by local government.
It's noteworthy that while every member of society deserves to have their needs met, local government takes into consideration the perilous state of women and children in society. As a result, women and children get priority in the provision of services. Among other things, local government guarantees that they are safe from any violence towards them during and beyond the annual 16 Days of Activism campaign.
A shaky start
The importance of an effective local government and socioeconomic freedom was made obvious in the process of creating a new democratic dispensation in the late 1990's.
Selby Lengoabala, who is currently a municipal official at Dihlabeng Local Municipality in the Free State, became a councillor at the tender age of 26 in 2000, after years of political activism against apartheid.
'I was sworn in as a councillor with little understanding of municipal systems and processes, but I had a great sense of enthusiasm,' he says. He was soon shaken by the dysfunction he witnessed first-hand within local government. 'Before December 2000, we witnessed a free-for-all kind of governance, with local public representatives not accountable to the electorate, municipal officials with unregulated powers misappropriating municipal resources, skewed developmental planning, and racially categorised service delivery,' he says.
Compounding the problem, according to Lengoabala, was a lack of concrete legislative framework. Drastic measures were needed to fix the local government machinery.
Various practitioners in the South African local government scene reiterated the widely accepted principle that development is about people – a concept of human development that even the United Nations endorses. And so began the 'third and final phase' of local government transformation. The chief feature of this transformation was the replacement of local government objectives with IDPs as more effective, strategic guidelines.
Achievements
Local government's achievements in the provision of basic services in the past 15 years are quite impressive: access to safe drinking water has increased from 75% in year 2000 to more than 90% today; Water losses have thus been reduced to 15%; electricity access increased from 76% to 90%; sanitation coverage increased from around 68% to 75%; and 66% of South African citizens have their refuse collected on a regular basis.
'The majority of our municipalities have improved their financial and non-financial management systems, which has resulted in improved audit outcomes,' explains Lengoabala. 'Many of our municipalities have contributed to building sustainable communities through mayoral bursary schemes and social-security programmes.'
The benefits of having strong municipalities include enabling South Africa to host key world-class events such as the 7th Africities Summit, which was held in Johannesburg in late 2015. At the Summit, AU Chairperson Nkosazana Dlamini-Zuma told delegates that 'Agenda 2063 will not be achieved without local government, women, and the youth.'
Achievements of South African cities have also triggered global recognition. In December 2015, at the C40 Leadership Awards at COP21 in Paris, the City of Johannesburg won an award for the first-ever-listed green bond in South Africa.
In October last year, SALGA signed a cooperation agreement with the Green Building Council of South Africa. This agreement aims to expand the capacity of local government to fight climate change and improve resource efficiency, particularly in the built environment.
More work needed
While heartened by local government's numerous successes in touching people's lives and improving human dignity in the past 15 years, Lengoabala quickly points out that more work still needs to be done, so that the benefits of development can trickle down to an even greater number of citizens. This process needs to happen within municipalities themselves.
'A few of our municipalities are still facing challenges of maladministration, which hampers the pace at which we can reach our people, and mismanagement of limited public finances and public resources, which makes the attainment of clean audits difficult,' Lengoabala says. 'As part of celebrating these 15 years of hard work, we honestly have to face those who are giving local government a bad name. We have to root out corruption, do away with incompetent people, and work with our communities to build effective and efficient municipalities.'
Other factors that can influence future meaningful change in local government are external, says Lengoabala. 'There is the matter of limited financial and other resources to expand our services wider and faster, ageing and under-maintained infrastructure, and the challenge of people who are just fellow travellers in this service delivery bus, because they add no value to the cause,' he says.
The road ahead
While there's much to celebrate, local government knows that it has to work hard to meet people's aspirations. 'As part of celebrating these 15 years of hard work, we have to work harder to gain the confidence of those who have lost hope in us,' explains Lengoabala.
He feels the upcoming elections will serve as an ideal opportunity to cement the gains made, and to address the challenges that remain.
For Lengoabala, sound leadership is key in putting local government on an even higher plane. 'We have to appeal to our political parties to select people with credibility and capacity to lead the municipalities of the 21st century,' he says. 'It has been proven that visionary and proficient leadership can make a municipality or any organisation work.
Overall, Lengoabala is confident that the challenges at local government level can be solved if SALGA continues to work with various stakeholders, such as the Institute for Local Government Management, the National Council of Provinces and the Moral Regeneration Movement.
Commitment to the future
SALGA, as the voice of local government, is committed to working hard to realise the NDP's vision of creating a viable developmental state by 2030. The sector is keenly aware of the central role it plays in this effort, and that such a state cannot materialise by decree, nor can it be legislated or willed into existence by declarations. Rather, it has to be consciously built and sustained.
As we celebrate 15 years of developmental local government, SALGA knows that realising the aspiration of a transformed and effective local government system will require strong leadership, who will implement a clear and consistent, long-term strategy. Finally, role players believe that various capacity-building programmes at a local government level are required to ensure people-centred service delivery, and continued involvement of citizens in decisions affecting their lives. Only through these measures can local government fulfill its developmental agenda, and ensure that South Africa is a capable and developmental state by 2030.
---