Restoration Of Dignity Through Service Delivery
---
As the first point of contact between citizens and the government, local government is at the coalface of delivering a better life for the citizens of South Africa. It's a sphere of government where policies meet the real-life aspirations of the people, where theory meets reality. By Phakama Mbonambi.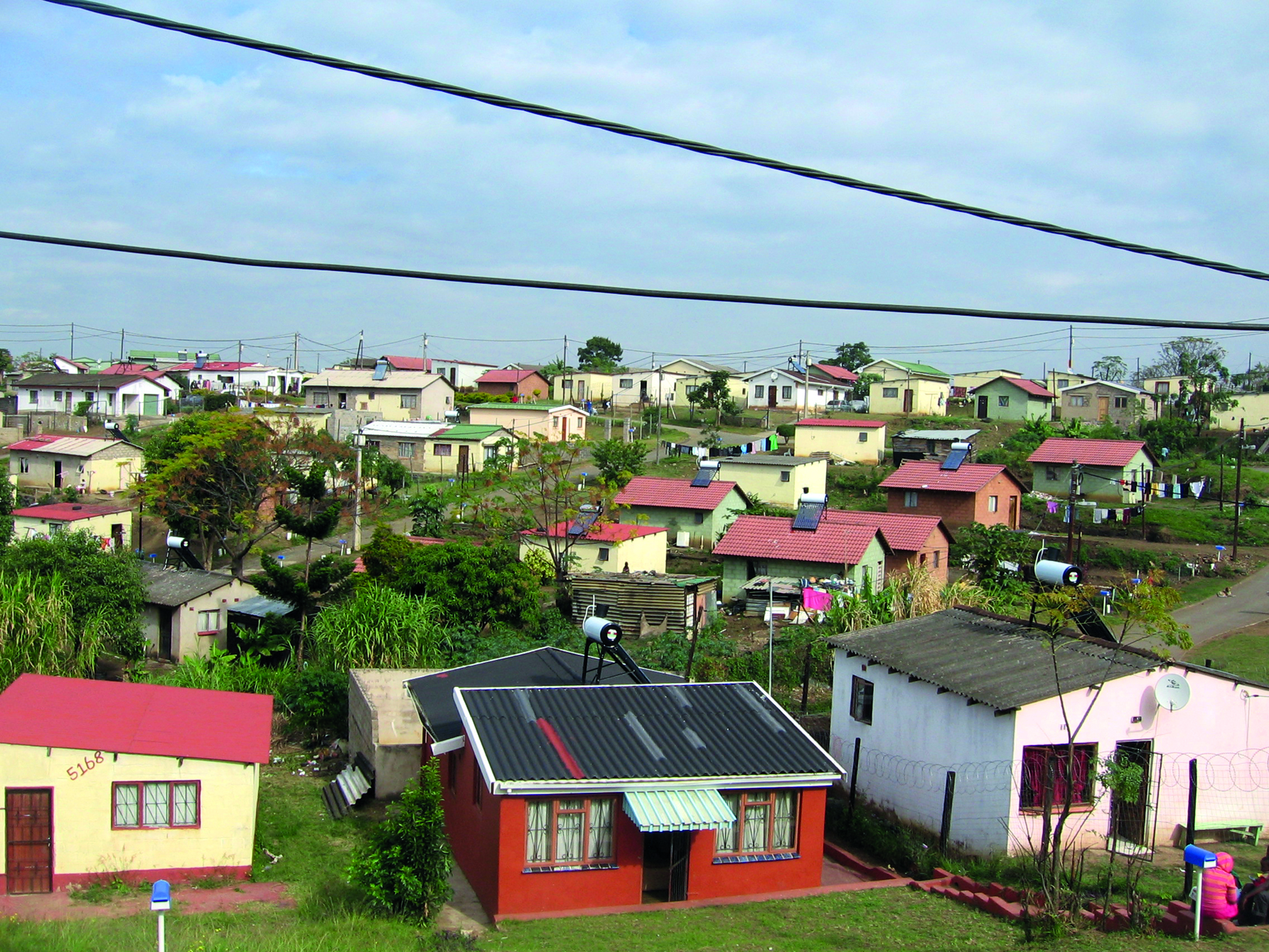 Image: Solar-heated water is made possible through a government initiative in eThekwini Municipality
Given the country's history of subjugation and economic marginalisation, deprivation is endemic for the majority of South Africans. For this reason, local government always endeavours to make sure that the human rights and dignity of citizens are always upheld. In fact, the very act of providing services to citizens – whether it's the delivery of water, electricity, sustainable human settlements, or roads – is a measure of ensuring that dignity and a sense of worth is retained.
Dignity is the recognition of the inherent worth and value of every human being. South Africa's Constitution reinstated dignity as its first founding value and as a substantive right in the Bill of Rights. The Constitution's revolutionary commitment to dignity, equality and social justice has the potential to transform old fault lines of political, economic and social power. Such power is best expressed within the local government sphere.
Throughout the country, municipalities endeavour to make their work responsive to differential impacts based on such things as gender, disability, age, sexual orientation and other factors. Every member of any social group has a Constitutional right to enjoy human dignity through the provision of municipal services.
To ensure that even the most economically marginalised are not left behind in terms of service delivery, municipalities apply an indigent policy that is designed to target the delivery of essential services to poor citizens.
While the South African Local Government Association (SALGA), the 'voice and representative of local government', continues to provide advice and support to local government, municipalities also have solid and informed partners in solving service delivery challenges, such as water and sanitation. Such a partnership ensures that citizens' human rights and dignity are upheld at all times.
Indeed, stronger municipalities fit into the wider goals of the National Development Plan (NDP) road map of a better South Africa by 2030. The NDP sees municipalities as playing a vital developmental role through adhering to Municipal Integrated Development Plans (IDPs). The IDPs focus on critical priorities that relate to the mandate of local government, which includes such activities as spatial planning, infrastructure and basic services. It is this strong focus on development that restores human dignity, because communities are now able to get involved in the developmental process as our key partners.
Operation Sukuma Sakhe, Kwazulu-Natal
KwaZulu-Natal's pioneering socioeconomic-empowerment programme is called Operation Sukuma Sakhe (OSS). And it is also popularly known as War on Poverty, fosters collaboration between provincial government and communities in the fight against poverty, disease and social ills.
This bold campaign, which has been in operation since 2011, is an integrated development measure. It seeks to tackle HIV and AIDS, poverty and crime, empower women and children, and hasten the pace at which service delivery in the province is addressed.
OSS aims to create sustainable livelihoods through the provision of integrated services to communities, and ultimately promoting a better life for all. The programme takes into account that improving the lives of people in various communities entails more than just the provision of traditonal services, such as water, electricity, roads, clinics and various other amenities.
The programme additionally aims to mend the social fabric of communities by promoting human values and fighting poverty, crime, diseases, deprivation, and fostering moral regeneration.
For this to come about, OSS, which enjoys the full support of the Department of Cooperative Governance and Traditional Affairs, encourages effective partnerships with civil society, development partners, communities and government departments, in order to provide a comprehensive, integrated service package to communities.
Anchored within the KwaZulu-Natal Premier's Office, OSS has led to the creation of 'war rooms' that have, in effect, declared war on poverty. Each ward is encouraged to have a war room, where people on the ground can report their various service delivery needs and grievances, and those needs are then escalated to the various departments within the municipalities.
War rooms enlist cadres at ward level to, among other tasks, conduct household profiling so that families trapped in poverty can receive help.
To serve communities better (and contribute to involving communities in important decisions), representatives of provincial, local government and ward councillors serve in these war rooms. In this way, they learn about the challenges the communities face, and they get to know which areas of service delivery need enhancing. Issues raised by communities can range from housing needs and health care to crime prevention.
Various MECs are able to visit various war rooms in the province to inspect how they are functioning, and to intervene where necessary.
In this way, government is brought closer to the people and solid partnerships are created.
Chief beneficiaries of OSS
Women who lead the OSS programme on the ground free their poor households from poverty.
Children under six receive early childhood-development support and free access to basic health care.
Unemployed and unskilled youth are encouraged to complete their education and training in order to secure a better future for themselves.
Unemployed adults receive skills development to build capacity in order to enable them to explore employment opportunities.
Unskilled and illiterate individuals are encouraged to improve their skills and become literate in order to improve their own lives and those of their dependents.
Disabled people, the chronically sick and the aged receive assistance, as the essence of human solidarity can be found in the care provided to those who are not able to help themselves.
The success of OSS
By being entrenched in the community and promoting a constant dialogue between government and communities, OSS is an effective way to monitor, evaluate, provide feedback and track service delivery. It also encourages residents to take charge of their lives.
The programme succeeds because of effective political and administrative structures, as well as the inclusion of civil society, community leaders, community fieldworkers, business and development partners and other key stakeholders.
Through OSS, provincial departments and municipalities in KwaZulu-Natal are able to enhance service delivery, while rebuilding communities, encouraging active citizenry and offering people the dignity that they deserve.
Koukamma Municipality, Eastern Cape
Koukamma Municipality is also on a quest to bring dignity to its residents. Recently, the municipality provided electricity and water to residents of two informal settlements that were established more than 50 years ago: Hermanuskraal and Koomansbos. The electrification deal came about when the municipality struck a deal with Eskom.
Koukamma Mayor Sam Vuso is excited about the developments in both Hermanuskraal and Koomansbos informal settlements. He believes the electrification of these areas will help the communities to increase their awareness of what's going on in the country.
'Those communities don't know what is happening in South Africa,' he says. 'For example, there are no television sets or anything that will give them access to information. Having electricity for the first time will be a big change in their lives.'
When it comes to water, the municipality plans to build a water-treatment plant in both informal settlements, which will help to provide running water to residents for the first time.
Successes noted
Koukamma Municipality's success can be seen in the enhancement of service delivery to the people, as well as in the general progress in how the provincial government manages its local authorities, a development that has greatly satisfied SALGA.
The organisation also notes greater stability in the Nelson Mandela Bay Metro and Buffalo City, which bodes well for development.
SALGA Eastern Cape Chairperson Nomakhosazana Meth says: 'Even though we still have a few challenges, the Eastern Cape is changing for the better. Municipalities are now able to spend the money allocated to them; there are no more provincial cases of money returning to the national fiscus. It shows that we are indeed getting there as the local government sector.'
It is in this improved operational environment that Koukamma Municipality continues to forge ahead with their mandate to improve people's lives.
Conclusion
OSS in KwaZulu-Natal and the provision of electricity and water to Hermanuskraal and Koomansbos informal settlements in Koukamma Municipality are proof of local government's commitment to provide essential services and, by extension, help restore the dignity of South African citizens.
These development efforts certainly go a long way towards improving people's lives and creating a stronger developmental state as envisaged in the NDP.
About OSS
Top five priorities of provincial government as embedded in OSS:
Rural development;
Creating decent work and economic growth;
Fighting crime;
Education; and
Health care.
Three main structures of OSS:
Political oversight;
Co-ordinating task teams; and
Oversight committees.
About Koukamma Municipality
Koukamma Municipality is situated in the Sarah Baartman District Municipality in the Eastern Cape.
Koukamma neighbours the Baviaans Local Municipality to the north and the Kouga Local Municipality to the east.
Koukamma Municipality is a relatively poor area, which reports high unemployment and low levels of literacy. Settlements are scattered and far from each other, which poses challenges to the development of infrastructure and the provision of basic services such as water, sewage, electricity and sanitation.
Storms River is the primary tourism centre within the municipality. The coastal area is characterised by a diverse and fast-growing economy, driven by tourism and agriculture, a fast-growing population linked to the economic opportunities, a good water supply and a wealth of holiday destinations and indigenous forests.
---