Recent Survey of Domestic Travelers Defines Local Travel Trends
Issued by: Conversation Capital
---
SPONSORED: Cape Town October 2016: A mammoth survey of domestic tourism has revealed some surprising insights into the reasons why people travel and the drivers behind their travel and accommodation choices, exposing shifting trends which include the fact that business trips are increasingly including leisure components.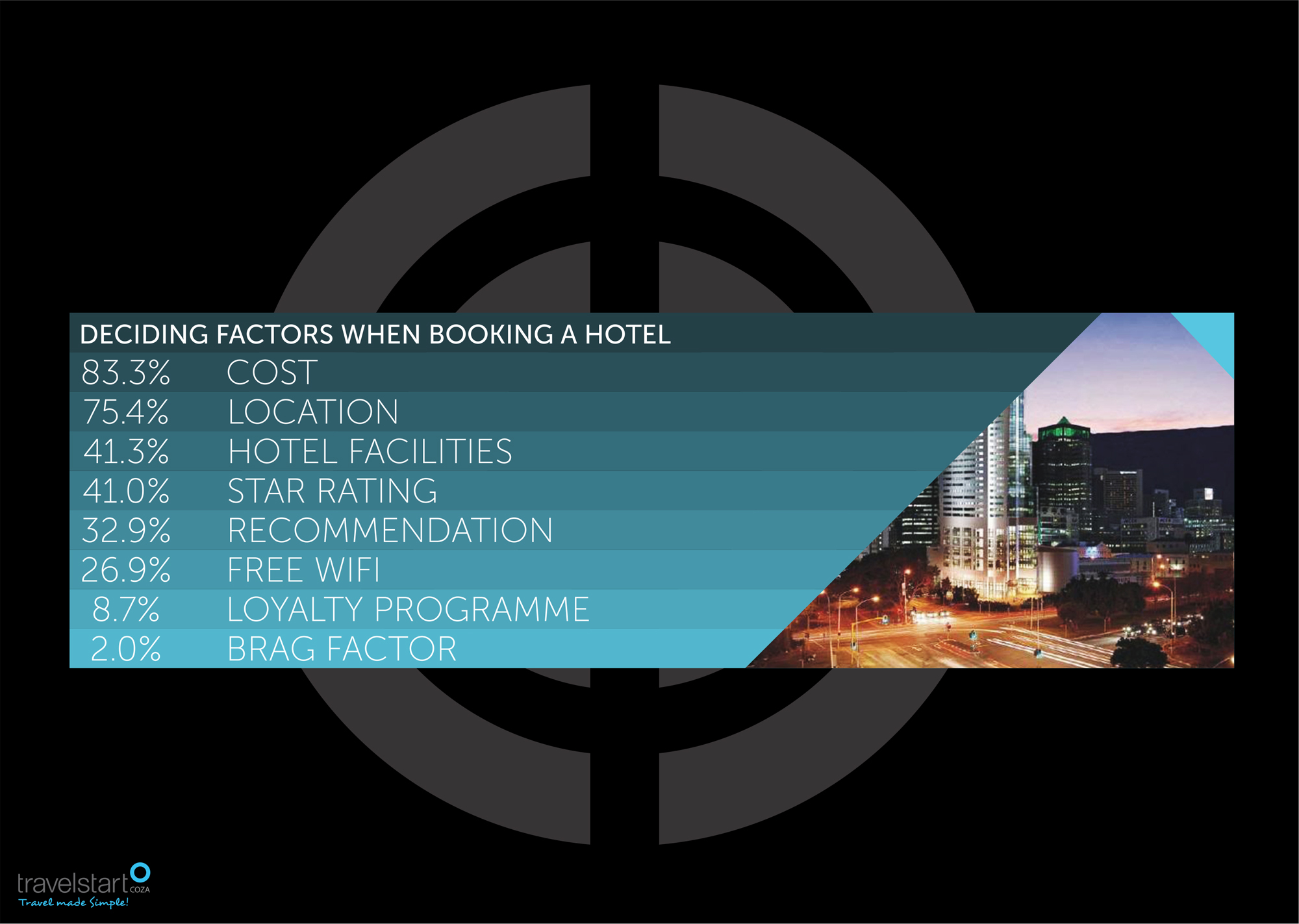 The definitive survey of more than 14 000 participants was conducted by the deluxe Century City Hotel adjacent to the state-of-the-art Century City Conference Centre, in collaboration with Travelstart, which is now headquartered in Cape Town with more than 200 employees.
Among those polled, the majority of the respondents to the question "what is the purpose of most of your domestic flights?" said they travelled for leisure, with 20.2% flying primarily for business.
Century City Hotel Joint CEO Gary Koetser says as the Western Cape economy expands and financial activity diverts to Cape Town along with the migrating talent pool, much more of that business travel is coming to the province.
"For a decade the Western Cape has out-performed the national economy in terms of growth. As Cape Town's reputation as a sound place to do business spreads based on stability and excellent service delivery, we will maintain expansion on two fronts; national investment and foreign direct investment.
"This is clearly demonstrated on a micro-level by the scope and nature of the conferences we have hosted at the Century City Conference Centre since it launched at the beginning of 2016. Clients include some of the world's most renowned corporations as well as a number of local companies from diverse industries ."
According to Koetser's counterpart Glyn Taylor, the survey reveals a particularly interesting trend among corporate travellers, 59.3% of whom make a concerted effort to either incorporate leisure activities into their schedules or in the case of 16.3% of them, even extend their stays when their business is concluded.
"Business-focused hotels such as ours need to be cognisant of this and understand that providing an excellent executive service simply isn't enough anymore. We need to build brand partnerships and offer our guests a range of leisure activities, whether it's a bespoke shuttle service to an amazing beach, or a private wine and chocolate pairing at a famous vineyard."
Taylor says the survey also revealed:
The most popular months for business travel are March & September (both 36.8%);
The least popular month for leisure travel is May (11.9%); and
The most popular month for leisure travel and conversely least popular month for business travel is December.
Says Taylor: "It's not surprising that May is a low month for domestic leisure travel because it's immediately after the Easter holidays, but it does offer interesting promotional opportunities for the industry to attract that market segment without children of school-going age."
Koetser says at 83.3%, affordability of hotels unquestionably remains a top priority to domestic travellers feeling the sharp pinch of the economic slump.
"Companies are watching their travel budgets more rigorously and 5-star hotels are simply off the table for many. Leisure travellers feel much the same way," remarks Koetser. "But the second key factor influencing hotel selection on the survey is 'location' and being centrally situated close to myriad top-drawer retail and entertainment venues, as is the case with the Century City Hotel, certainly helps in attracting reservations."
Other top deciders are star ratings, the range of hotel facilities and whether free Wi-Fi is offered.
And in terms of flying, according to the survey, factors that carry most weight when travellers book are:
Cost (91.4%);
Convenience of arrival and departure times (58.8%); and
Quickest travel time to destination (41.4%).
Emma Verhoeven, Brand Communications Manager of Travelstart, says the aim of such an extensive survey was to bring the broader tourism industry up to date with domestic travel trends. "Information is crucial for industry players to understand and adapt to shifting factors that influence bookings, because there is a lot at stake."
Verhoeven cites estimates from the World Travel and Tourism Council that domestic and inbound tourism collectively will see R120 billion in export earnings and to contribute more than R380 billion to the economy this year.
And the final finding in the survey; a poll of the most popular city destinations in South Africa? Cape Town, of course, according to a whopping 66% of respondents, followed by Durban with only 16.2% of the vote. All other cities scored less than 6%.
---