Re-Engineering Technology To Close Development Gaps
By: Brindaveni Naidoo
---
The engineering of infrastructure development in today's world needs to evolve towards revolutionising the way in which technology is researched, developed and used, states Sabine Dall'Omo, CEO of Siemens South Africa.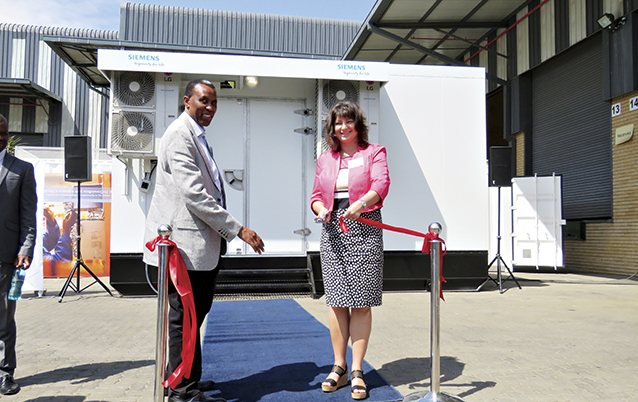 Image: Siemens E-House ribbon cutting - Siemens SA's Clifford Klaas and Sabine Dall'Omo
The CEO, who heads up the local branch of one of the world's leading service providers in electronics and electrical engineering, spoke to Infrastructure on the sidelines of  Siemens' launch of the largest-ever, fully automated, direct-current (DC) 11MW containerised substation.
She said that the population increase and growing urbanisation in Africa, coupled with climate change, provided opportunities for 'smart' solutions and 'digitalisation' to help develop the continent's infrastructure. For her, technology remained critical to unlocking the value of 'soft' infrastructure, such as technology, that remained an important linkage in the infrastructure development narrative of the continent.
"We need to move beyond our conventional and traditional ways of thinking; and re-engineer how we receive services, such as water and electricity – faster and quicker – to the people of Africa. This will have a significant impact on economic growth and other critical issues, such as healthcare and education."
Dall'Omo added that three key elements are driving the company to push the boundaries in the sectors in which it operates in – i.e. electrification, automation and digitalisation. "From power generation, to wind and gas turbines, process industries and drives, transportation, healthcare and energy management– these three key elements are driving the long-term aspirations of Siemens. However, digitalisation is increasingly dominating the curriculum as the biggest driver of business growth."
In order to demonstrate the benefits of its long-term goals, research and development (R&D) remains fundamental to the company. Dall'Omo revealed that in this current fiscal year, Siemens globally invested around €4.8bn in R&D – some €300m more than the last fiscal year. A major part of the additional funds is earmarked for automation, digitalisation and decentralised energy systems.
As an example of innovation, she refers to the new control centre – the Gauteng Nerve Centre (GNC) – for the Passenger Rail Agency of South Africa. The GNC covers around 3400 square metres and will monitor up to 500 000 passengers every day.
"The operations control centre now accommodates the existing 35 control rooms in one place and constantly monitors each and every one of the more than 600 trains in operation every day, and can immediately respond to any operating failures, accidents and other incidents." Siemens has been upgrading the signalling systems for the entire railway network of  PRASA since 2011.
Another technology that has seen the benefits of R&D translate into success for the company is Siemens' fully automated DC containerised substation – a new generation trolley sub-station. A "world-first" for fuel efficiency in open-cast mining, Siemens South Africa recently launched one of three completed units at its North Riding facilities, in Gauteng, which will be used to power a fleet of Komatsu 960E trucks, which are among the industry's biggest and highest-capacity mine haulage vehicles, with a load capacity of 214m3 or 327 tonnes.
Each 11MW containerised substation boasts 1.8 kV of DC voltage and up to 10 000 A (amps) to ensure that it can run two trucks continuously, three trucks for ten minutes or four trucks for one minute along the overhead power lines. This combination of substation and overhead line is known as trolley assist technology used in the mining industry.
Each substation is housed in a 6m x 3.3m x 3m container that weighs about 8.5 tonnes when fully commissioned. Cooling of this unit is provided by two inverter air conditioners, keeping the inside temperatures between 18oC and 22oC under normal load conditions.
The container includes the 1.8kV DC switchgear, rectifiers, 33kV ring main unit, Siprotec AC protection device and Sitras Pro DC Feeder protection device. The control and protection of the entire substation is automated with a Siemens PLC and distributed input/output units connected via Profibus, significantly reducing the number of interface cables between equipment and allowing for the effective control and monitoring of the substation and equipment via a touch panel.
Karl van Rensburg, Siemens' lead engineer, who designed the substation, said that the experience gained over the past 20 years of providing DC mobile substations for trolley assist projects at various mines had greatly contributed to the success of this project.
---