---
APR Energy eager for greater market share.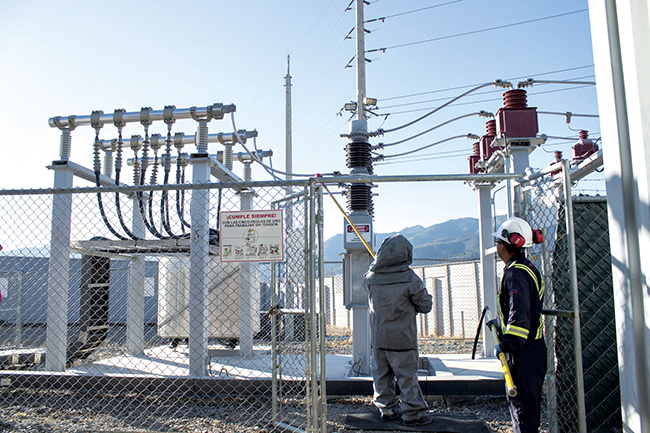 Image: Guatemala 15MW mining power switchyard
Record global investment in renewable energy, amounting to $285.9bn, was recorded in 2015. This is according to the Global Trends in Renewable Energy Investment 2016 report by the Frankfurt School of Finance & Management.
Interestingly, the 25th Mining Indaba, held in Cape Town, hosted its fair share of renewable energy companies, the likes of which included Redavia and APR Energy, a supplier of mobile power using diesel and gas-fired power modules, gas turbines and solar-hybrid power plants.
The cost-competitive nature of gas as an energy solution remains a key driver for its rising demand, particularly given that the commodities sector is in the doldrums, says APR Energy's corporate communications and public relations manager, Alan Chapple.
The Renewables 2016: Global Status Report by REN21 gives credence to Chapple's sentiment, asserting that the rapid growth in the renewables sector is driven by a number of factors, including the improving cost-competitiveness of renewable technologies, dedicated policy initiatives, better access to financing, energy security and environmental concerns. Other drivers include growing demand for energy in developing and emerging economies, and the need for access to modern energy.
Consequently, new markets for both centralised and distributed renewable energy are emerging in all regions, the report states.
To the drivers, Chapple adds fluctuating fuel prices and unreliable grid power in Africa.
Early-stage projects, especially those at prefeasibility and feasibility-study stage, de-mothballed projects, as well as those that were put on hold owing to the challenged financial conditions, continue to look to mobile fast-track generation as a cost-effective and reliable power solution, he explains.
"Scalable fast-track power has become attractive as a source of bridging power for projects looking to expand incrementally, and those whose reliance on hydropower has been hampered by the drought. Moreover, our fleet of power modules, turbines and solar-hybrid plants provides the flexibility to use a range of fuels, including low-cost natural gas and LPG, helping miners better manage their cost of power generation. In the case of solar-hybrids, the diesel component ensures that miners will have reliable power even when the sun goes down."
APR Energy installs, operates and maintains power plants as a monthly cost to clients.
"Fast-track power as a solution is regarded as a monthly operating expense, instead of a capital expense, and this gives clients flexibility to invest their capital in other areas of the business. With our solution, miners pay only a fixed cost for access to the generating capacity and a variable cost for the kilowatts they consume," states Chapple.
In the short to medium term, APR Energy plans to continue its strategy of identifying and supplying power to early-stage projects, and supplying bridging power to supplement existing projects in the mining and metals sector. In addition, its alliance with GE will enable it to offer existing gas and LPG customers modern, technologically advanced solutions that deliver greater efficiency and fuel flexibility compared to their original models.
Established in 2002 as Alstom Power Rental, the power producer has grown from one project supplying 20MW of power in civil war-ravaged Jaffna, Sri Lanka, to installed plants in over 30 countries across the globe, including 11 African countries. In Africa, the company has completed two projects in Botswana and Angola, and others in Egypt, Burkina Faso, Tanzania, Libya, Mozambique, Senegal, Mali and Gabon.
"We are currently installing a 50MW plant for the Ministry of Energy, Water and Mines in Benin, using our fuel-flexible turbines, which will allow the customer to seamlessly switch between natural gas and diesel, based on cost and availability. We have also been renewing our contract since 2011 with Senelec, the national electric utility in Senegal.
"In the mining sector, APR Energy has supplied power to Vale's coal project in Mozambique, as well as a small copper mine in Botswana for Discovery Metals. We also recently signed a 12-month extension for our 15.5MW power plant for the world's second-largest silver mine, in Guatemala."
The one-stop-shop, full-turnkey solutions provider has, in 15 years, quadrupled its market share and installed more than 3.5GW of energy.
The company's key focus remains on employing and training local people to operate its equipment, with the broader aim being to train and hire 70% of locals on the projects it rolls out. It is also strongly focused on corporate social investments, such as healthcare and school facility developments, for local communities in areas in which it operates.
In February, the company completed its latest community development project in Senegal, a refurbished and lighted outdoor basketball/volleyball court, including 30 basketballs, uniforms and other equipment.
---