---
Typically associated with prototyping, additive manufacturing has the potential to add value across the production spectrum. Anthony Sharpe starts from the bottom.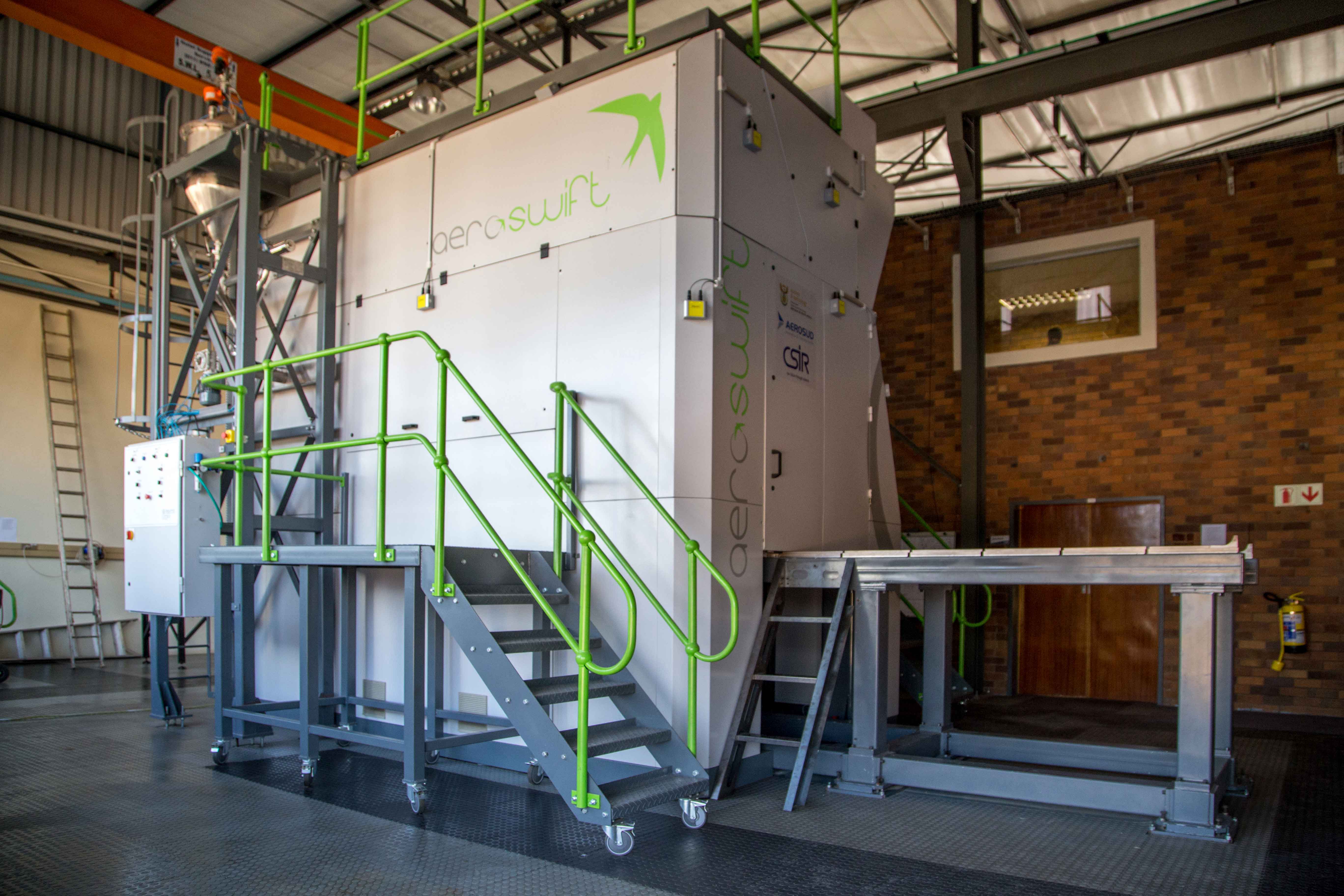 Image: Technology - Aeroswift
What do additive manufacturing (AM), also known as 3D printing, and the titanium industry have in common? More than you might think. And South Africa is looking to become a world leader in both.
That's the aim of the Aeroswift project, a collaboration aviation manufacturing solutions provider Aerosud and the South African Council for Scientific and Industrial Research (CSIR).  The project's goal is to build the largest and fastest metal 3D printer in the world. That title currently belongs to the Xline 2000R, designed by Concept Laser, of which only five exist in the world. The Xline has a build volume of 800 x 400 x 500mm, which may not sound like much, but it's far larger than its nearest competitor. Designed to print titanium aircraft parts from powder, the Aeroswift has a staggering build volume of 2000 x 600 x 600mm. That's a big step. And it represents a big step forward for AM in South Africa.
Hardus Greyling, manager of commercialisation and national programmes at the CSIR National Laser Centre, is the contract co-ordinator on the project. "We've basically changed the way the additive-manufacturing process works," he says. "This machine (pictured left) uses about ten times more laser power than what other commercial systems are using, and we've up scaled the size of the unit. So we can start printing large parts at high processing speeds, which means we can get a niche in the market with respect to part size, or with batch processing, where you have single beds with multiple components being printed simultaneously. It's a world-leading development."
Adding value
After seven years in the pipeline, Aeroswift is on the verge of launching. It's an incredibly exciting development, but what does it have to do with the local titanium industry? You see, South Africa has the second-largest deposits of titanium-bearing minerals in the world, after Australia. But much of this has traditionally failed to undergo beneficiation, or value-added processing locally, instead being exported as a primary material to be processed into higher-value goods elsewhere, which are potentially imported later down the line. Aeroswift has the potential to change this.
"The CSIR is also working on a programme to develop titanium directly from these mineral deposits," explains Greyling. "If this works and we can produce titanium locally, we have a huge resource base. Using this high-speed AM process, we could establish a value chain to serve the aerospace industry, which could also have applications in the medical industry, or anywhere you need highly corrosion-resistant materials.
"If you create a value chain like this, there's lots of potential job creation that goes with it. Because AM is part of industry 4.0 (that is, the current trend of automation and data exchange in manufacturing technologies), people often ask how many jobs the technology is going to destroy, but this has the potential to create many new high-level jobs, and increase the country's export revenue."
Supply and demand
The potential of additive manufacturing to disrupt value and supply chains is starting to be felt across a variety of industries. Take Adidas, for example, which recently started 3D printing shoes tailored to consumers' customised preferences. By removing the retailer, the supply chain is shortened both in terms of time and physical logistics. It also has the potential to reduce wastage, as shoes are printed either on demand, or in smaller batches. So, should we expect the clothes on our backs to be churned out of printers soon? David Bullock, managing director of local firm Rapid 3D and chairman of the South African Rapid Product Development Association (RAPDASA), doesn't think so.
"There's been quite a lot of activity around fashion, garments and shoes, and even around 3D-printing knitting and weaving machines, but I don't think it's likely to be the next big thing," he says. "We're more likely to see increasing activity such as custom-made sunglasses, spectacle frames and watches. Luxury goods like these are a good fit for customisation."
As intriguing as the idea of being able to order a custom-printed sweater from Woolworths might be, the fact remains that clothing mass produced in Asian mega-factories is going to be financially much more viable for a long time to come.
"The important thing to remember is that AM will never replace conventional manufacturing," says Greyling. "It will always be just another tool in the toolbox. Companies will always focus on the cheapest and most effective way to produce components. If you take 15 000 body panels for a motor vehicle, it's still likely to be much cheaper to do this with a press, but if you think about 200 parts for an Airbus plane with high complexity, that's most likely a 3D-printing application."
Printing smiles
So what other industries are AM shaking up? It's well known what a good fit the technology is for medical applications, where there are as many variables as there are human bodies in the world. One surprising success story that Bullock makes note of is that of Invisalign, which designs and manufactures almost invisible dental aligners. "One of the company's founders had the idea to do digital, incremental manipulation to achieve orthodontic corrections, and then they set themselves up to print the models, using a hybrid approach of 3D printing for the pattern and vacuum forming for the clear aligner."
The company was established in 1997, and by 2014 had sold 17 million components. "If you think about the fact that each one of those is different, it provides a great example of what can be done with this technology, and how it can completely disrupt the normal way of doing things," says Bullock.
Levelling the playing field
The disruptive nature of AM is what gives it such potential for playing an important role in future. Small to medium businesses, for example, can cut down on prototyping costs and time, and bring new products to market faster. That's good news for South African businesses. If current trends are anything to go by, we can expect big things from the local AM industry. "There are novel things we're doing in South Africa with respect to material development in other fields,' says Greyling. "For instance, we're looking at using local sand for printing of moulds and cores for the casting industry, which could be a real cost-saver."
---