Parties Commit to New Charter
By: Rodney Weidemann.
---
The South African Local Government Association and the Moral Regeneration Movement are leading SA's political parties in pledging to uphold good values and ethics this coming elections.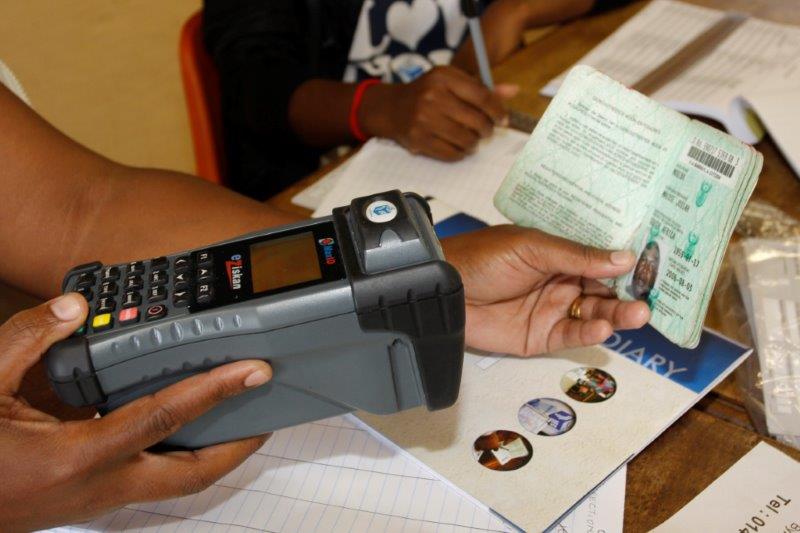 An IEC staff member uses the Zip-Zip to scan a voter's green-barcoded ID.
While South Africa has travelled a great distance in the last 20 years from its ignominious past, most notably in the fundamental right of every citizen to vote, much of the country's success is overshadowed by the many serious challenges it still faces. Among these, the likes of corruption and poor service delivery, as well as unemployment and poverty, continue to challenge progress. The best way to overcome many of these issues is for government and communities to work together to build a stronger nation.
It is with this in mind that the South African Local Government Association (SALGA) and SA's Moral Regeneration Movement (MRM) brought together the numerous political parties contesting the 2016 Local Government Elections on 3 August this year, with the goal of getting them to formally commit to the Charter of Election Ethics. The parties were asked to pledge themselves to the task of adhering to good values and ethics, with the aim of ensuring responsible and ethical political leadership, as the country moves towards these elections.
The signing of the Charter of Election Ethics took place at the old Women's Gaol on Constitution Hill in Johannesburg, on 13 April 2016. Key signatories included the ANC, DA, EFF, COPE, ACDP, APC, AGANG, PAC, NFP, UDM, AIC and the IFP.
Strong guidelines 
The charter provides guidelines for good conduct and ethical voting for government, political parties, the Independent Electoral Commission (IEC), the youth and the media, in order to ensure a peaceful environment as the country gears up for its fourth democratic municipal elections.
Furthermore, it outlines a number of values and ethics that political parties need to promote, support and adhere to during the elections. The charter requires all those involved to strive to elect candidates who are ethical, principled and competent. Most importantly, political candidates should always aim to serve their communities and the country before their party or themselves. Ultimately, the charter is part of a long-term project to build and instil good values in the South African society.
According to SALGA Deputy Chairperson Councillor Mpho Nawa, the charter will promote social cohesion and nation-building, and will raise awareness around the importance of voting. Most importantly, it is aimed at promoting free and fair elections, based on tolerance and an outcome of acceptable results.
Voting is the most direct way for citizens to influence how their municipality is run, and choosing a leader or a political party that will have a positive impact on the community, thus making a difference in many people's lives, says Cllr Nawa. This is why it is the moral obligation of each and every citizen to vote.
'Of course, for votes to hold their true worth, it is important that the voting process itself is ethical,' he insists. 'Therefore, all election processes should always protect the values and principles that support and grow our country, and strengthen our democracy.'
From past to future
At the signing ceremony, Cllr Nawa told the audience that in June 1955, the people of South Africa came together in what is known as the Congress of the People and agreed to build a united, non-sexist, nonracial and democratic South Africa that abides by the rule of law. The new charter is a reflection of this earlier agreement.
'At SALGA, we are happy with our partnership with the MRM in implementing the Charter of Election Ethics and wish to call on all political parties to work together to build a country we can be proud of,' he said at the time. 'Our country is facing a number of challenges, and if we succeed in promoting ethical and responsible leadership, at least our leaders will be able to stand the test of time and lead us morally. Ultimately, every public representative should be able to pass an ethics test.'
In addition, MRM Chairperson Father Simangaliso Mkhatshwa suggested that the MRM had realised the need to complement the work of the IEC.
'The IEC has expressed its full support of the charter and even [gone so far as] to encourage the MRM and SALGA to pursue this process beyond the local government elections,' he explains. 'This is because the initial code of conduct, which all political parties and anyone contesting the election must sign, is limited to the election period. 'It is our view too that the sustained national conversation on values, ethics and moral citizenry is crucial work. And this ties up well with the promotion of democracy – although with limits in terms of the legislative mandate.
An ethical foundation SALGA has set itself a long-term vision that has a strategic thrust to build a culture of integrity, adds Nawa. The organization has established a number of strategic partnerships with various reputable institutions, in order to drive this agenda.
According to Cllr Nawa, this historic signing ceremony marks the beginning of a long-term strategic partnership with the MRM and various other civil society formations, with the aim of nurturing a culture of positive values, ethical leadership and a professional and ethical public administration. 'Local government is the sphere closest to the people and affords their most direct interaction with the public sector,' he says. 'For this reason alone, political leaders in municipalities play a critical role in upholding the integrity and accountability of the state.
'Political leaders must know, as is the case in law, that perceptions about how local government executes its mandate are as important as the reality of the measures it puts in place to do so. Rhetoric about good governance is equally inconsequential if actions do not follow. A municipality's executive team should provide effective leadership based on an ethical foundation.'
The partnership between the MRM and SALGA is underpinned by a strong belief that corruption is a deeply ingrained societal vice, and that it requires the collective efforts of both governmental and non-state actors in order to combat it.
'With this in mind, let me congratulate all political parties that participated during the consultative processes to enrich the Charter of Election Ethics and, most importantly, for joining hands with us and committing to ensuring a free and fair local government election,' Cllr Nawa concludes.
Key charter points
The Charter of Election Ethics points out that political parties must ensure that:
They always strive to elect candidates who are ethical, principled and competent. Most importantly, political candidates should always aim to serve their communities and the country before their party or themselves;
Political campaigning should always be done with honesty and integrity. Campaigners should take care not to lie to voters, or mislead them in any way;
Parties and candidates have a responsibility to promote tolerance through their words, actions and the tone of their language. There can be no room for violence or intimidation. In particular, religious, racial or tribal fears should never be used as any part of a campaign strategy and approach;
Parties and candidates should avoid practices that could be seen as 'buying votes'; and
Taxpayers' money should never be used to fund the election campaigns of political parties.
What makes an election ethical?
An ethical election is based on the following principles:
Acceptance of others – respecting differences and acting with tolerance, wisdom, understanding and maturity;
Neutrality towards parties – those who run the election process must not choose sides or favour any political party;
Responsibility to duty – everyone has a part to play in our democracy. Voters have a responsibility to their fellow citizens to vote and make wise choices; equally, organisers need to carry out their duties effectively and efficiently;
Accountability to the people – everyone taking part in an election must act for the common good;
Freedom to vote as one chooses – no one should ever try to pressure, manipulate or intimidate anyone into voting in a certain way. In particular, no religious, racial and tribal fears, nor threats of violence, should be used to influence another person's vote;
Political campaigning must promote tolerance and integrity – the laws and rules that affect elections and related activities (i.e. campaigning and campaign funding) must be obeyed;
The voting system must be trusted – every individual aspect of the election process must be managed in a competent and transparent manner; and
Respect for the outcome – people should remain involved [in the activities of] their local governments, even if the party for which they have voted does not win.
---