---
There's wilderness still, and the purest silence. And it's worth travelling to find it, writes Keith Bain.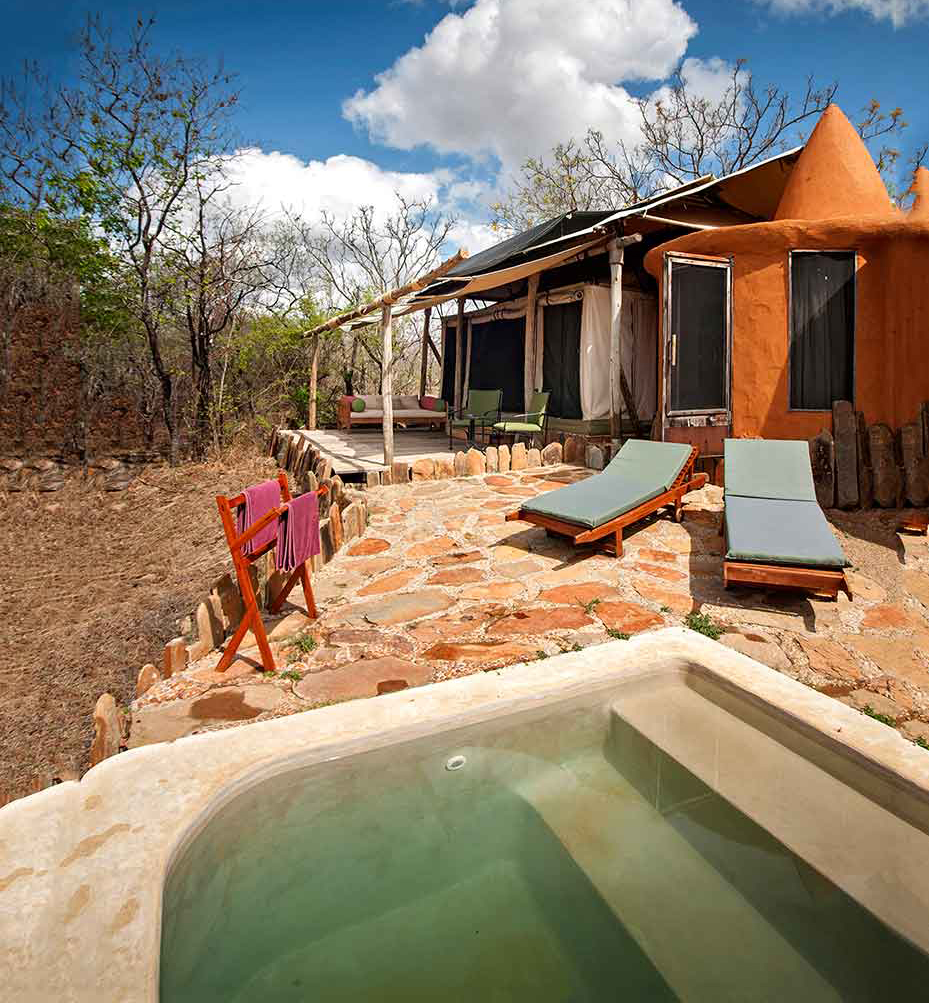 Image: Azura Selous -tented villa with pool
It had been almost an entire day of airports and flying, to get from Cape Town to the little runway clearing in the middle of the bush somewhere in the Selous Game Reserve in southern Tanzania. The final part of the trip, having cleared Dar es Salaam's passport control chaos, involved an exhilarating hour-long trip in a 12-seater Cessna. The tiny twin-propeller plane flew close enough to the ground for us to scan the earth for animals as we sailed over hundreds of kilometres of uninhabited, persistent emptiness. We touched down in the heart of a place untamed and utterly wild save for a small welcoming party huddled beneath the thatched 'airport' lounge at the edge of the runway.
As we clocked the surrounding bush and watched impalas and zebras saunter back onto the runway where they'd been grazing before our plane scared them off, it was as though time had stopped and all I could hear was that low, shrill buzz of insect life.
Azura Selous, the boutique lodge that was to be our home for the next few days, was a short drive from the runway, set on the banks of the Great Ruaha River, just back from a section of rapids that made the fast-flowing water roar like the ocean. The main part of the lodge was centred on a pool surrounded by a tanning deck and lounges furnished with comfy sofas and daybeds. Hippos could constantly be seen wallowing and belly-flopping while their ceaseless guffaws resounded like some weird river disco that was to be the soundtrack of our stay.
Along with welcome drinks and warm smiles, we were given a briefing to introduce us to a part of the world that's always been overshadowed by Tanzania's more famous wildlife destinations, like Ngorongoro and the Serengeti. Selous is a 5.46 million hectare game reserve – larger than Switzerland and three times bigger than Kruger. It's been a UNESCO World Heritage Site since 1982, and the area was first set aside for conservation in 1896 when Tanzania was still under German colonial rule, making it the oldest reserve in Africa, and second only to Yellowstone National Park in the world.
The nearest human habitation was more than six hours away by road, we were told, which meant that the mere fact of the lodge's existence was something of a small miracle. There was no such thing as popping next door for sugar or bottles of wine.
The priority, though, right then, was getting settled into our suite which was at the end of a pathway that skirted through the bush several minutes from the main lodge. Our free-standing villa, far from its nearest neighbour, had domed roofs like termite mounds. A clever combination of canvas and concrete, wood and fly-net, it was constructed on a stone plinth with a separate entrance hall and a very large and beautiful bathroom designed so that we constantly had an outside view. And beyond the indoor bathroom was another one – outside – with a shower designed like a cascading waterfall, plus a huge bath tub for soaking under the stars.
The canvas flaps of the bedroom led onto a large private patio with an oversized plunge pool and tanning area all of which faced directly towards the river and was entirely surrounded by the enfolding bush. Neither ostentatious nor rustic, it was deftly designed with lots of coir mats and handwoven baskets set against the stone floors, and there were armchairs with footstools, a cooler box in lieu of a minibar and instead of a phone, a two-way radio in case of emergencies.
Beyond our terrace and front door, it was pure, unadulterated bundu. One thing we'd been repeatedly told – we were not to walk around alone after dark.
Our tall, nimble Maasai askari arrived at the appointed time and escorted us back to the main lodge for pre-dinner G&Ts and then we were led to a clearing near the river's edge where we were served feta and spinach parcels, grilled fish with pineapple relish, and thick slabs of game meat, followed by a dark and rich chocolate torte. All the while, yellow wing bats soared overhead and hippos grunted and chuckled nearby.
At dawn, we joined the others on the Land Rover and spent a long and wondrous morning bumping and grinding over makeshift roads that had been carved through the bush. We snuggled under a blanket on the back seat, staring out into the soft dawn light as we cruised through an ever-changing mix of biomes. There were rolling hills and undulating plains, vast patches of wild grass that looked like they'd been freshly mowed, thickets and forests, swamps and ravines and rivers of sand.
The enormity of the Selous means that game viewing requires more patience than in the over-touristed parts of parks like Kruger and the Serengeti. But the rewards are real, and there's an authenticity that you feel right in your gut. As we drifted past endless herds of impala, each moment seemed to include another marvellous bird sighting – sparrow weavers, go-away-birds, and long-tailed paradise whydahs with their impressively long black tails.
It was just moments after seeing a banded mongoose scamper into the undergrowth that we heard the ominous sound of bones crunching. It was a loud, fierce, frantic sound, and as we came around a corner there they were: a pack of African wild dogs polishing off the carcass of the morning kill.
We watched them devour every morsel and then drove to a riverside clearing where a table had been set up and our breakfast laid out. We tucked into homemade granola and fresh fruit and egg muffins while ogling crocodiles and hippos as fish eagles and white-backed vultures circled and swooped overhead.
Then we went in search of the wild dogs once again and this time found them at their den where the exhausted adults rested as their pups – the cutest things you've ever laid eyes upon – played like children, chasing one another and tripping over their own paws while we humans watched with delight.
After lunch there was time for lazing by the pool or summoning massages to the room, and soon we were off on safari once more, blundering our way through thick bush, playing hide and seek with a huge herd of buffalo that moved with incredible stealth and seemed capable of disappearing in an instant despite their size and numbers. Every so often, we'd find a few stragglers – startled, the moment they noticed us they'd skip away like confused cows. These were not animals habituated to humans, and their shyness added to the sense of being in a place that was undiscovered and undisturbed – it was a revelation to know that it was still possible to feel like an explorer, as though we were the first humans these beasts were seeing.
We began each day as we ended the previous one, skinny dipping in our little plunge pool before warming up again under the waterfall shower, and then we'd head into the bush, driving through soggy river beds, watching baboons in the treetops and spotting giraffes poke their heads through gaps in the thorntrees. Or we'd find ourselves in the midst of vast plains surrounded by huddles of zebras and giraffe and blue wildebeest bounding along like two-tonne clowns.
One drive was dedicated to tracking a set of fresh paw prints that led us to a pair of short-mane bachelors who'd recently arrived in the area and had been knocking it about with the local ladies, picking fights with the reigning alpha male. We stopped for a while – to point our fingers and aim our cameras at our quarry. One lion looked up and yawned in our direction, idly stood, and sauntered off. His brother, the lazier, slower of the two, finally got to his feet, had a look to see what all the fuss was about, and then followed his sibling. We followed them as long as they allowed us before disappearing into bush too dense for us to follow.
Aside from game drives, there were bush walks and river cruises and long nights of staring at an infinitude of stars. Each dinner was served in a different location. One evening was dedicated to a 'Swahili barbeque' with a full bar and a roaring fire in the middle of the bush. Not far from where we ate, we could see the glowing eyes of hyenas skulking behind the trees while above us millions of stars flickered like diamonds.
And there was that late afternoon fishing excursion, timed so that we'd catch a spectacular sunset as we cast lines into the Ruaha. It was magical because, beyond the tip of my rod, just 30 metres away, dozens of hippos were wallowing in the water with just their gigantic nostrils and quizzical eyes and twitchy little ears protruding from the surface. Farther off, on the other bank, mud-caked crocodiles minded their own business.
That moment, with the rumble of the river and the sky steadily turning red and orange as the sun began to set, was all-consuming, like a deep and intense sigh of relief. Beyond the handful of humans who had gathered on the riverbank with drinks and snacks and some of us with fishing rods, it was easy to imagine that there wasn't another soul on earth.
---