---
Despite poor performance over the years since the 2010 Soccer World Cup, South African infrastructure development is picking up again. But will it be enough to compete globally? Carolyn de Kock reports.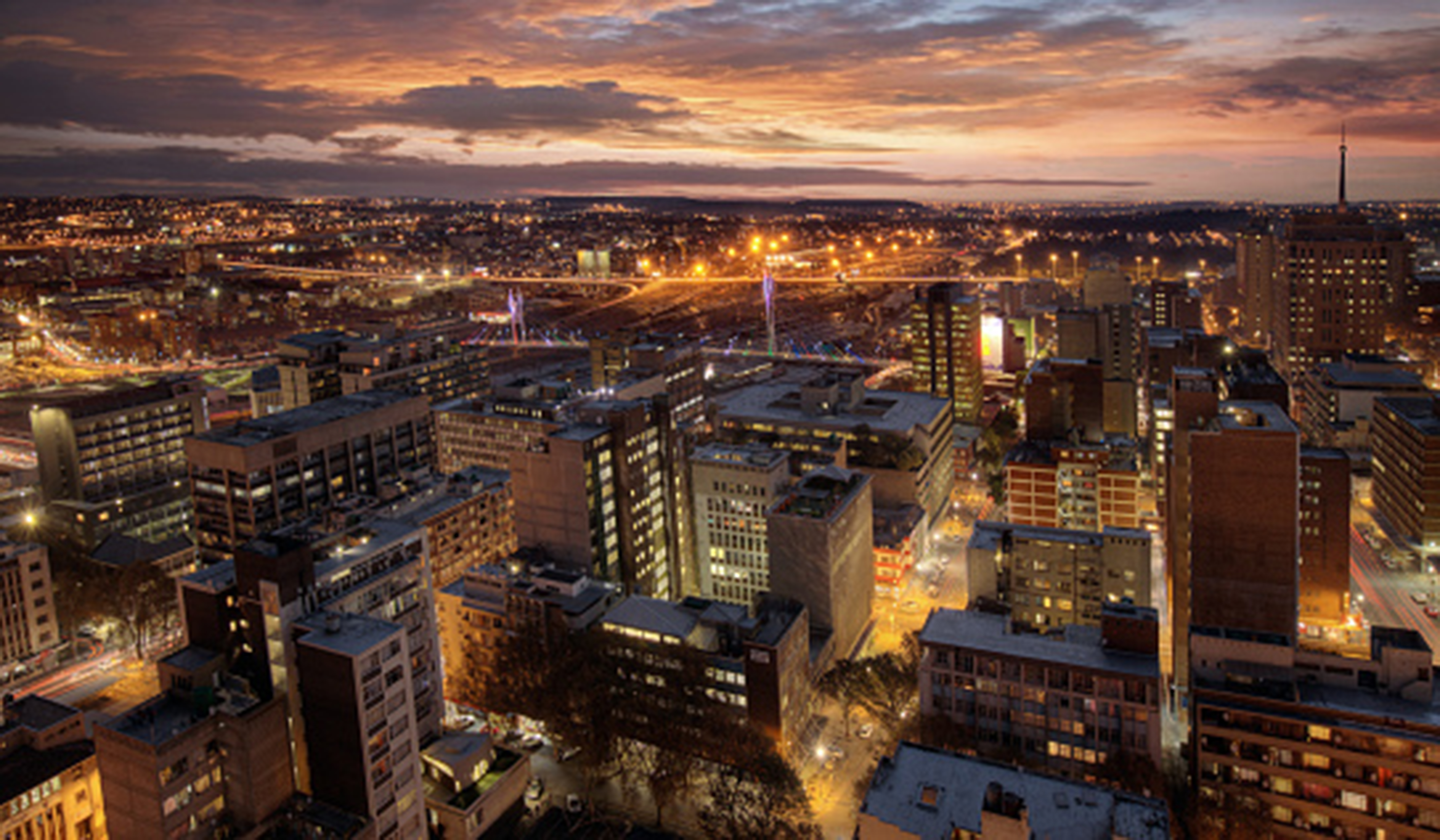 Image: Sunset View of Johannesburg Skyline & Nelson Mandela Bridge, Gauteng, South Africa
After the Soccer World Cup in 2010, spending in our built environment and on infrastructure development plummeted. That might have been expected, given the massive investment in the run-up to the competition, but the JSE's construction and materials index has dropped by 68% since September 2009. Slow economic growth, low commodity prices and serious knocks to the rand have all contributed to the downfall.
With the construction sector alone employing more than 1.4 million people, reinvigorated spending in infrastructure will not only improve our built environment, but be a major boost to employment. The National Development Plan (NDP) calls for more than R8-billion to be spent on infrastructure development over the next three years.
Across Africa, infrastructure development is key for economic growth; the World Bank estimates that the continent needs to spend about $93-billion annually until 2020 to bridge its infrastructure gap. It's currently a tough market, but this presents an opportunity too.
"We need to invest now, while we are at the bottom of the commodity cycle, so we can benefit from the next upturn," says Andries Rossouw, partner at PwC and principal author of the SA Construction report.
Current state of infrastructure
South Africa has long been viewed as a leader on the continent when it comes to infrastructure development. Dr Chris Rust from the Built Environment department at the Council for Scientific and Industrial Research (CSIR) says South Africa performs well, particularly with regard to transport and water infrastructure. "South Africa's national road network is viewed as world-class. However, challenges remain when it comes to maintenance."
The Infrastructure Report Card, published by the South African Institution of Civil Engineering, highlighted particular problem areas in water and health infrastructure when it comes to maintenance and operation. "These challenges are exacerbated by the growing population in our cities due to urbanisation," notes Rust.
Severe gaps in water infrastructure have been exposed as a result of the drought, with reports that Johannesburg loses 120 million litres of water annually due to ageing infrastructure.
On the transport front, high fuel costs, vehicle and road maintenance, and eTolls are placing pressure on the road network. "South Africa's transport sector is key to our competitiveness in global markets,  and ensures businesses can be run efficiently," says Rust. "We are at a disadvantage due to the long distances between our main ports and economic hubs, which increases logistics costs to levels significantly higher than those of our economic trading partners."
With 80% of all goods transported by road, our rail network – the 14th-longest in the world – has huge potential to take off some of this pressure. In 2015, Transnet announced a R330-billion rolling seven-year investment to expand the country's freight railway, ports and pipeline infrastructure, and to improve operational effectiveness of the freight logistics system.
If we look at our port infrastructure, considerable investments over the years have improved efficiency, and approximately 96% of the country's exports are now conveyed by sea.
As we enter the digital revolution, there is a significant opportunity for data and the Internet of Things (IoT) to improve our built environment. Rust suggests the move towards driverless, electric, smart vehicles and other modern transport systems such as the Hyperloop will certainly be disruptive technologies. This will not only impact favourably on traffic volumes, but hopefully lead to much-improved transport operations.
The future looks bright
The construction sector is showing signs of recovering. According to PWC's SA Construction report, there was an increase of 11% in market capitalisation across the nine listed construction companies in the first quarter of 2017. This comes after a decrease of 3% in 2016. Government reforms to support smaller construction firms are also ensuring that a greater segment of the population can benefit from infrastructure investment.
One area where there is considerable debate is energy. Everyone agrees South Africa needs to spend on new power stations, which will require considerable investment in both new generators and accompanying supply chains. Suggests Rowan Goeller, construction analyst at Macquarie South Africa: "Nuclear projects would be bigger than World Cup spending. However, this kind of public-sector-driven cycle would be spread out over 15 to 20 years, with short-term gains being only two-thirds of those witnessed during the World Cup."
Now that nuclear plans are on hold, however, green technology has enormous potential to transform our built environment, and will dramatically improve energy infrastructure. Launched in 2011, the public-private-sector partnership known as the Renewable Energy Independent Power Producer Procurement (REIPPP) programme has brought substantial change to the power sector with a competitive bidding approach. This has made it possible for renewable options such as onshore wind and solar power to be delivered at lower costs than building new fossil fuel stations.
Already R194-billion has been raised for the programme and more than 32 000 job opportunities have been created, according to the Department of Energy. It has put South Africa in the top five most attractive renewable energy investment destinations among emerging markets for two years running.
"The reality is that our renewable energy programme has been one of the biggest foreign direct investment generators over the past few years," says Rossouw.
Green cement is another booming trade, and South Africa has the potential to meet global demand, which is expected to grow to $38.1-billion by 2024, from $14.8-billion in 2015.
Cracks that need mending
Achieving all of these lofty goals, however, is going to require more than just spending on bricks and mortar. The industry remains plagued by skills shortages, which pushed up salaries in the construction sector last year.
"These increases are indicative of the skills shortage and efforts by the construction industry to retain key resources in anticipation of the potential upswing," says Rossouw. Skills development will be critical for the success of the infrastructure development programme, and will be an opportunity for educational facilities that focus on tradecrafts and technical skills.
Ongoing industrial unrest in South Africa continues to cause project delays and disruptions,  and the sluggish economy means problems with liquidity available for projects, which causes  further delays.
The beginnings of an upwards turn are evident,  but it will be closely dependent on government's ability to see the goals set forth in the National Development Plan through. That and strong economic performance will stimulate spending on projects. "There is probably another couple of years needed for this cycle to run its course before we start seeing improvements.
"We first need to see the income of the country increase before spending is made in infrastructure," says Rossouw.
---