Military Veterans' Housing Project Makes Significant Headway
By: Brindaveni Naidoo
---
The Department of Human Settlements undertook a rigorous programme last year to address the backlog of housing for military veterans. The Military Veterans Housing Programme is aimed at assisting and supporting military veterans and their dependents.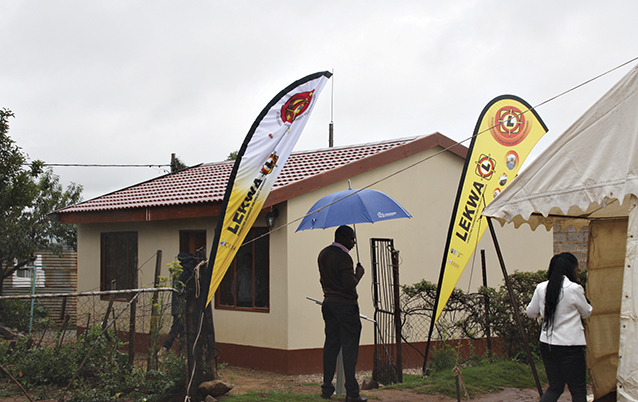 Image: Lekwa Consulting constructed a 4-roomed, 40m² house for a 77-year-old female in Orange Farm Extension 2
Its ambitious programme set out to construct 5854 houses for military veterans across this country by the end of the medium-term expenditure framework this year.
Human Settlements Minister Lindiwe Sisulu said earlier this year that the Department of Military Veterans indicated that there was initially a housing backlog of 4909. However, the Department of Human Settlements had in fact secured 5600 houses for military veterans, and exceeded and cleared the backlog by the first half of this year.
The department revealed that the houses for qualifying military veterans have unique features that include two bedrooms, a kitchen with a stove, a car port, bathroom, plastering, ceiling installation, electricity and fencing.
Gauteng Department of Human Settlements spokesperson Keith Khoza tells Infrastructure that the Military Veterans' Housing project remains fundamental in addressing the economically impoverished state in which many of these individuals find themselves.
"The Department of Human Settlements aims to alleviate the pressure of the destitute circumstances in which these elderly military veterans find themselves. This strategic priority and project demonstrates the pivotal role that the infrastructure development plays in uplifting the socio-economic circumstances of all South Africans.
"The Constitution speaks of shelter as an inherent right of all and shelter helps provide a sense of comfort and decency to those who are homeless or in challenging situations – and this at the heart of everyone's entitlement as a basic human right."
Khoza explains that in Gauteng, the department is working with the South African Military Veterans Association to establish and consolidate the actual number of houses that needs to be built. He explains that previously many of these military veterans qualified under the Reconstruction and Development Programme for Housing. "Now that we have a project which directly addresses military veterans, we will bed down the numbers in line with the qualification process outlined for this programme."
"In order to fast-track and support the initiative of redressing the past injustices and honouring the heroes and heroines of our liberation, a number of private sector initiatives were undertaken," explains Kibiti Ntshumaelo, MD at Lekwa Consulting Engineers. Lekwa is a medium-scale, fully representative black and diverse civil engineering consulting firm established in 2002.
"Lekwa decided to get involved in this project because giving is part our mission statement, which undoubtedly states that our company is committed to sustainable and community-related projects that drive socio-economic growth. There are many South Africans who fought hard for liberation, and, as a truly empowered proudly South African company, Lekwa prides itself in getting involved in projects such as these."
He explains that. as part of its social investment strategy, the company committed to build a house that comprises three bedrooms, a bathroom, an open-plan kitchen and a living room for one elderly ex-military veteran couple. "As part of ploughing back to the community, Lekwa Consulting Engineers had identified an elderly military couple who resided at the corner of Boulder Road and Hill Road, Midvaal Plot 10/59, De Deur, and committed to building this couple a 62m² house. The beneficiaries are former military veterans who have been residing since 2005 in a shack on a plot purchased in 1997."
Ntshumaelo explained that the construction period for the project was three months. "The project would have not been a success had it not been for the help of our co-sponsor Tile Africa. Local labourers and all materials were acquired locally."
Meanwhile, outside of the Military Veterans Housing Project, Lekwa Consulting Engineers also built a four-roomed, 40m² house for a 77-year-old female in Orange Farm Extension 2.
"Living in a two-roomed shack for the past
19 years, the individual indicated to the team that she had already lost hope of ever being able to get a house of her own, and that she would die living in a shack.
"The project saw other key players come on board, including Tile Africa; Lewis Furniture store (Orange Farm); Dezzo and Newcom Plumbing," explains Ntshumaelo.
The company also employed local labourers on this project, which took about two months to construct.
---