---
The sun-kissed Iberian Peninsula will remain in your blood long after you've left.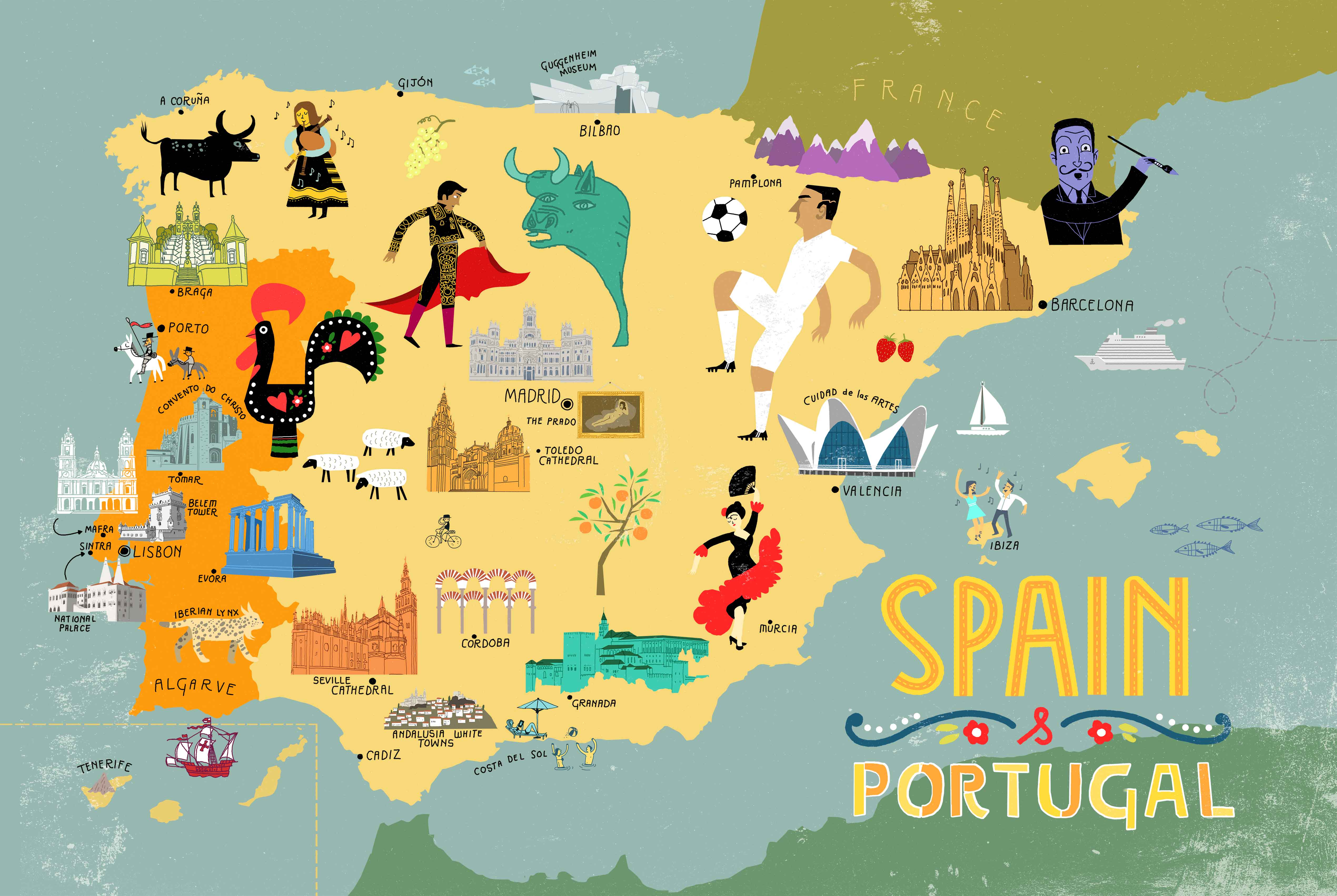 Image: Map of Spain and Portugal
Not only does it boast unique traditions such as Buñol's tomato-throwing festival, bull-running in Pamplona, long nights of flamenco dancing in Seville and an array of Catholic pilgrimage sites, but Spain and Portugal rank among Europe's most wallet-friendly destinations. Everything, from accommodation and food, to trips along scintillating coasts, can be had for a little less.
George Orwell called it one of the world's most hideous buildings, and hoped it'd be destroyed during the Spanish Civil War. Nevertheless, La Sagrada Familia is Barcelona's greatest architectural attraction, luring up to three million visitors each year. Construction began in 1882, and it isn't expected to be complete before 2026. By then, the highest spire of the Antoni Gaudí-designed fantasy cathedral will reach 170 metres, making it the world's tallest church.
Gaudí, who died at age 73 and is buried in the crypt below the basilica, was responsible for a great number of Barcelona's buildings beyond the cathedral, too.
Do visit Park Güell on Carmel Hill, not only for Gaudí's take on nature-inspired urban planning and his ornate Palau Güell with its twenty colourful tile-covered chimneys and central spire, but to see the famous mosaic benches by Gaudí's design partner Josep Maria Jujol. Jujol also designed the crazy ceramic facade of Gaudí's beautiful Casa Batlló, and the strange chimney sculptures of another Gaudí creation, Casa Milà, the world's jazziest apartment block. Try to purchase advance tickets for all Gaudí attractions – some pricier tickets allow you to bypass queues.
With around 32-million people visiting Barcelona (a city of just 1.6 million residents) each year, steps are being sought to restrict numbers. In January, a local ordinance was passed to forbid new hotel construction. There are plenty of superb offerings already, though. In the historic Barri Gòtic, on a quiet side street close to the cathedral, 22-room Hotel Neri (hotelneri.com) occupies a 17th-century mansion with chandeliers, crushed velvet sofas, a terrace on a lovely little square and a leafy rooftop bar. Near Port Vell, the city's harbour, a 10-minute walk from the cathedral on the graceful Plaça del Duc de Medinaceli, is Soho House Barcelona (sohohousebarcelona.com). There's a farmhouse-style cowshed spa in the basement, heated pool on the roof and a new 36-seater cinema, plus Soho's a two-minute walk to the bottom end of La Rambla, Barcelona's famous pedestrian strip.
The pale blue rooftop pool is just one of many reasons to stay at Hotel Brummell (hotelbrummell.com) a handsome new boutique abode in up-and-coming Poble Sec; and at the new Cotton House (hotelcottonhouse.com), set in an elegant mansion on Gran Vía, you'll find original Belle Epoque features such as the cotton-flower-shaped chandelier above a magnificent sweeping marble staircase.
Described by some as the most beautiful dining room in the world, the back room at Fonda España occupies a hotel (hotelespanya.com) designed by Domènech y Montaner, Gaudí's teacher and rival. Celebrated Michelin-starred chef Martín Berasategui owns the restaurant, while his protégé, German Espinosa, mans the stoves and produces gorgeous dishes.
For its passionate crowds alone, it's worth catching a match at Camp Nou – plus there's good chance of seeing Lionel Messi in action. FC Barcelona's home since 1957, the stadium holds 99,354 spectators making it Europe's largest. The Camp Nou Experience is a tour of the stadium and visit to its museum, including the chance to sit on the first team bench (fcbarcelona.com).
Around two kilometres in length, Valencia's futuristic City of the Arts and Sciences (Ciudad de las Artes y las Ciencias) is a marvel of construction that's packed with galleries and exhibition spaces – plus a planetarium, Imax cinema, science museum, opera house, performing arts centre and Europe's largest aquarium.
Meanwhile, in the hip central Ruzafa barrio, Valencia's chef-of-the-moment, Ricard Camarena, operates two restaurants. One has a Michelin star, while Canalla Bistro (canallabistro.com) is more laid-back, with paved concrete floors, wooden crates on the ceiling, and shared plates of roast-chicken croquetas and potato, cuttlefish and parsley bomba.
At Entrevins, rockstar sommelier Guillaume Glories serves handpicked wines alongside lipsmacking tapas, and a five-course sharing menu (entrevins.es). Do visit the Mercat de Russafa, a Valencian produce market inside a brutalist Fifties building, and check out the 1917 railway station Estación del Norte – its façade features oranges and orange blossom motifs and the ticket hall is bedecked in dazzling ornamental craftsmanship. Ruzafa's Espai Tactel is touted as Valencia's most forward-thinking contemporary gallery. You can sleep here, too – El 16 Ruzafa consists of five apartments in an early-20th-century building with a rooftop terrace (nwtspain.com), while the slick rooms at Petit Palace Germanías have great Ruzafa neighbourhood views from their balconies (hotelpetitpalacegermanias.com). Visit in September for Russafa Escènica, a performing-arts festival held in unconventional spaces (russafaescenica.com).
Currently celebrating it's 20th year, the postmodern architecture alone makes Bilbao's curvaceous Frank Gehry-designed Guggenheim Museum worth seeing. Aside from its permanent exhibits, there were several exhibitions, including one of Abstract Expressionism encompassing the work of such masters as Willem de Kooning, Arshile Gorky, Jackson Pollock, Mark Rothko, and Aaron Siskind (guggenheim-bilbao.eus/en/).
In Madrid's snazzy Salamanca neighbourhood, the place to bed down right now is the new minimalist luxury pad, Tótem (totem-madrid.com), surrounded by vaunted shopping streets like Serrano and Goya. Tótem's bar and restaurant are called Hermosos & Malditos, named after F. Scott Fitzgerald's The Beautiful and the Damned, alluding to the combination of a beautifully designed restaurant and fine cocktails in the bar. There's plenty more in the vicinity, too, and it's a 20-minute walk to the Museo del Prado where artists such as Goya, Rubens, and Velázquez are glorified.
The Museo Nacional Centro de Arte Reina Sofía dedicates its innards to a huge Spanish art collection, including Picasso's Guernica.
Another new five-star hotel in the heart of Madrid is The Principal (theprincipalmadridhotel.com) on a corner of the Gran Vía – there's a discreet side street entrance, though, so it feels a bit secret. You check-in on the sixth floor in the brilliantly curvaceous, open-plan reception-restaurant-bar Atico, overseen by innovative chef Ramón Freixa. The 76 bedrooms are done out in moody greys with Jackson Pollock-like artworks. While gin cocktails on the rooftop Terrazza offer the perfect introduction to the neighbourhood – views over Chueca are formidable.
Madrid's once sleazy Chueca district, north of the busy Gran Vía shopping street, is all the rage these days  – and mostly without the tourists. Grab a table on the central Plaza de Chueca or at the San Anton market hall, and settle in for people watching and tapas.
Two restaurants in Madrid should not be missed. One is Bodega de los Secretos (bodegadelossecretos.com), where you dine at tables in romantic arched alcoves in a labyrinth of underground wine cellars dating back to the 17th century and where modern Spanish dishes make up the great menu. And then there's Sobrino de Botin, which Jean Botin started as a little inn in the early-18th century, is considered the oldest restaurant in the world, and occupies a charming historic building in Calle Cuchilleros, just off Madrid's Plaza Mayor. Hemingway hung out there and supposedly Goya worked there as a dishwasher.
Founded in 1818, the Teatro Real has already commenced bicentennial celebrations, so keep an eye on its special programme this year (tetro-real.com).
Andalusians like to say that until you've visited Granada, you haven't seen anything.
The great attraction, of course is the Alhambra, a gigantic fortress that takes a full day to explore and is often referred to as the eighth wonder of the world: colossal chambers with grandiose ceilings, lofty halls, marble fountains, intimate royal baths, and pomegranate gardens are just a fraction of what this Moorish-Hispanic treasure has to offer. It's only fully open between March and October, so timing your visit is imperative.
The other thing worth doing in Granada is attending a live performance at El Eshavira, where smooth jazz accompanies magnificent flamenco dances (eshaviraclub.wordpress.com).
One of Spain's finest boutique hotels, Balcón de Córdoba (balcondecordoba.com), occupies a two-storey, towered 17th-century Andalusian house in the heart of historic Córdoba. It's filled with archaeological finds, rooms have large open balconies, and views from its upper terrace look directly onto the Mezquita de Córdoba – the city's famed Mosque-Cathedral, considered the most important Islamic monument in the Western world.
Built in the 10th century, when Córdoba was the largest city in Europe, the monument is a breathtaking architectural synthesis of Gothic, Renaissance and Baroque elements – its marble floors, massive arches, jasper columns, gilded prayer niches, and Byzantine mosaics are all worth seeing.
Now a UNESCO World Heritage Site, Seville's Alcázar palace was once a Moorish fortification – the sheer number of rooms is breathtaking and there's an incredible underground bathhouse, too. The city's other must-see is the Plaza de España, a semicircular space done out in multihued ceramic tiles. It's otherworldly enough to feature in the Star Wars movie, The Attack of the Clones.
Long regarded as the 'wrong side of the Guadalquivir river' the Triana neighbourhood has emerged as the most colourful part of the city, rejuvenated with a bustling fruit and vegetable market, tapas bars and the Museo de la Cerámica de Triana, which highlights the district's tile-producing history. Sleep over at the Casa del Poeta (casadelpoeta.es), a restored 17th-century mansion built in the typical Sevillano style, with rooms around an arcaded fountain patio. It's down a tiny alley in Barrio Santa Cruz, Seville's old Jewish Quarter, which is filled with picturesque streets. The hotel is a five-minute walk to the Seville Cathedral, the largest Gothic cathedral in the world, which you can see from the roof terrace.
Portugal often gets mistaken for Spain's less-enticing neighbour – those who understand its charms will tell you it's utterly underrated. This year, Portugal will be a bit extra popular among Catholics celebrating the centenary of the Virgin Mary's appearance to three young villagers in 1917 at the pilgrimage site of Fátima. To mark the occasion, there's a new Miracle of Fatima Interactive Museum (omilagredefatima.com) featuring a 40-minute multisensory re-creation of  the apparition.
Portugal's Algarve needs little introduction. But just off the coast and accessible by ferry is the car-free island of Armona, with dreamy beaches, Moorish architecture and cobbled streets. Back on the mainland, amidst world-renowned golf courses, is the newly renovated Slave Market Museum (Mercado de Escravos) in the fortress town of Lagos, with new exhibits telling the awful history of Europe's first modern-era slave market (founded in 1444).
Aim to stay at Casa Arte, a white neo-Moorish villa 10 minutes from town. There's a free-form pool surrounded by a lush garden and five airy, art-filled rooms with their own terraces and the owner is a formidable chef. Cabo de São Vicente, where Portuguese navigators would sail off for the New World, is 45 minutes west.
Lisbon has undergone a renaissance in recent years – heaps of upmarket hotels and spunky restaurants have invigorated the capital. In its historic heart, Lx Boutique Hotel (lxboutiquehotel.pt) is a renovation of the famous century-old Hotel Bragança – it overlooks River Tagus in the Cais do Sodré district. It's just moments away from the Casbah-like Alfama area which wraps around the hill below St. George's Castle. Within easy reach, too, is Belém, which lies downriver and is where you'll find Belém Tower, considered the symbol of Lisbon, as well as the famous 16th-century Jerónimos Monastery, built to commemorate Vasco da Gama's 1498 discovery of the ocean passage to India.
Occupying a prison that was home to political opponents of dictator António Salazar, the recently opened Aljube Museum of Resistance and Freedom examines Portugal's troubled mid-20th-century history. Three floors of exhibits place a microscope on the regime that prevailed for half a century until 1974.
Close to the capital, in the Sintra hills, the Park and Palace of Pena is deemed Portugal's greatest expression of 19th-century romanticism, surrounded by sumptuous gardens and forests in which are assembled more than 500 tree species. Also in Sintra, the Palácio Nacional de Queluz is described by some as a 'miniature Versailles', built in 1747 as a royal summer residence. Nearby, Mafra is a pretty little town dominated by one of Europe's largest and most extravagant palaces, the Palacio de Mafra, constructed between 1717 and 1755. A vast complex with a 250-metre-long façade, it includes more than 1,200 rooms connected by over 150 flights of stairs, plus a huge monastery, an ornate basilica, a library with more than 36,000 ancient books, two 68-metre-high bell towers containing 92 bells and its own bat colony.
While not necessarily the most auspicious pilgrimage site in Portugal, you won't forget your walk up (and down) the zigzagging Baroque stairway leading to Bom Jesus do Monte in Tenões, outside Braga, Portugal's third-largest city. Its infamous 600 steps have made it the most photographed Catholic shrine in Portugal. It's lined with terraced gardens and eight allegorical fountains – one on each landing – plus statues and chapels for each Station of the Cross. Braga itself, with its endlessly ringing bells, is laced with pedestrianised narrow lanes, gorgeous plazas and Baroque churches, including Portugal's oldest cathedral. Its religious festivals – particularly the elaborately staged Semana Santa (Holy Week) – are famous.
---