LSFB's 10-Year Success In S.A.
---
Ten years ago light steel frame building (LSFB) was seen in South Africa as a strange new building method that challenged the brick-and-mortar mindset of local contractors.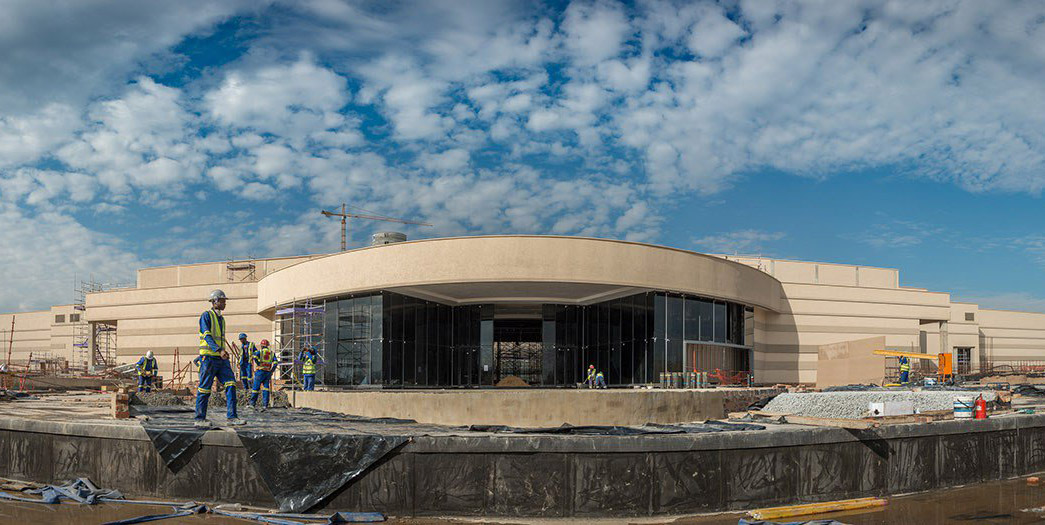 Image: Mall of Africa showing packs of 'Cavity Bat' insulation supplied by Isover for use in the LSF wall cavities
Well, perceptions and mindsets do change as new, exciting ideas are gradually proven as viable alternatives to accepted technologies and LSFB in South Africa is no exception. As Southern African Light Steel Frame Building Association (SASFA) director John Barnard said at the association's recent AGM: "LSFB has systematically developed into a viable alternative building method for a range of low to medium rise buildings during the past ten years. The steel consumption of this industry has grown from zero in 2006 to some 25 000t/yr of high strength galvanised steel sheet, as well as facilitate significant growth in the volumes of cladding and lining materials, fasteners and insulation."
He added that LSFB is increasingly being used in multi-storey office and commercial buildings, where it is replacing heavy masonry curtain walls. The most recent example is the façade walls of the multi-billion Rand Mall of Africa, built in Midrand, Gauteng.
Barnard says that there has been an exponential growth in Southern Africa in the past two to three years in the awareness of light steel frame building as an environmentally friendly and sustainable building method. "This improved awareness has been one of Sasfa's primary objectives targeting audiences ranging from the professions – engineers, architects and QS's – to builders, the building material supply chain, building authorities and financial institutions right down to prospective clients," he says.
The proof of the pudding is the response to the steel construction's primary industry event – Steel Awards. "Fifteen LSFB entries were received for Steel Awards 2016 – almost a third of the total number of Award entries," says Barnard. "Two projects were selected by the judges as joint winners of the Saint-Gobain sponsored light steel frame building category – Façade Walls of Mall of Africa and the Clinic, Mbabane Hospital, Swaziland.
Training – key to the growth of LSFB
Barnard says that the successful training programmes undertaken by Sasfa have been key in the promotion and growth of LSFB in Southern Africa. "Education is the foundation for getting the advantages of a new method understood as well as for protecting and enhancing quality through the growth phases and beyond," says Barnard.
SASFA offers a number of training courses, focusing on the designers, building contractors and building inspectors.
The 6-day LSF training course for building contractors – 342 people have completed this course to date including a number of students from beyond our borders – illustrating the growing interest in LSFB in Sub-Saharan Africa.
The SANS 517 Code course aimed at architects, QS's and Engineers, Property Developers etc, and the Cold-formed Steel Design course for Engineers – this year alone saw 127 participants in these.
In addition to training, Sasfa has been involving final year engineering students and this year again assisted students to do research into various aspects of LSFB. "Involving relevant professionals in the industry as they embark on their careers, has supported the growth of LSFB over the years," says Barnard.
Codes & standards and accreditations
Of course, in the construction industry the management of codes and standards and accreditations are crucial to a successful industry and SASFA, being the custodian of the quality and ethics of the local LSFB industry, has been exemplary in these areas. Barnard says that, in this regard, work on a comprehensive revision of SANS codes and standards has largely been completed.
Important aspects of the process include:
SASFA is represented on the SANS 10400L (Roofs) committee of the SABS, to ensure that LSF is correctly covered in the code revisions.
SASFA is represented on the SABS committee SC98C, which is responsible for all standards dealing with steel or aluminium in building and construction.
Thorough revision of SANS 517 is under way, and should be completed by year end.
Preparations have been made to start the competency assessment of LSF builders.
Overall Barnard says he is satisfied with the progress that SASFA and the LSFB industry have made especially in the tough building industry conditions we have been experiencing in the last few years in South Africa. "The annual industry survey showed that demand for LSFB increased by 10% in 2015 compared with the previous year. This is an outstanding achievement in view of the Statssa report of an 8% decline in building activity (buildings completed) over the same period," Barnard concluded.
During a short meeting of the newly elected Executive Committee of SASFA, David van Zyl from Kwikspace was elected as Chairman, replacing Mulder Kruger, CEO of Trumod, who had served in this position over the past two years.
Visit: http://www.sasfa.co.za
---