---
Rewards and loyalty programmes have been around for about 125 years – and the number is growing all the time, says Katy Chance.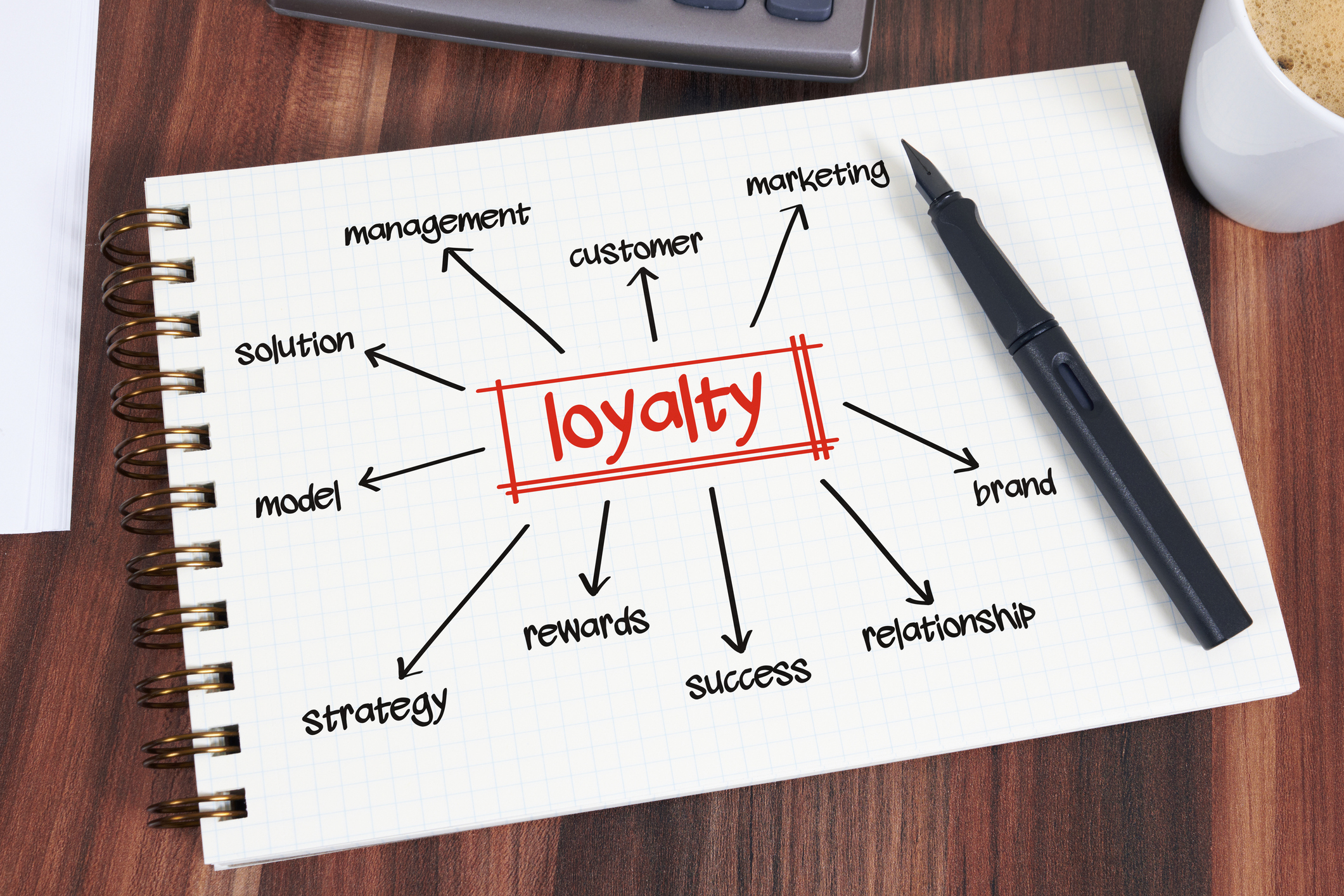 Image: iStock - Loyalty chart on notebook.
Rewarding loyalty is not a new idea. In the US, trading stamps, saved and stuck into a booklet against which products could be redeemed later, were introduced in 1891. Baseball cards – treasured and valuable collectables to this day – started as trade cards by a sporting-goods company even earlier than that, in 1868, distributed in boxes of candy and tobacco products. However, the company that really ran with the idea of rewarding loyal customers has to be Kellogg's of Corn Flakes fame. Sources cite the Kellogg's Funny Jungleland moving-pictures booklet being introduced in 1909. While its delivery format changed – from being handed over by grocers when two boxes of cereal were purchased to a premium mail-in offer – it was a success for a full 23 years.
According to Deon Olivier, executive director of Tritech Media, Protea Hotels' Prokard was the first loyalty offering in South Africa, introduced in 1983. "Reward and loyalty programmes originated in the US travel industry," says Olivier. "The first modern frequent-flyer programme was launched by United Airlines in 1972, followed by Texas Airlines in 1979."
In South Africa, loyalty programmes have mushroomed in the past two years, with more than 100 now in existence. Most offer some reward in the form of promotional currency, whether it's "miles, beans, bucks, points or stars", says Olivier, "which are redeemable for a growing bouquet of products and services."
These programmes run the full gamut of consumer sectors and include grocery, health and beauty, general retail (and many larger retailers now overlap in these three categories), credit cards, banking, insurance, medical aid, travel and hospitality, restaurants and fast-food outlets.
According to Olivier, the total monetary value of loyalty programmes in South Africa is hard to pin down, but "our conservative estimates are that no less than R20-billion a year is invested in  loyalty and customer clubs."
Options on the table
Most loyalty programmes in South Africa  and globally are linked to consumer spend, which seems logical and with which members usually have no quibble.
However, there are subtle variations in programme types, notes The Incentive Company's Debbie Ghillino: "You can earn currency/points per transaction or targeted behaviour and receive an immediate discount (such as with Dis-Chem or Woolworths); or receive cashback on future transactions when cashed in (such as with Clicks); or collect a sufficient amount to receive something free (such as Wakaberry and 082 Car Wash); or receive points/currency to spend on selected rewards (such as FNB's eBucks)."
Ghillino is clear on which option she thinks is the most successful: "We don't believe in discounting our clients' brands, so we would rather reward loyal behaviour and provide a cashback reward, or a catalogue of reward options, which adds to members' lives in a way that positively reinforces the brand they interact with."
According to Olivier, the "big 12" programmes in terms of usage are Pick n Pay's Smart Shopper; Edcon's Thank U; the Clicks ClubCard; Woolworths' WRewards; FNB's eBucks Rewards; Dis-Chem's Loyalty Benefits; Discovery Vitality; Spur Family Card; Standard Bank's UCount Rewards; Absa Rewards; SAA Voyager; and Exclusive Books' Fanatics. In the 2015 Eighty20/Tritech Media Loyalty Programme Member Engagement Survey, 85% of respondents belonged to five or more of these programmes.
Of the 750 online consumers surveyed, majority of respondents said they actively use just more than half of the programmes with which they are registered. When asked which programmes they felt offered the most benefits, active users and the subsequent benefit derived overlap highly – more than 70% of FNB's eBucks Rewards members said they actively use the programme and more than 60% said it offers the most value.
If consumers don't actively familiarise themselves with and pursue the benefits that a programme has to offer, they may be losing out. Consumers need to be prepared to come to the loyalty-programme party arranged for them.
The price of loyalty
Rather perversely, the cost of acquiring or attracting new members (usually with an immediate reward) can be considerably higher than keeping existing customers loyal. One source puts the cost as up to 10 times higher.
Ghillino attributes this to customers being creatures of habit. "If something works and they are comfortable with what it is doing for them, it takes a lot to change their behaviour," says Ghillino. "Even if they aren't particularly satisfied with their experience, many won't move due to the inconvenience factor."
This does sound more like lethargy then loyalty. However, Ghillino notes that loyalty isn't defined as a customer who continues the same behaviour, but one who is actively engaged with a brand. "The trick is to make every touch point with the brand an exceptional one," she says.
The 2015 Eighty20/Tritech Media survey reported that nearly two-thirds of members in the food-retail sector said the loyalty programme did not encourage more spend with the brand, nor did it discourage spend at a competitor. In the banking sector, more than 50% of members said the programme did not make them more inclined to take up additional products or services with their bank. "This is why increasing levels of engagement are essential for brands and consumers alike," says Olivier. "There are high levels of consumer fatigue when it comes to understanding and managing all the programmes, their cards and all their benefits. Complex points and tiering structures often force customers to disengage."
In Olivier's view, a loyalty programme is the cherry on top of a brand's marketing. "It can never, and should never, be seen as the silver bullet to remedy shortcomings in the basic service and product offering. No loyalty programme will offset the negatives of an airline constantly being late, or a product constantly not meeting expectations.
"The most successful programme is one that changes behaviour in line with, or better than, business expectations, hitting the desired return  on investment for both the consumer and the business owner."
Ghillino adds: "Loyalty programmes recognise customers' positive behaviour and reward it – this is the next step on from relationship marketing. By personalising and making the customers' experience as fantastic as it can be, brand loyalty will be achieved."
So offer a reward, and the customers will come; constantly reinforce their loyal and positive behaviour, and they will stay.
To tier or not to tier?
More sophisticated programmes, especially in the financial services market, notes Tritech Media's Deon Olivier, rewards with both tiering points – which are non-redeemable, but an indicator of the value the customer has to the organisation – and promotional currency. Examples include FNB's eBucks, Discovery Vitality, Woolworths' WRewards, and  Standard Bank's UCount.
Tiered loyalty and rewards programmes are still somewhat controversial, with some businesses saying they're too complicated for both parties, and others swearing by them. "I am disappointed that there is less tiering in loyalty programmes," says Olivier. "Consumers want to feel special, they want to know they are treated differently if they spend more – that's just human nature. You want to be held in high regard, and a tiered loyalty programme can achieve that."
However, while they are necessarily more complex "behind the scenes", Olivier notes that the lack of success in some tiered programmes is because this complexity is carried through to the consumer interface, with some having ridiculous or obscure names for different tiers and convoluted or poorly communicated structures.
A 2015 Eighty20/Tritech Media survey noted that of the tiered programmes, only Discovery Vitality scored more than 50% with regard to "knowing exactly" what tier they were on, and how to move upwards. Up to 75% of members of tiered programmes said they had "no idea" how to move to another tier.
Olivier attributes the success of the Discovery Vitality programme to it being around for so long and its excellent and consistent communication. However, for any loyalty programme to work, it is a two-way street:
"There is undoubtedly a burden on the consumer to engage with a programme; the brand can only do so much," says Olivier. "We are spoilt as consumers and, frankly, we can be lazy. But for consumers to get the personal experience they constantly ask for, they have to be prepared to actively engage with a programme."
---