Local Government's Biggest Projects
---
Since the turn of democracy and the establishment of the present-day local government system in 2000, South Africa has made monumental leaps in building first-rate infrastructure, establishing better public transport systems and kick-starting local economic development, writes Dale Hes.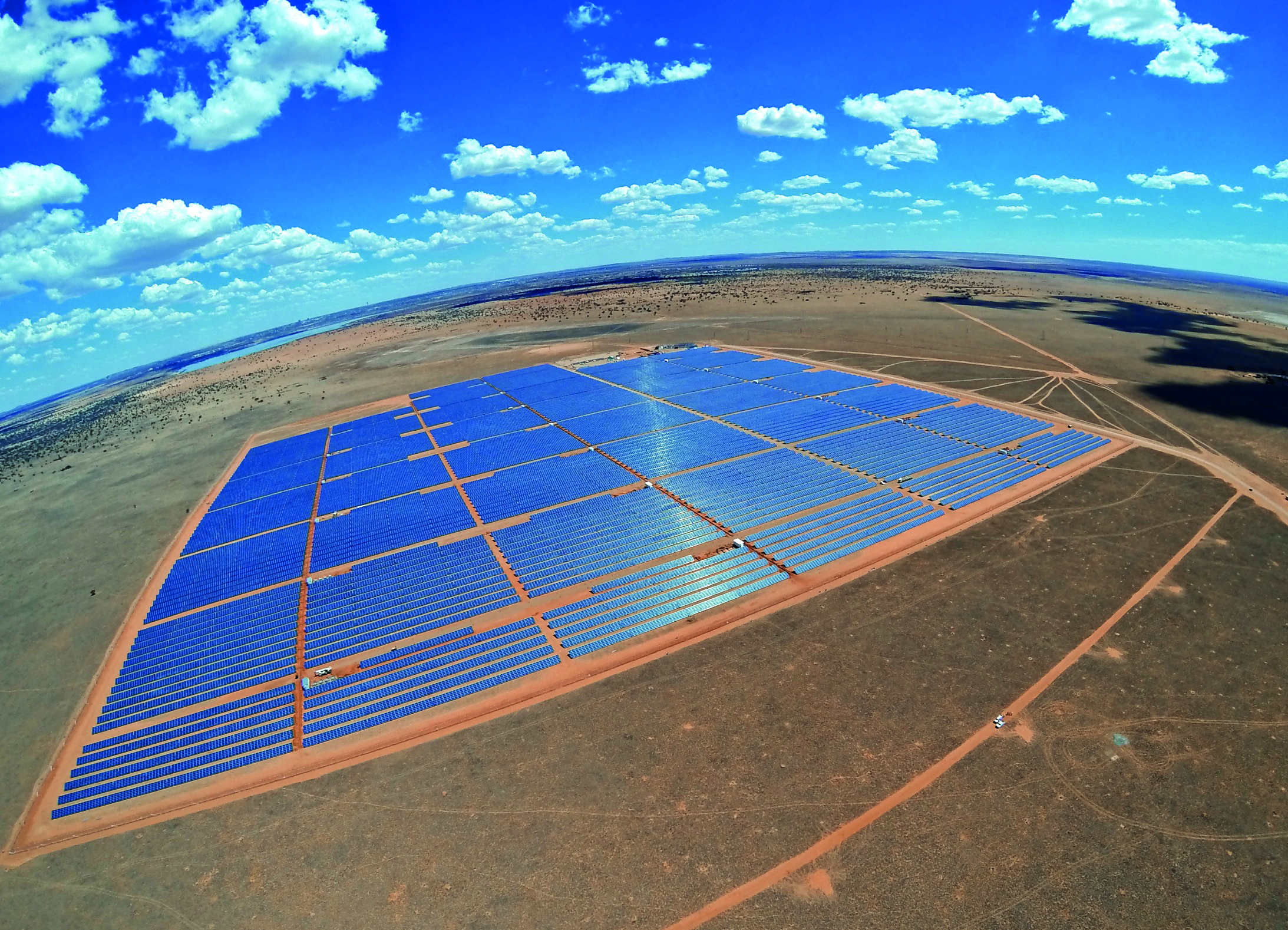 Image: Droogfontein Solar Power Facility
Municipalities, with the support and help of the South African Local Government Association (SALGA) and provincial and national government, have been making huge strides in their mandate to deliver services effectively and timeously to citizens.
Huge water, electricity and housing projects have been successfully developed in each of the country's provinces, contributing to a year-on-year rise in the number of people who have access to basic services. Landmark projects over the past 15 years include the Lesotho Highlands Water Project, dozens of solar-power plants, and the construction of more than 1 million RDP houses.
Recently, reliable, modern rapid-transport systems such as the Rea Vaya system in the City of Johannesburg, the A Re Yeng network in Tshwane, and MyCiTi (in Cape Town) and GO GEORGE bus services have also been established. Municipalities have also embarked on huge infrastructure projects, using their in-depth knowledge of their communities' requirements and responding to those needs.
Municipal IQ's Municipal Productivity Index has found that Gauteng is currently the best performing province in terms of local governance, followed closely by the Western Cape and Northern Cape.
The mainly rural Eastern Cape, KwaZulu-Natal and Limpopo are the provinces struggling the most, due to a lack of reliable infrastructure. However, certain municipalities in these three provinces are doing admirable work, despite the challenges, and a few of them are even implementing projects that are on par with some of the biggest in South Africa.
Big dreams in rural communities
The Polokwane Local Municipality in Limpopo has embarked on several massive infrastructure projects in recent years, focused on providing electricity and water to rural communities.
The Municipality has set aside R191-million for the provision of water infrastructure to rural areas, through 14 regional water schemes funded by the Municipal Infrastructure Grant.
Polokwane Executive Mayor Thembi Nkadimeng explains the projects will go a long way towards eradicating water challenges, which will require an estimated R367-million to solve. 'This is a huge first step towards providing water to our embattled rural areas, which are still underdeveloped and underserviced,' Nkadimeng says. 'The municipality believes that infrastructure projects are vital for providing basic services to everyone and building local municipalities into economic powerhouses.'
The Municipality has also provided more than 7 000 VIP toilets to families over the past few years, while another R40-million has been budgeted to construct more than 4 000 VIP toilets in the 2015/16 financial year.
Electricity provision has also taken a major step forward, after more than R50-million worth of electricity projects were implemented in rural communities in 2015.
'The Municipality is ensuring that services are also delivered to rural areas, noting that some of these areas are not within the electrification-licensed area of the municipality, but rather under traditional leadership,' Nkadimeng explains. 'Despite this, Polokwane will continue to put aside funds in order to ensure that the backlog is reduced.'
Working with communities
One of the most vital components of local government is on-the-ground involvement with local communities. With strong community involvement and the replacement of infrastructure, the Umjindi Local Municipality in Mpumalanga has managed to cut water losses by an incredible 18% since the beginning of 2015, saving the Municipality millions of rands in lost revenue, while also resolving water-supply troubles in communities.
The Municipality replaced damaged pipes, installed bulk and consumer meters, and created a community-awareness programme focused on conserving water. Thirty-five employment opportunities were also created to teach local youth basic plumbing skills, water-meter auditing and inspection of water appliances.
'Priority options were identified through the undertaking of an assessment of the infrastructure, with a view to identifying the pipes to be replaced,' says Umjindi spokesperson Samuel Jele.
'This project was aimed at eradicating water leaks in households, schools, clinics and other public buildings, as well as training of unemployed youth with basic plumbing skills, and job creation. It is also important to engage with the community by creating awareness and helping them keep track of their water usage.'
A new era of public transport
Metropolitan municipalities in South Africa have led the way in providing reliable, affordable and world-class public transport systems to residents. Johannesburg was the first to establish a rapid transit system, in the form of the Rea Vaya bus rapid transit system. This is one of the most ambitious projects ever undertaken by the city, and the system has opened 21 stations since its launch in 2009, linking 58 routes from marginalised areas to the inner city. This has further initiated transit-lost development through the 'Corridors of Freedom' programme, while the BRT makes it easier for those on the margins to travel across the city. Development along these routes also stitches together the city, which was previously spatially divided by history.
Smaller local municipalities are now starting to follow suit, with the George Local Municipality in the Western Cape becoming the first municipality outside a metro to launch an integrated public transport network, operating 14 routes and 91 buses, transporting 250 000 passengers monthly.
George Executive Mayor Alderman Charles Standers lauded GO GEORGE as a mammoth, ground-breaking public-mobility project. 'The vision is one of accessible transport, of families, women, children and persons with special needs who are able to move safely and affordably between their homes, work, schools, colleges, sports venues, places of worship, shops and socializing spots. This vision is now becoming our reality,' he says.
Socioeconomic development and housing
Socioeconomic development is another vital cog in the wheel of local government. SALGA Chairperson Thabo Manyoni says the development of small towns plays a key role in the economies of local municipalities. 'Small towns are points of socioeconomic service provision, welfare distribution, production centres for raw material, primary hubs for manufacturing and industries, and are key conduits in the rural-urban continuum,' he says.
Manyoni uses the example of Ballito in the Kwadukuza Local Municipality in KwaZulu-Natal, which was established as a small settlement in 1954. 'Over time, what was established as a private township in 1954 is now an anchor economy to its rural hinterlands, with a large commercial business park, and a full service industry within the park,' he says. 'It has grown into a suburban paradise that has achieved substantial economic growth.'
As a legacy of apartheid, millions of people across South Africa are still living in shacks and makeshift informal settlements. Government has made good progress in distributing low-cost houses to communities, with more than 1 million provided over the past 15 years or so.
In one of the biggest RDP housing projects since 2000, the Nelson Mandela Bay Municipality in the Eastern Cape will be building close to 16 000 free houses over the next four years, at a cost of R4.6-billion. Low-cost social-housing projects will contribute to slashing the Municipality's housing backlog of 80 000, bringing the total number of houses, built by 2019, up to 58 321.
These are just a few examples of South Africa's most notable infrastructure, transport and housing projects. Most local municipalities in all nine provinces are developing similar projects – large and small – that will herald exciting new improvements in the 15 years to come.
---