Lessons From Tambo And Mandela
---
Oliver Tambo would have turned 100 on 27 October this year. Nelson Mandela would have turned 100 on 18 July 2018. The centenaries of two of South Africa's most formidable and admired leaders is a reason to reflect on the past, and to seek for lessons that one could apply in future, writes Ryland Fisher.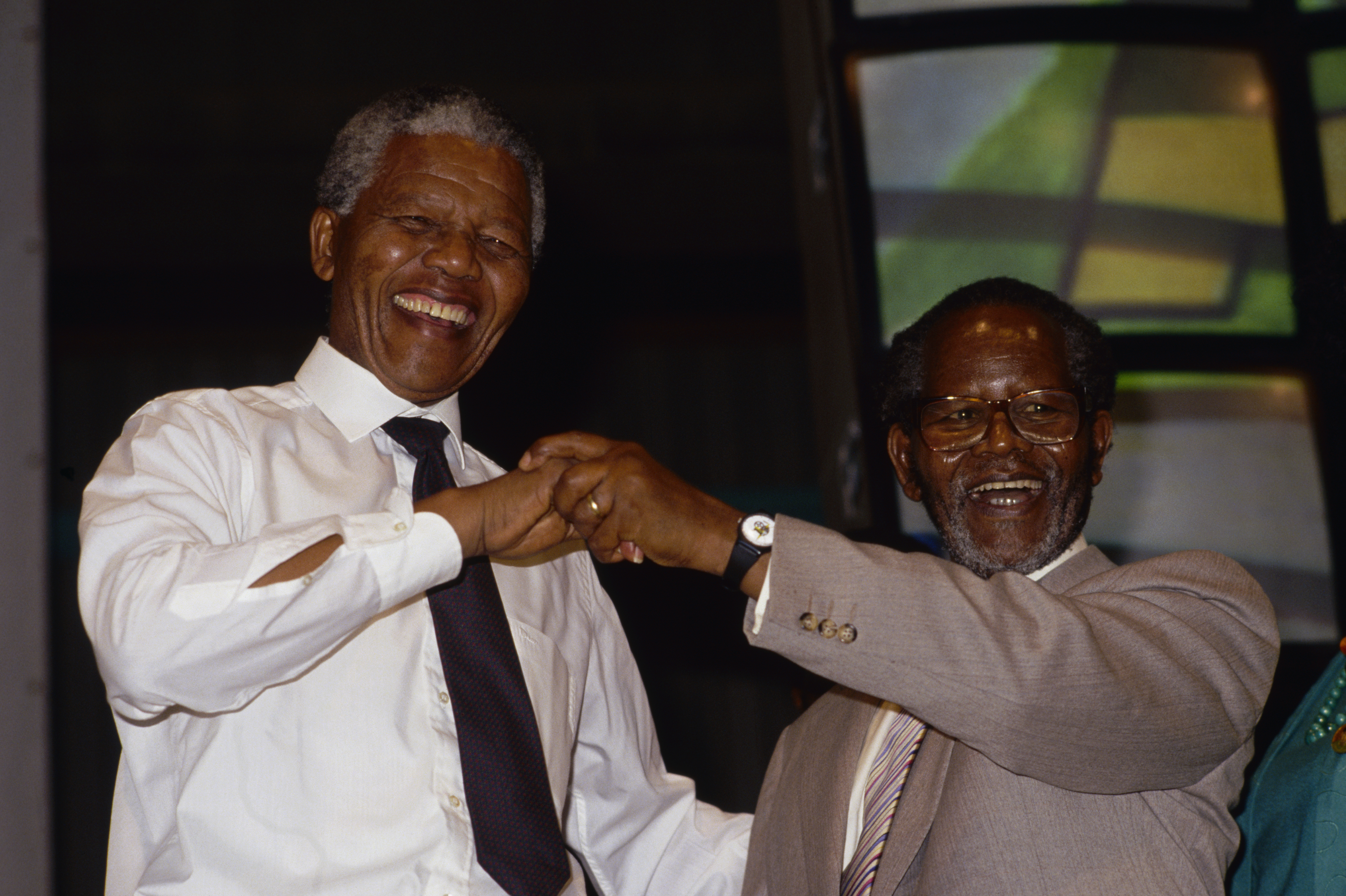 Image: Nelson Mandela dances with Oliver Tambo - © Louise Gubb/CORBIS SABA/Corbis via Getty Images)
When people talk about the history of South Africa's struggle for democracy, the names of three close friends and comrades always feature strongly: Nelson Rolihlahla Mandela, Oliver Reginald Tambo and Walter Sisulu.
These three, whose names were synonymous with the African National Congress (ANC) for many decades, were not only friends, but also had a special kind of comradeship that would be difficult to find anywhere today. Their relationship was special because they were not ordinary politicians, but freedom fighters who were prepared to do whatever it took to liberate their people.
Throughout their careers, there are many examples of where Tambo, Sisulu and Mandela put the interests of the movement and the people above their own.
One can see how they interchanged leadership positions in the ANC – for instance, with Walter Sisulu having been ANC secretary-general and deputy president, and Oliver Tambo at some point occupying the secretary-general position while Sisulu was the national treasurer. Sisulu had also served as deputy president since 1958 and, when Mandela became ANC President in 1991, he stepped down to become the national chairperson. Mandela was Tambo's deputy after his release from prison, before he took over from the ailing Tambo.
Their friendship was one that stretched over many years and included different periods of the liberation struggle. In many ways, their lives mirrored the liberation history of South Africa and each other, up to the point where Mandela went underground and ended up in prison, Sisulu was arrested at Liliesleaf and went to prison with Mandela, while Tambo went into exile to establish the ANC abroad.
Tambo and Mandela were both born in small towns in rural Eastern Cape; they both went to the University of Fort Hare and were expelled, but Tambo got his BSc degree in 1941 before he was expelled.
Tambo and Mandela led the first black law firm in the country, representing mainly oppressed people. They became involved in the ANC Youth League at about the same time and helped in 1949 to shake a then moribund ANC into a radical position of defiance when they convinced the ANC to accept the Programme of Action that led to the Defiance Campaign and other mass protests in following years. They were both key accused in the Treason Trial because of their role in the Defiance Campaign. Both were involved in the decision the ANC took to continue its activities underground after the organisation was banned and, despite the more than 27 years of separation when Mandela was in prison and Tambo was in exile, they were finally reunited on the eve of the birth of a democratic South Africa. Tambo died about a year before South Africa's first democratic elections.
Mandela and Tambo had great admiration for each other from the time they met at Fort Hare. In his autobiography, Long Walk to Freedom, Mandela had this to say of his first recollections of Tambo: "He had first impressed me at Fort Hare when I noticed his thoughtful intelligence and sharp debating skills. With his cool logical  style, he could demolish an opponent's argument — precisely the sort of intelligence that is useful in a courtroom."
Tambo led the ANC tirelessly for almost 30 years, most of it while the ANC was banned. He was appointed acting president in 1967 after the death of Chief Albert Luthuli, but had led the organisation in exile before that. His position was confirmed at the Morogoro Conference in 1969 and at Kabwe in 1985. He finally handed over the reins of the ANC to Mandela in 1991.
Rivonia trialist Dr Dennis Goldberg, whom I interviewed recently, spoke about the relationship between Tambo and Mandela from the period before Mandela was jailed to after his release when the two met up again in Sweden.
Goldberg spoke about how impressed he was when the rest of the Rivonia trialists were reunited with Mandela in 1963 at the start of their trial. Mandela had been in jail already and he was moved from prison to become accused number one in the Rivonia Trial.
"Nelson immediately took charge. He had this remarkable presence of a true leader. Oliver Tambo told me Nelson liked to tower over his opponent and wag his finger at him. He had enormous presence and if they wanted a fight, they would send Nelson," said Goldberg.
Asked if Tambo and Mandela had a particular political strategy, Goldberg said: "Mandela and Tambo believed in unity in action. They believed in drawing people closer to us. The church people came onboard. There were young whites who went to prison for refusing to do military service."
Goldberg said that while much of the ANC leadership was in prison, it was a conscious decision of the ANC to focus on Nelson Mandela, even though there were others in prison with him.
"Tambo, who was then the ANC president in exile, consciously led a campaign based on Nelson's 'I am prepared to die' speech, to inform the world's perception. This was not only because Nelson was prepared to die, but also because he calmly set out that there could be no peace … while apartheid existed. We were so determined to overthrow apartheid that he, and we, were prepared to die. It was a natural focal point, and the media loved to focus on an individual."
Goldberg said the first time he saw Mandela after his release was at the second Free Mandela concert at Wembley Stadium in London.
"He was unexpectedly released before the concert and appeared there and made a speech in praise of the anti-apartheid movement and his friend and brother in arms, Oliver Tambo," said Goldberg.
"There was no sense that it was my ANC or your ANC. They knew each other so well. I wish politicians today could behave with that generosity of spirit.
"When OR finally did hand over, he said, 'I have tried to tend the ANC to the best of my ability. I hand it over to you bigger and stronger. Please look after it.'
"They were truly remarkable people and inspired us. I would follow them to the ends of the earth."
Joel Netshitenzhe, executive director of research institute MISTRA, said that these were definite lessons that the ANC of today could learn from Tambo and Mandela's generation.
Delivering the Oliver Tambo Centenary Lecture a few years ago, Netshitenzhe said: "Good or bad leadership choices by the ANC have fundamental implications not only with regard to the narrow interests of the movement. As the leading 'party' in our country's body politic, the ANC's choices are critical in determining whether South Africa continues in its efforts of revolutionary transformation, or whether by dint of weak leadership, the ANC becomes, itself by commission or omission, the progenitor of counter-revolution — responsible for the reversal of the gains of democracy.
"This is the challenge that the life of Oliver Tambo places before us today. He occupied positions of responsibility because, in his generation, he was of that crop of the best in the movement and in society.
"Through the example of his life, he continues to warn us that we should avoid the pitfall of doing the opposite of what his life represents.
"In particular, to use criteria other than ability in identifying those who should be accorded the responsibility to lead is to undermine the cause of social transformation.
"A defective leadership not only holds back the attainment of national objectives. It also presents a difficult conundrum for the movement: in that, to rationalise its bad choices, the ANC has to lower itself to embrace those defects of the leaders it has chosen as its own defects.
"Steadily, these defects of the individual leaders become by default the collective property of the organisation, its own blind spots and its subliminal attributes in the public imagination.
"Oliver Tambo represents the best example of how good leaders can contribute to forging excellence in the collectives they lead, and to raising the movement's performance to a high pedestal. His incisive mind encouraged all of us to learn and to seek to understand connections among various factors in the dynamics of the struggle. His application to the tasks at hand encouraged us to go the extra mile in carrying out the work mandated to us. His ethical conduct encouraged all of us to strive to be saints, defined, in Nelson Mandela's words, as sinners who keep on trying."
ANC and Umkhonto we Sizwe stalwart Mavuso Msimang said that it was highly unlikely that the ANC would be able to revert back to the values espoused by Mandela and Tambo.
"Expounding on objectives of the liberation struggle, OR Tambo said  the purpose of the struggle was to overthrow the racist apartheid regime and replace it with a democratic and ethical system of government," said Msimang. "The levels of corruption in which ANC leaders, including the president, are implicated in – mean that ethics and accountability, key elements of good governance, have been jettisoned. The State of Capture Report, prepared by Advocate Thuli Madonsela when she was the Public Protector, hints at alarming levels of corruption. The president has so far steadfastly refused to act on its recommendations.
"Is there any likelihood that the ANC will revert to its traditional values? Short of overhauling the organisation's present electoral system that is prone to promoting factions, there is little likelihood that any meaningful changes will be realised."
Sello Hatang, CEO of the Nelson Mandela Foundation, said the foundation tries to uphold certain values, which is a way of continuing the legacy of people such as Mandela and Tambo.
"The things that we hold dear as the foundation have helped us to build the values-based society that we want for  the future," said Hatang. "Some of these values include transparency, transformation, respect, compassion, justice, integrity, passion and service. We have lost being a compassionate country. We no longer listen with compassion. There is something to be said about passion. All of us must try to reignite the passion that we had in 1994.
"Then you look at the issue of  integrity. I would like to believe that  all of us must help to rebuild that country that believed in and rated integrity very highly. The culture of service is also important. Madiba was a servant leader. Servant leadership can be seen in how a leader can rally people around them to fight for a cause.
"Somebody said the other day, when Chris Hani was gunned down, here was this person who was not even president, in the form of Nelson Mandela, standing up and saying let's rally around South Africa, let's not be irresponsible. Today, we wonder where that leader is. He is there in the form of young people who we need to groom and make better."
---