Home » » Leading The Way In Loyalty
Leading The Way In Loyalty
---
It's no surprise that successful brands have loyalty programmes that reflect their popularity. Katy Chance looks at what makes them tick.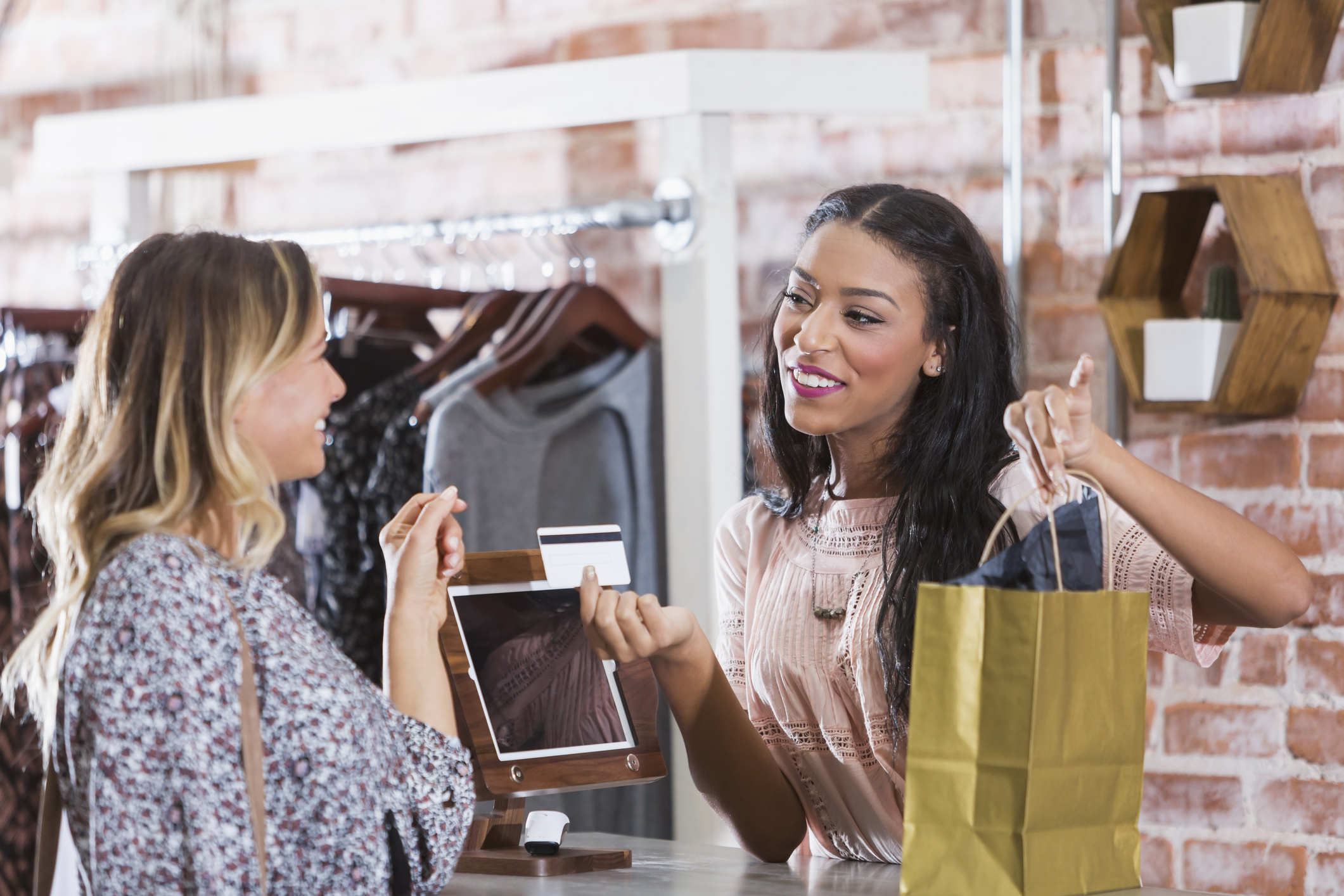 Image: iStock© - Cashier helping customer at checkout counter of store
"We are such a diverse country that 'one size' does not fit all when it comes to loyalty programmes," says Steve Hoban, general manager of Pick n Pay's Smart Shopper programme, the largest in South Africa in terms of membership at more than 10 million.
Smart Shopper was launched in 2011 and started out as a points-based scheme. "In 2013, we refreshed the programme, after listening to our customers, by introducing instant in-store savings, which offer an extra 10% cash off hundreds of items in store and cash-off vouchers; creating partners for customers to spend their points with; launching a mobile app; and introducing till slips that showed customers their rewards balances. In 2014 we personalised the programme further by introducing our Just For You voucher programme."
Partnering with diverse brands is popular too, particularly in the banking and financial services sector. FNB's eBucks Rewards is a "multi-partner programme" that, says programme CEO Johan Moolman, "aims not to sign up as many partners as possible, but rather attract the right partners who will add value for our members".
Indeed, the days of going it alone are over. Programme owners are increasingly partnering with brands that have good brand equity and appeal. The premise is people want to accumulate rewards in the shortest time possible, and relationships with partners give them that opportunity.
With some retail partners, customers can "double dip", as is the case for people using their Standard Bank cards at Clicks (a partner) where they can benefit from both the Standard Bank UCount and the Clicks ClubCard programmes. So-called double dipping is also possible though eBucks' partnership with Dis-Chem.
eBucks Rewards was launched in October 2000 at the height of the dot.com boom, to underpin the bank's early adoption of a digital strategy. It was revamped in July this year to focus on creating added value for FNB and RMB Private Bank customers, by rewarding them for positive banking behaviour.
"We feel it is an ongoing necessity to revise our offerings to ensure longevity of the programme," says Moolman. "For a programme to succeed it needs to offer real value to its membership, either catering solely to a single demographic, or, like eBucks Rewards, be varied enough to reward members across a wide variety of demographics, with something for everyone. While our membership base is steadily growing, member activity, in terms of the rewards-conversion rate, is key to measure the success of any programme."
Says Smart Shopper's Hoban, "Everything we do at Pick n Pay is customer-centric, so all the decisions we make to improve the loyalty programme is based on our data (which is strictly protected), and comes from extensive research into how we can make members' lives better."
The multiple-partner structure and wide spread of reward options is obviously not possible when you sell one product, such as entertainment.
Ster-Kinekor's SK Club was launched in the early 1990s with the aim, back then, of offering movie lovers the opportunity to see more movies more often through ticket discounts. "The primary benefit," says Ster-Kinekor's Darren Hampton, "was and still is half-price movies on Tuesdays, which has become a South African institution."
In 2012, SK Club augmented its programme with "earn and burn" opportunities to reward customers "for maximising their experience". "Customers can accumulate points for every movie watched, for purchasing featured catering items, and for simply activating an account," says Hampton. "We also introduced points-acceleration opportunities, which include double points on Thursdays and double-point movie/catering combinations."
Woolworths started its WRewards programme, in its current format, in 2010 and now has more than three million active members, excluding its MySchool MyVillage MyPlanet programme. "We see consistent, annual growth in the programme," says General Manager of Loyalty Pieter Twine.
WRewards is a tiered programme that, says Twine, "allows you to get more the more you spend, so there is exponential reward growth for members. At its lowest level, the programme offers a 10% discount at point of sale for a wide range of products. We think it is critical not to ask a consumer to spend with us, then expect them to wait for months to accumulate points that will only be rewarded later. This way, customers get cash back instantly."
Twine says the retailer is focused on driving value, as customers demand, while still maintaining the aspirational quality of the brand, and sees its social-investment programmes – the hugely successful MySchool MyVillage MyPlanet cards, which have seen more than R68-million going to education and a further R13-million to other charities in the past 12 months – as a clear differentiator. Loyalty to a brand seems to pay forward to a brand's philanthropic programmes. If you trust an organisation, you trust it has done due diligence with regard to its upliftment partners.
"Our consumers trust we will do the right thing, because we work hard with our partners  to ensure that they do the right thing," says Twine. "That emotional link to a cause drives behaviour in the same way a loyalty programme does, so we offer instant discounts through our tiered programme, as well as the opportunity to give back, which is a large component of our overall brand loyalty."
This dual nature of Woolworths' programmes  is more prominent in South Africa than any where else in the world, according to Twine,  with local consumers understanding the  need for local improvement against many  social parameters.
And it's not just the more well-heeled  customers who partake. "Our research shows  that all our customers contribute," says Twine. "Our top-tier members often support their own  school, as well as another. However, the  MySchool MyVillage MyPlanet cards can be  linked to three schools or beneficiaries, which we actively encourage."
---