Just How Equal Is Gender Equality?
---
Babalwa Shota speaks to two female leaders in the financial services sector about office gender politics.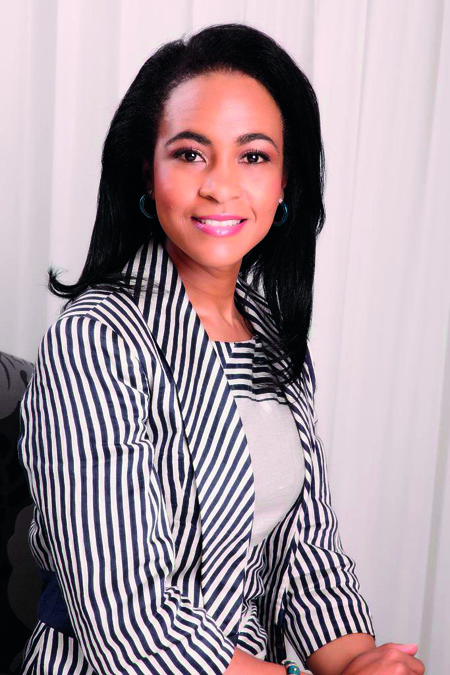 Image: Claudelle von Eck, CEO at The Institute of Internal Auditors South Africa
In a country where an entire month is dedicated to the lauding of women, it is ironic that a disproportionate number of leadership positions in the corporate world is still taken up by men. So when will "gender transformation" cease being a buzz phrase and start becoming a reality?
"I STILL think we should call today Equality Day. Too many treat it like Mother's Day. Let's reflect on & abolish all inequality in society," reads a Women's Day tweet from Claudelle von Eck, CEO at The Institute of Internal Auditors South Africa.
"I wrote that tweet because I don't  just experience inequality as a woman,  I experience it in terms of my race as well. To me, gender is as much of an issue as race. As long as I'm expecting a white person to recognise me as a human being and validate me, I'm suppressing myself.
"Women give up so much of their power just to keep the peace and retain the status quo. You find many women in households are happy to let the man make the difficult decisions because that's the easy route. But is it? We don't understand what it is that we are giving up. You're selling your soul, the power that you have as a woman.
"There was a time in our history when goddesses were worshipped, when women were revered. We were seen as the ones with power and we gave it up and we are still giving it up. That's the tragic truth – and that's the reality."
The quiet intensity with which Von Eck puts forth her statements shows a restrained passion and a controlled fire that gives you a glimpse of the kind of leader she is. One can imagine her leading an army of fierce female soldiers, tearing down barriers and building new paths for generations of women to come.
A mixed bag
At least, that is the ideal fantasy. The reality for women in the financial services sector is a mixed bag of not-quite-grim, but also not-so-great.
"When you look at entry-level trainees, you'll find that there's a 50/50 split between men and women," says Nonkululeko Gobodo, founder and CEO of Nkululeko Leadership Consulting.
"But as we move forward, the pipeline towards management and partnership usually sees these women disappearing, and their numbers dwindling.
"The auditing and accounting space is so tough, so challenging and so demanding. When women's interests change, when they get married and have children, their priorities often change. They leave the audit firm to look for jobs that will accommodate their new lifestyle, because they don't want to be meeting deadlines for clients and getting home in the middle of the night."
Ask any woman in management or any corporate space, and their woes are still almost identical to those from 20 years ago – juggling career demands with family obligations is still on the top of the challenge pile.
Transformation seminars and workplace undertakings seem to be  slow in catching up with the ever-increasing demands that women face to ensure that they are playing on even ground with their male counterparts.
Gobodo, who was the first African woman to qualify as a chartered accountant back in 1987, says men's career trajectories often zoom past those of a woman, because of these societal challenges. "But that just means women need to plan their careers diligently. Women need to focus on and have vision for where they are going and where they want to be. We cannot afford to sit and wait for our careers to happen to us; we need to be active in growing them and climbing that ladder," says Gobodo, who described her first foray into the corporate world as a "hostile male-dominated environment".
Von Eck, in the meantime, says she has experienced the opposite of gender transformation in her work.
"Typically, institutes attract women more than men, and I think it is because there's a cause attached to what we do," she says. "So generally speaking, we don't work for money, but work in the interest of the greater good. That tends to appeal more to women.
"My leadership team is mixed.  I have the opposite problem – in that attracting males is a challenge. I'm a very firm believer in balance; balancing the male and female energy will bring different things to the table. You don't want an environment that is completely female-dominated and you don't want an environment that is completely male-dominated. You want a balanced environment. It's always a challenge for me to get that balance right because we have more females than males."
While both leaders champion the advancement of women in the work space generally – and the financial services industry specifically – they are both firm believers in a balanced work space.
Adds Von Eck: "As women, I think it is important to acknowledge what men do contribute. And similarly, we should also acknowledge how strong we are. We are sometimes our own worst enemy. You find that women who have come into their own, who are strong women, see the world very differently to women who are still below that glass ceiling."
"Men are naturally courageous and make sure that they survive immediately when they get into the work space; they are always looking for opportunities for themselves," says Gobodo. "As women, we come into a hostile space and the first thing we do is fight for survival, which takes a lot of time and energy."
No easy task
Both Von Eck and Gobodo acknowledge that introducing transformation policies into their own work environments is not an easy task. However, they try to work with each case on an individual basis and are flexible when it comes to time and working off-site.
"We are a long way from where we want to be, but at least solutions such as flexible hours are now on the table; something that was unthinkable when I started working," says Gobodo. "I remember when I was being interviewed for the position of CFO [at the Transkei Development Cooperation], I was pregnant. I was asked how I was going to cope with the position and a new baby. My maternity leave was exactly a month. I had to leave my baby [in someone else's care], because  I wanted to prove to these men that I could be a powerful CFO."
Von Eck's outlook, on the other hand, is not quite so hopeful. "I don't see the gender transformation happening in any significant way for at least another couple of generations," she says. "Until we table these issues and turn them into policy that has to be lawfully enforced, we are not going to see this Utopia anytime soon."
For these high-flying female leaders, being at the forefront of this battle means adding even more to a plate that is already piled high with challenges, as the workforce seems to have different expectations of female leaders than they do of males.
"We are expected to be soft. We are expected to be more understanding and nurturing to our employees," says Gobodo. "This can prove challenging, if you are a 'tough-as-nails' boss, with other women in the workplace usually being the first to complain about the 'pit bull in heels' boss."
Von Eck adds: "For me, there are two sides to that glass ceiling: what society has put there and our own belief system within the sisterhood. I don't think that all of us are necessarily on the same page, even though we have shared the pain. We deal with our pain very differently; some of us break through, rise up and find healing through it. Some of us lash out. Some of us turn our pain inward, and instead of hurting others, we end up hurting ourselves."
"Do we have a collective pain as women? Yes, absolutely! Many of us experience the dominance of the male power in our personal lives and relationships. It's about being repressed in our space, so that when you are a strong woman, you are depicted in a manner that is not becoming of a human being.
"Yet you know that had you said the same thing or taken the same stance as a man, the response would have been very different. And society is – and this is a generalisation – not yet ready for the strong woman who knows who she is and what she wants."
So are we as women having the right conversations? Are we steering the future generation on a path that will be clear of gender bias? It seems so.
But the wheels of transformation are turning slowly, and there is precious little that the women at the helm seem able to do to speed up the process.
---