---
Armed-response firms are going digital and deploying sophisticated tools to improve their service. Nick Cowen visits one high-tech control centre to find out more.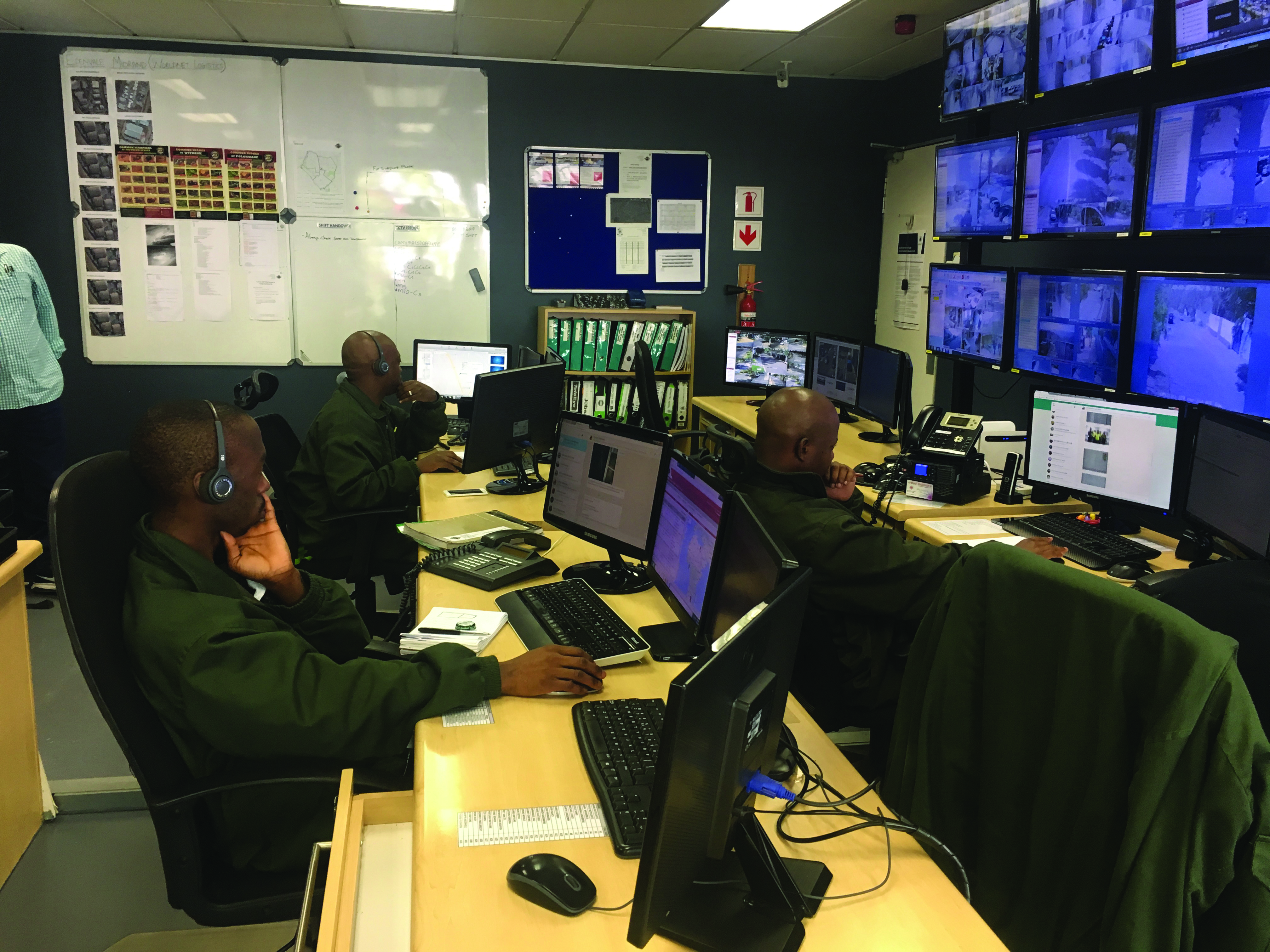 Image: High-tech control room
A massive bank of monitors dominates one side of the room. Operators sit hunched over arrays of desktop screens, scanning for irregularities and keeping an ear out for radio messages. All the while, the operations room sucks in data from dozens of cameras, roaming units and employee reports scattered across several provinces.
This is the control room for Cortac, one of the many private security companies in South Africa that offer round-the-clock monitoring  and armed-response services. Stats SA reckons that, as a nation, we spend around R45-billion a year with companies such as Cortac, compared to the R30-billion budget for SAPS.
That often sounds shocking, but according to The Guardian newspaper, it's actually the global norm for private security resources to be larger than those of the police. In the UK, for example, there are 232 000 private guards compared to 151 000 police officers (in South Africa the numbers are 500 000 and  151 000 respectively).
Part of that money goes towards sophisticated setups such as Contac's. Nestled in the leafy Gauteng suburb of Killarney, access is restricted thanks to several armed guards, a security checkpoint and then a series of reinforced doors, all of which require a fingerprint to open. Operations here run around the clock, seven days a week, 24 hours a day.
"The operations room works in shifts. Night shifts have three to six people, and there are five during the day," says Jenine Woolls, the control  room manager. "Everything is monitored and organised from here, including CCTV monitoring, vehicle monitoring, alarms, reporting on duty, booking staff on duty and monitoring hourly patrols."
One relatively recent, and rapid, change to procedures is monitoring of social media.
"A lot of people would rather post to WhatsApp groups than pick up the phone and call in," says Woolls. "So, checking client groups is a big part of what we do. All that information goes into a single online intelligence system."
Data explosion
The use of social media is just one part of the change that has taken place in centralised monitoring stations in the digital age. As with every industry, security firms record, analyse and publish increasing amounts of data to improve their services.
Cortac, for example, has around 60 vehicles and some 800 staff. Each patrol unit has a number of tasks – called "proactives" – that must be completed. Along with other incident reports and records from camera footage, information from these is fed to the operations room and a central data-collection hub called the Cybernetic Information Investigative Management System (CIIMS). Everything from client feedback to operations monitoring, to patrol check-ins, to response incident reports, is entered into CIIMS.
CIIMS is then used to produce client reports on a monthly and weekly basis, and is also  used to review and refine standard operating procedure (SOP).
"Between the data from CIIMS and feedback from clients, we're able to get to root causes of any problems we encounter, and see whether we dropped the ball or not," says Woolls. "We can see whether there's a disciplinary issue we need to address or whether it's an SOP we need to finetune."
CIIMS also has proactive features. "If used correctly, CIIMS can build profiles involving vehicles, people and assets for subjects it captures," says Reinhard van Rooyen, one of Cortac's security analysts. "It can also give us a breakdown of areas where potential problems may arise.
"At our mining operations, for example, there are a lot of social, economic and political factors to monitor in nearby villages," he says. "An incident that seems isolated to one village may not be. There maybe a general bad sentiment in the area in relation to the mining operations. All that information is fed in and checked, because it builds a good scope of the socio-economic status in the area and how volatile the situation could become because of these factors."
Van Rooyen says Cortac has to keep its collective finger on the pulse of the communities in areas the firm monitors.
"How happy is the local community? How much investment in the community is there? What is the local employment percentage in the industries that are situated there? All of these factors need to be collated in order to run an efficient security service," he says.
Cortac shares its data with both its peers in the security industry and the authorities, including SAPS.
"Because SAPS resources are so scattered and disorganised generally, if something goes wrong, it's usually just two guys in a car with limited backup," says Van Rooyen. "Let's say they want to search a green-belt area – a large, wide-open space, like a park or a golf course. They don't have the manpower to cover that area, so in that instance, we'd be able to run a joint operation with SAPS to help."
In this instance, the central control hub would notify personnel on the ground that SAPS needs help, and would also ensure that best SOP was used as the operation was conducted.
Cortac is far from alone in its investments in high-tech data capture and monitoring systems, and security firms will be subject to the regulations around POPI and protecting personal information that may be stored on their systems. Privacy groups such as Right2Know have raised concerns about the increasing use of cameras and data such as automated numberplate logging, and the potential knock-on effects on civil liberties.
But the security firms argue that the smarter use of data works. Cortac's Van Rooyen points to a recent example of the apprehension of a "crowbar gang" – so called because they used a crowbar to derail automatic gates to gain access to properties. By collating and sharing data with the local authorities, four different cars and six sets of licence plates were identified as belonging to the gang, which they'd switch between vehicles to avoid detection. The operations room flagged the plates and the cars, and produced a report, which was shared with the authorities and other security companies patrolling in Linden.
"In the beginning, the gang was getting away with it," says Van Rooyen. "But as the data starts building up, the noose starts to tighten around them. Due to information sharing between us, SAPS and the CPF (Community Police Forum), who spearheaded efforts to catch the gang, all parties knew which vehicles and plates to look out for.
"The gang was busted six weeks ago," he adds.
A guard's best friend
Data can't do everything. One low-tech tool used by private security  is the oldest of them all: dogs.
"There was a well-known criminal operating in one area – he'd get  dropped off in the evening and his specialty was fence-jumping. He was arrested by the police, but  his modus operandi was that he was always armed," says Van Rooyen.
When he was arrested, he was unarmed, so, on the request of SAPS, Cortac sent out a canine unit, which located a discarded weapon  near the site of the arrest.
"The dog found the firearm in pitch-darkness, where the suspect had thrown  it before he was apprehended. There  was no way a human could've found it in pitch-darkness," says Van Rooyen. "Finding it strengthened the case against him, because it was an illegal firearm."
Fast fact
It's not just private security. SAPS has been urged to invest in body cameras for police officers, after their success in the UK and US in protecting staff.
---